This Is The Secret To Making Paula Dean's Banana Pudding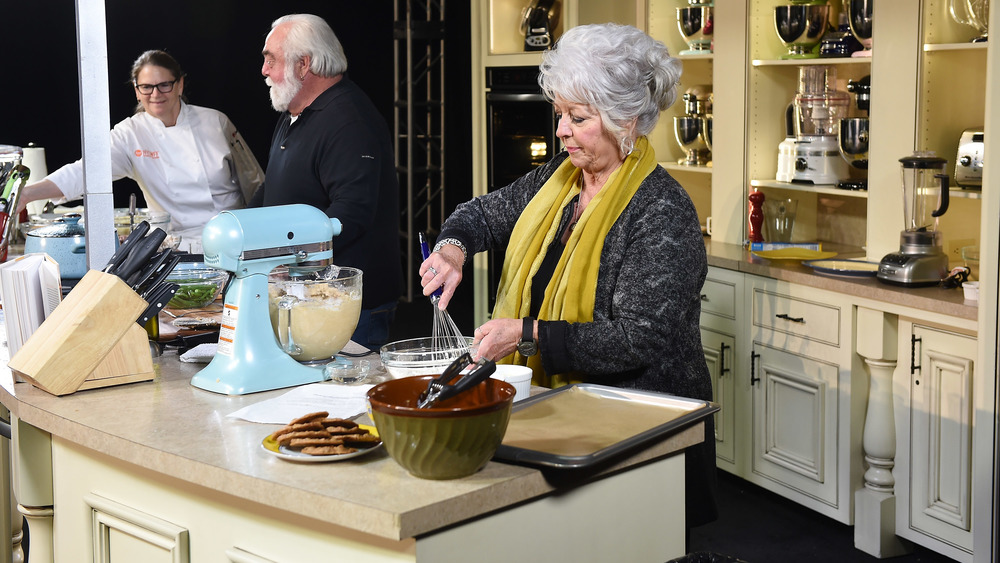 Larry Busacca/Getty Images
Who doesn't love the creamy and dreamy goodness of banana pudding? Silky smooth custard layered with bananas, Nilla Wafers, and whipped cream — it doesn't get much better. Per Serious Eats, banana pudding is largely associated with the South, but according to Food and Wine, while this sweet dessert is definitely an American creation, it is most certainly a variation on the much-loved English trifle, which is also all about layers — of sponge cake, cream, and fruit preserves.
The publication notes that banana pudding was born out of capitalism. As more and more bananas were imported to America, more and more cooks developed recipes that incorporated what was then an exotic fruit. This paved the way for the birth of the layered dessert that we know and love, with the first mention of it in The New York Times in 1878. 
But regardless of when or where banana pudding came into existence, if you are going to make this treat, you need to check out Paula Deen's Not Yo' Mama's Banana Pudding recipe. Deen's take on this classic will make you throw out every other recipe for this dessert you've accumulated over the years. Deen uses two secret ingredients that are really game changers when it comes to whipping up this childhood favorite. They will make the texture of your banana pudding so delicious, you might have to make one bowl for you and another for your family. What are these secret ingredients?  
Cream cheese and sweetened condensed milk are a game changer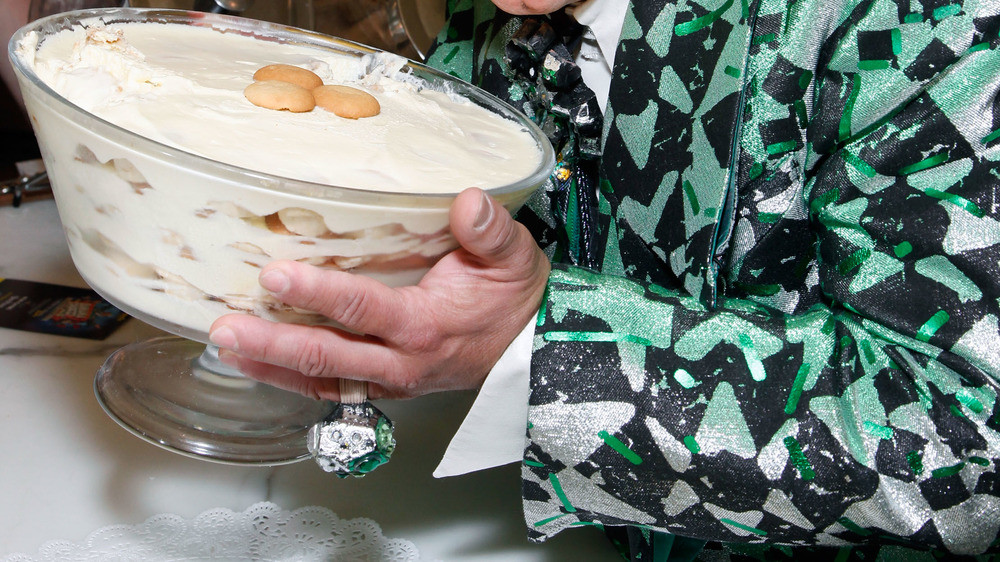 Will Ragozzino/Getty Images
Cream cheese and sweetened condensed milk are the game-changing ingredients your banana pudding is shouting for. South Your Mouth warns that even uttering these two ingredients in the context of a banana pudding recipe sounds "blasphemous," but concedes that, along with the Chessman cookies Deen uses in place of the Nilla Wafers, they make the texture of this already perfect concoction even more perfect, if that's even possible. Num's the Word offers that the sweetened condensed milk really helps thicken up your banana pudding while adding notes of honey to this dessert. And per Bakerpedia, the mild, soft, cream cheese is perfect to add both a unique flavor and creamy texture to our favorite desserts and bakery recipes. Together, these two ingredients create the sweetest, smoothest banana pudding your taste buds may ever encounter.
But you don't have to take our word for it. They say the proof is in the pudding, and in this case, it literally is. One reviewer wrote of this recipe, "I have made this pudding for 15 years and it's a family favorite. It's perfect. A definite upgrade from tradition banana pudding!" and another shared, "I tried this recipe for the first time last year and ended up making it 3 times within 2 months."