Basic Macaroni Salad Recipe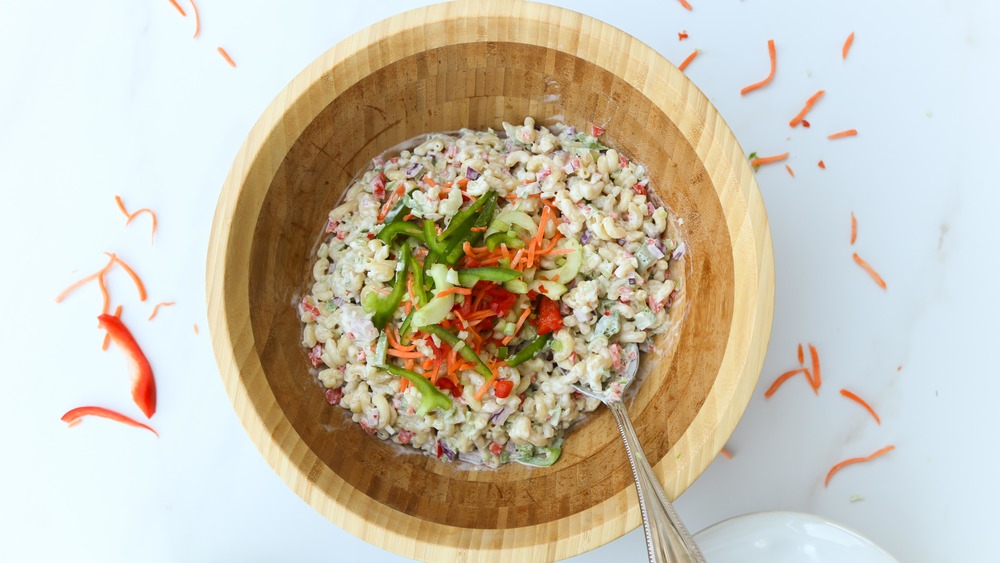 Maren Epstein/Mashed
When it comes to delicious and traditional American side dishes, macaroni salad ranks near the top of the classics list for many people. The right chilled macaroni salad recipe is a natural fit for picnics, housewarming parties, or just a homemade dinner with the family.
This recipe was created by Maren Epstein, the certified holistic health chef behind Eating Works, who drew inspiration from the macaroni salads she remembered from her childhood. "As a Jewish kid growing up in Brooklyn, the deli was part of my daily experience," Epstein says. "I wanted to make a deli style macaroni salad that reminded me of the ones I used to eat."
Epstein's macaroni salad may be slightly different from the ones you knew growing up, or it may be similar enough to bring back memories of your own. It's also fast (the whole active part of the recipe only takes about 15 minutes) and easy — making it perfect for someone just dipping their toes in homemade macaroni salad.
Gather your macaroni salad ingredients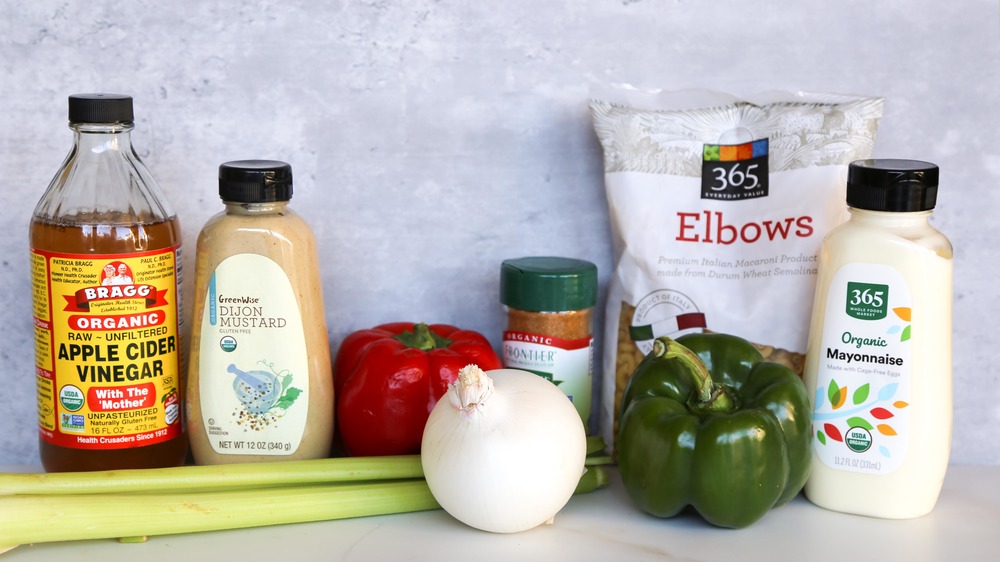 Maren Epstein/Mashed
This recipe has a decent sized ingredients list, and each adds to the balance of flavor for a macaroni salad that's just right. Thankfully, many of the ingredients are household staples that you may already have laying around. The first thing you'll need, obviously, is the macaroni. The rest of the ingredients are mayonnaise, red wine vinegar, Dijon mustard, sea salt, black pepper, cayenne pepper, onion, celery, green pepper, and grated carrot.
"I think the colors from all of the vegetables I used set this macaroni salad apart," Epstein says. "Not to mention the taste! A lot of macaroni salad recipes call for a lot of sugar. Sometimes up to half a cup! I wanted to create a tangier savory macaroni salad. It also makes this satisfying dish healthier."
Before heading to the grocery store, note that this recipe is for 10 servings (the best macaroni salad is one that's shared with friends and family, after all).
Cook the pasta to the right level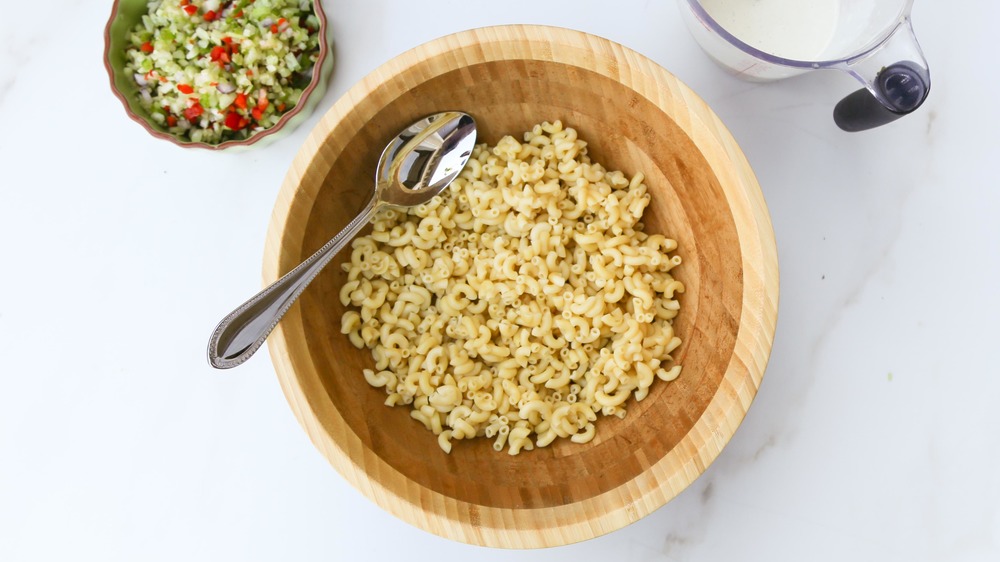 Maren Epstein/Mashed
In most cases, cooking dried pasta is easy enough: all you have to do is follow the directions on the package. The same is true for this macaroni salad recipe, but be sure you don't follow the directions for al dente pasta. Cook the pasta through and through rather than leaving a little bit of chew to it.
"Since the pasta is cooled immediately after cooking and the dish is served cold," Epstein says. "The macaroni will not continue to cook after you take it out of the water the way it would if it was thrown into a skillet with hot sauce or baked in the oven in a casserole dish. The pasta should be completely done cooking by the time you remove it from the boiling water."
As soon as it reaches that point, strain the macaroni from the water and set it aside. And you're not done with the pasta just quite yet. You'll also need to occasionally shake the water off until it's dry and tacky.
Mince the vegetables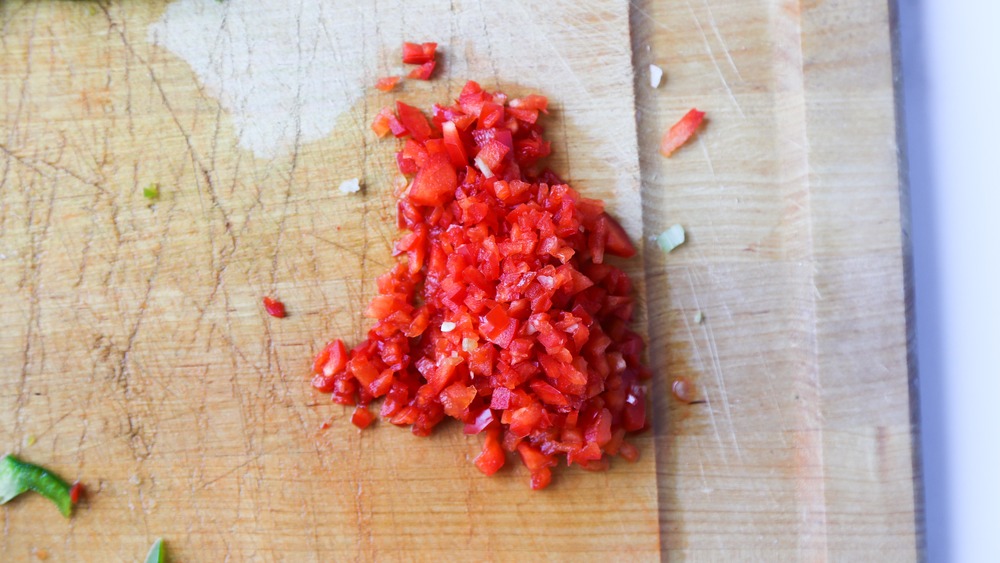 Maren Epstein/Mashed
When you first took a good look at the ingredients list, you likely noticed that the three main vegetables — the celery, green pepper, and onion (either sweet white or red) — need to be minced. And the carrot, if you opt to use it for an optional garnish, must be grated. To mince something is to take an ingredient "that has been roughly chopped and then chopping it finely," according to the Food Network. Grated carrots are simply small and thin strips of carrot, which can be done either in a food processor or by using a box grater.
While it might seem like a lot of extra work to make sure the vegetables are broken down into such small pieces, the type of cut matters.
"The smaller vegetables help coat the macaroni easily," Epstein says. "They also offer just the right amount of flavor for every bite. You wouldn't want huge chunks of carrots in your macaroni salad. You're really there to eat the macaroni, the vegetables play a supportive role, adding flavor."
Mix the ingredients for the dressing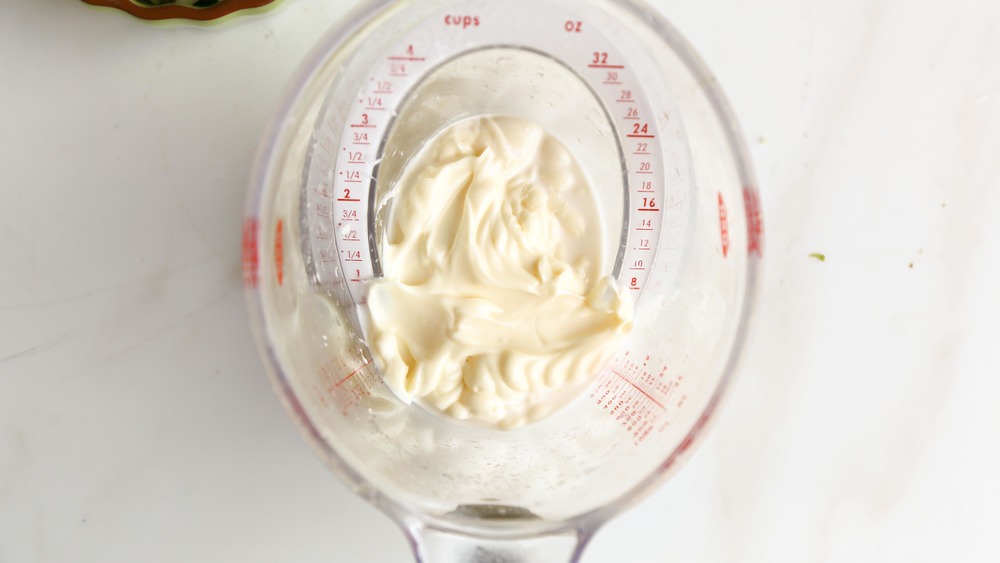 Maren Epstein/Mashed
This is one step that you can do while the pasta is cooking or you are waiting for it to cool. Grab a big bowl and put the mayonnaise, red wine vinegar, Dijon mustard, sea salt, black pepper, and pinch of cayenne inside. Then, grab a whisk (though a fork will do in a pinch) and beat the mixture until it's well combined.
This dressing mix will be what holds the entire recipe together, so it's important to make sure you like the taste. If you are feeding picky eaters who have an aversion to some of the ingredients (or if you are that person yourself), then feel free to improvise in small ways like skipping the cayenne or swapping for a different type of mustard. Not all swaps will work out, however.
"Dijon mustard is absolutely the best kind for macaroni salad," Epstein says. "It's tangier and not as tart as other types of mustard. So I think the flavor is more complex and doesn't have a strong taste that overpowers the dish. You could use yellow mustard instead. I wouldn't use spicy mustard."
Or you can go for something different entirely: "For those who don't eat mustard they can try adding horseradish instead!"
Coat the pasta and let the whole dish chill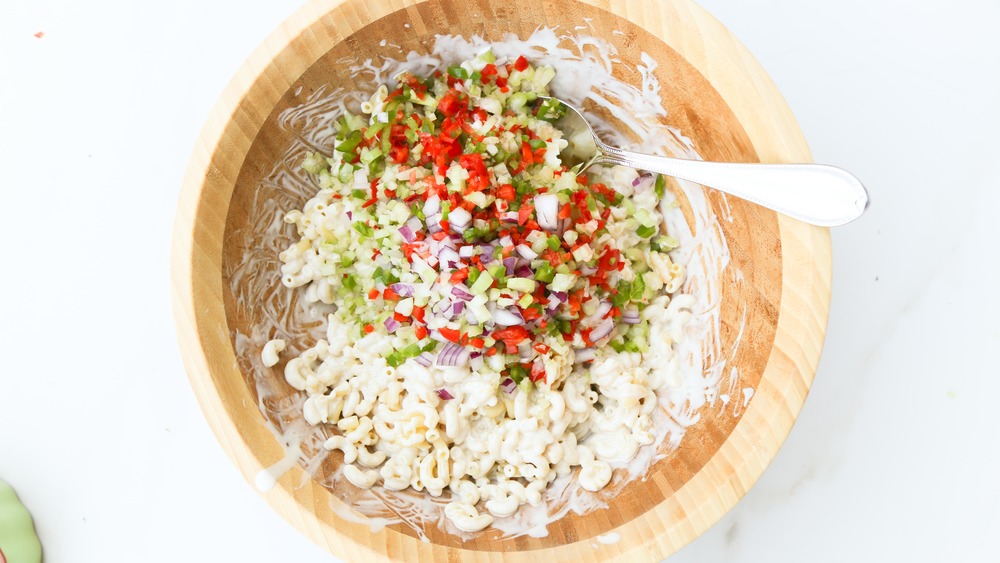 Maren Epstein/Mashed
You may have to wait a bit to start this step if you finish the dressing before the macaroni has had time to fully dry and cool to room temperature. As soon as the macaroni is cool to the touch, however, go ahead and move the macaroni from the strainer to a large serving bowl. Then, pour the dressing on top and mix it in with a spoon or spatula to evenly coat the pieces of macaroni.
The macaroni salad may look done at this point, but there's still a little more waiting that has to be done. "You can serve the salad at room temperature but it just doesn't taste as good as a cold macaroni salad," Epstein says.
For best results, cover the macaroni salad and refrigerate for at least four hours. If you have the time to do so the day before you plan on serving the dish, you can also do the prep work the day before and chill it overnight.
Store your leftovers correctly to enjoy more at a later date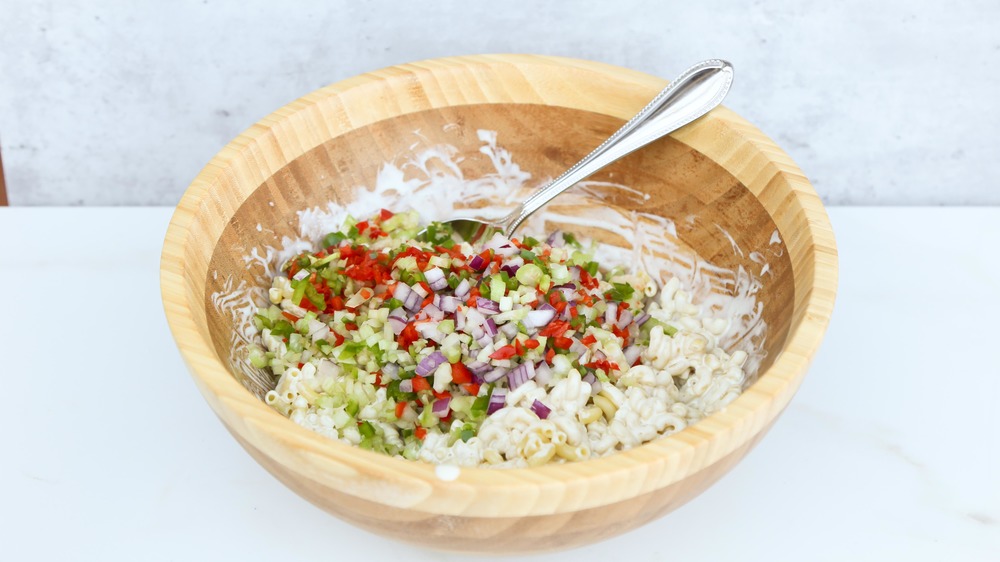 Maren Epstein/Mashed
Even the most loved dishes occasionally end in leftovers. Thankfully, storing this macaroni salad is simple. Storing the macaroni salad covered in the fridge is already a crucial part of the recipe, after all.
"Chilling the macaroni salad in the refrigerator for four hours before serving gives the macaroni time to absorb the mayo," Epstein says. "This recipe calls for a lot of mayo. It may even look like too much when you're mixing it in. But it gets absorbed like a sponge."
Keeping the macaroni salad for a little longer is easy to do after you transfer the food from a serving dish to the right container.
"I would keep this salad for about four days in the fridge," Epstein says. "I keep it in an airtight container. Maybe you can get five or six days out of it but I would make sure it still smells and looks fresh before you eat it."
Basic Macaroni Salad Recipe
When it comes to delicious American side dishes, macaroni salad ranks near the top of the classics list. This deli-style macaroni salad is both fast and simple.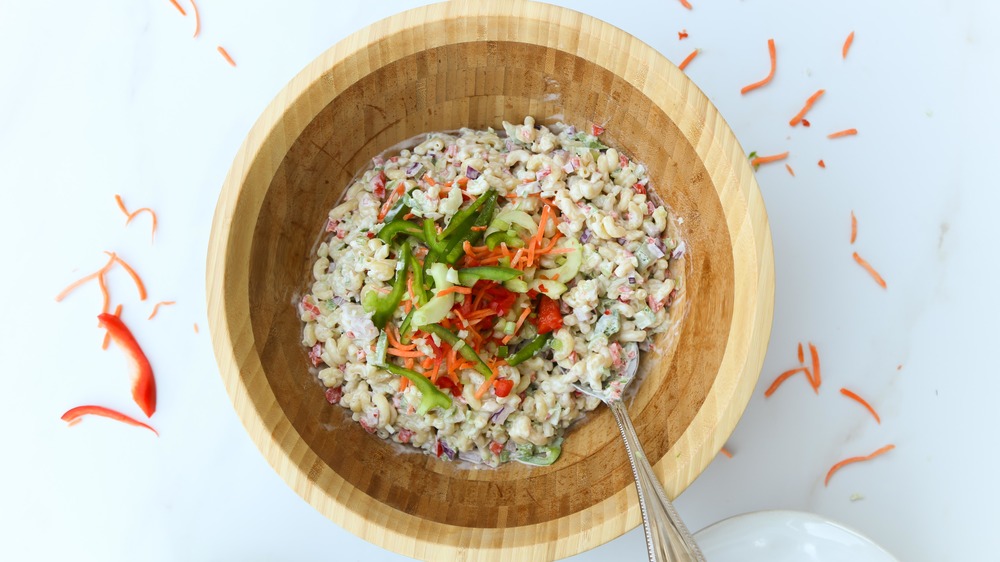 Ingredients
1 lb macaroni
¾ cup mayonnaise
¼ cup red wine vinegar
2 tablespoons Dijon mustard
1 ½ teaspoon sea salt,
½ teaspoon black pepper
1 pinch cayenne pepper
½ cup sweet white or red onion, minced
½ cup celery, minced
½ cup green pepper, minced
¼ cup grated carrot (optional garnish)
Directions
Cook macaroni according to the package. Don't cook al dente since the salad is cold and the macaroni will not continue to cook after preparation. Strain the macaroni and set aside. Occasionally shake the water off until it's dry and tacky.
In another bowl, combine the mayonnaise, red wine vinegar, Dijon mustard, sea salt, black pepper, and cayenne. Whisk until combined.
Transfer the macaroni to a large serving bowl when it is cool to the touch, and add the dressing and minced vegetables.
Cover and refrigerate overnight or for four hours before serving.
Nutrition
| | |
| --- | --- |
| Calories per Serving | 298 |
| Total Fat | 14.2 g |
| Saturated Fat | 2.1 g |
| Trans Fat | 0.0 g |
| Cholesterol | 6.8 mg |
| | |
| --- | --- |
| Total Carbohydrates | 35.7 g |
| Dietary Fiber | 2.0 g |
| Total Sugars | 2.0 g |
| Sodium | 221.3 mg |
| Protein | 6.3 g |