The Real Reason People Think Dippin' Dots Can Help With The COVID Vaccine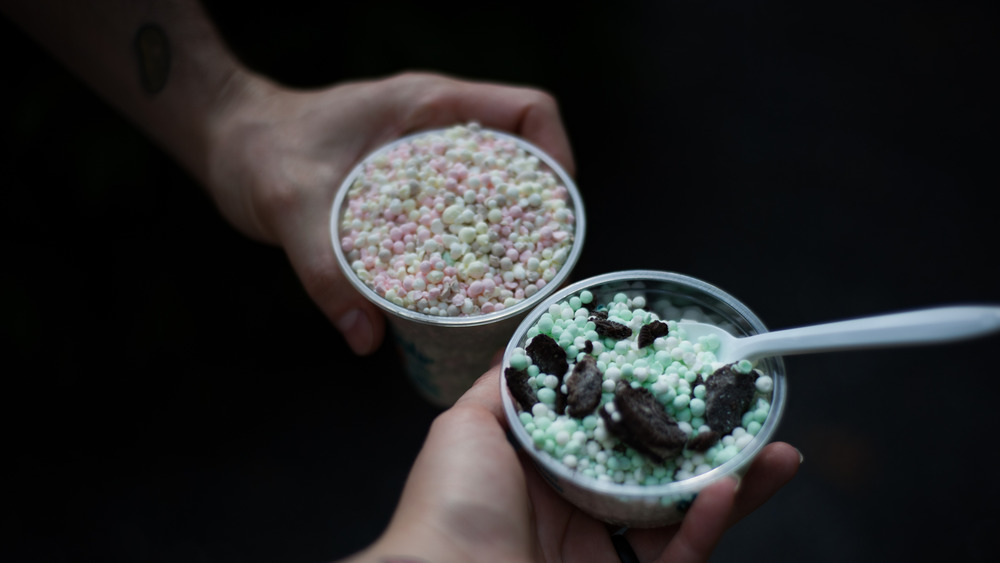 Shutterstock
You've probably heard about or seen Dippin' Dots around, even if you've never had it before because the unique ice cream is everywhere – at movie theaters, theme parks, malls, fairs, festivals, and stadiums. The one-of-a-kind ice cream was invented in 1988 by a microbiologist, Curt Jones, and billed then as the "ice cream of the future." 
Dippin' Dots is what it is thanks to its standout beaded shape (via the Dippin' Dots website). The frozen treat is made, shipped, and stored at -49 degrees Fahrenheit and through a supply network scientists call the "cold chain." It's the same system that scientists are now looking at as they strategize the deployment of millions of COVID-19 vaccines across the country.
Popular Science says the Pfizer-BioNTech vaccine which rolled out last week needs to be stored at -94 degrees Fahrenheit, the Moderna vaccine needs to ship at -4 degrees. Currently, Pfizer can only send out 195 vials of frozen vaccine at a time in what they are calling "pizza trayps," which only work under certain conditions. North Carolina State University health systems expert Julie Swann says, "They probably designed it with the idea that someone would take out an entire tray at a time, and for a mass vaccination clinic, that's great," Swann says. "It just is harder when we're trying to vaccinate priority populations and they are spread out."
Dippin' Dots has the know-how to handle, ship, and store the vaccine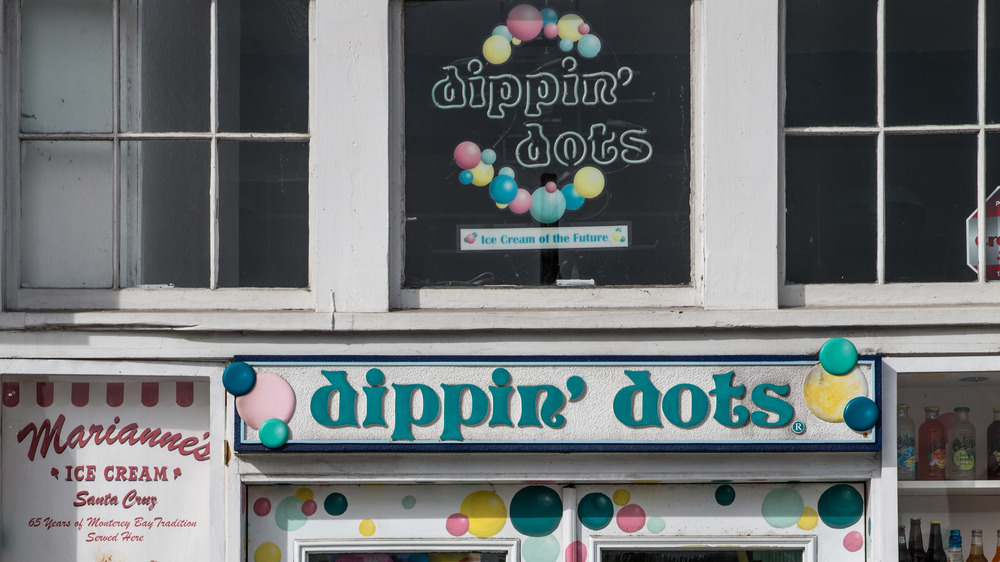 George Rose/Getty Images
Dippin' Dots might have the answer because it developed an equipment line called Dippin' Dots (D.D.) Cryogenics that currently sells equipment to other industries. They've even sold some of their ultra-cold freezers to medical facilities for vaccine storage. The company's chief development officer, Stan Jones, says they've gotten a few questions about using their facilities to store the coronavirus vaccine. "Most of our inquiries are coming from pharmacies and places that might be administering the vaccines and are anticipating what they might need for storage," Jones tells Today.
In case you're wondering whether your next batch of Dippin' Dots ice cream might end up rubbing shoulders with celebrity vials of the COVID-19 vaccine, the answer is no. "We don't recommend storing vaccines in a freezer that was used for food or food in a freezer that has stored vaccine," Jones says "We want to be very cautious about what we tell the end user, because foods and vaccines should not be mixed." 
If anything, Dippin' Dots is well placed to give advice. Because the company's been doing this for decades, it isn't their first rodeo, putting them in the best position to help distribute the potentially life-saving vaccine.