Viral TikTok Reveals The Best Store-Bought Copycat Big Mac Sauce
There's something about Big Mac sauce. The mayonnaise-y, relish-y spread elevated an otherwise ho-hum, two-patty hamburger into the second-hottest selling item on McDonald's menu (via Reader's Digest). McDonald's has kept the sauce more or less a secret since perfecting it in the early 1970s, and they don't bottle the stuff, either – except for that one time when they gave away 10,000 bottles as part of a promotion (via Today).
But what if you could take some home, so you can make your own Big Mac or add Special Sauce to your dipping sauce repertoire? As it turns out, Walmart has offered something eerily similar for a while now: Great Value Secret Sauce. TikToker Ariana Ruiz posted a video where she grabs a 12-ounce bottle of Secret Sauce from a Walmart shelf, then makes a copycat Big Mac in her kitchen. The video has been watched almost 600,000 times since Ruiz posted it a week ago.
Ruiz even cuts the bottom half of a store-bought bun in half again, to create a two-patty, three-bun burger. All she adds to her homemade Big Mac are lettuce, cheese, and the Walmart sauce – no pickle-onion for her (come on, you know the old Big Mac jingle). The Walmart website says Great Value Secret Sauce recipe is in fact confidential and top-secret. The main ingredients are soybean oil, pickle relish, egg yolks, and sugar, with dried onion, dried garlic, and spices added.
Walmart's copycat Mac sauce is for more than just burgers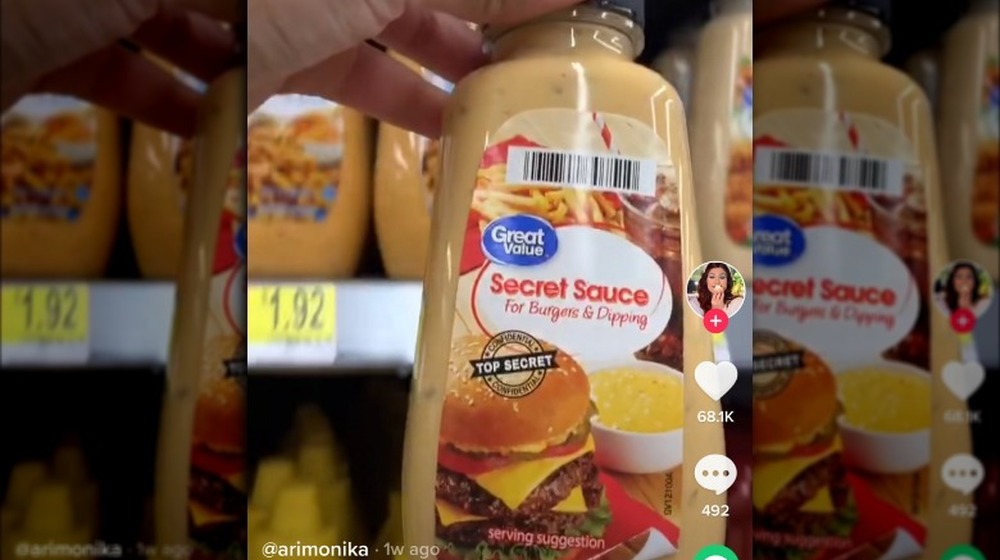 TikTok
Great Value Secret Sauce has 10 ratings on Walmart's website – nine five-star reviews, with one reviewer giving it one star. Which only proves, you can't please everybody. "Taste nothing like Mac Sauce, taste more like mayo to me," the lone negative review said. Other reviewers strongly disagreed. One reviewer titled their comment "McDonald's watch out!" They wrote, "I top this on my Big Mac knock-off burger with my Heinz pickles, and my husband and I agree it is better than McDonald's."
Another reviewer insisted Walmart's Secret Sauce is more than a Big Mac sauce copycat. "This is absolutely the best sauce I've ever eaten," they wrote. "You can dip shrimp, french fries in it, goes well on fried fish, and is perfect for hot dogs and hamburgers. I'm sure there are more uses, and I'll find them."
Walmart suggests using the sauce to zest up hamburgers, sandwiches, grilled chicken, seafood, fries, chicken strips, tater tots, and even fried pickles. Delish came up with a good idea, too. Why not have Walmart's sauce on hand when you pick up Big Macs at the McDonald's drive-thru? Then you can make a good burger that much better.