The Secret Ingredient In Rachael Ray's Everything Bagel Topping
If you like to jumpstart your mornings with big, bold flavors, you will love the latest breakfast concoction from Rachael Ray. Even if breakfast isn't your thing, you might still enjoy gazing upon Ray's everything bagel. Stacked with about 10 tasty and colorful ingredients, this bagel is a thing of beauty. And while we admit this is pretty ambitious for weekday mornings, it's sure to impress the next time you have a special guest for brunch.
What's in this bountiful, beautiful Instagram bagel? It starts with a toasted everything bagel. Then (though she doesn't supply instructions, only ingredients), Ray combined beet horseradish (you can purchase it off the shelf or make your own; Martha Stewart has a simple, five-ingredient recipe) and scallions with dill cream cheese, producing the lovely bright pink shown in the photo. Next is some delicate, thinly sliced Scottish smoked salmon. Why Scottish? While we suspect any high-quality salmon might do the trick, according to Gourmet Food Store, these orange-pink fleshed fish caught in cool Scottish waters are notably tender and "buttery."
There's another attention-grabbing ingredient atop the bagel. Keep reading to see what it is.
What schug is and how to make it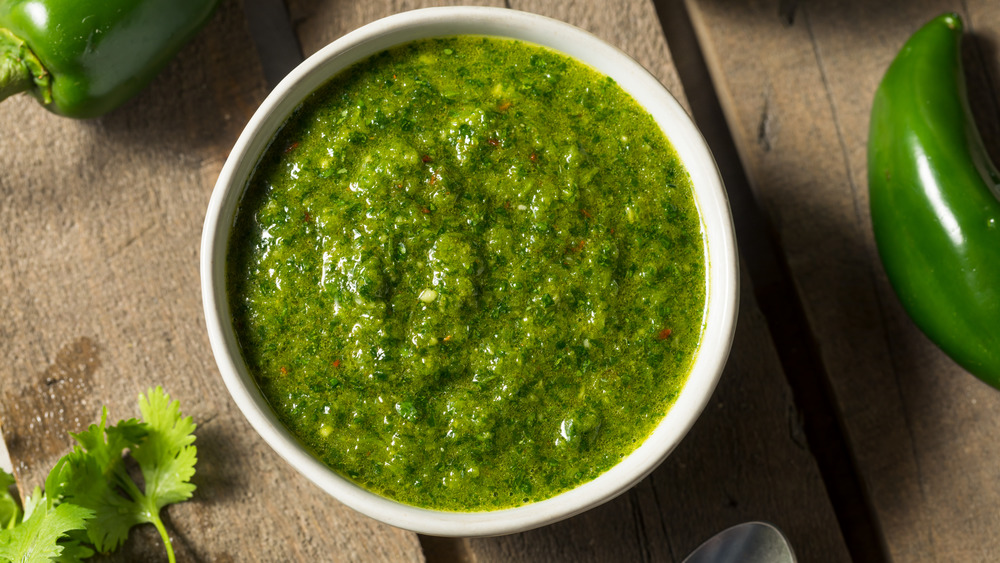 Shutterstock
On top of the Scottish salmon on her bagel, Rachael Ray places slivers of seedless cucumber, a shaved baby beet/red onion/purple radish "carpaccio" with lemon, then capers and fresh dill. But the real flavor star of this tasty bagel? Schug. A condiment with Yemeni origins, according to Ray's website, schug contains fresh herbs: cilantro, parsley, and mint, as well as garlic, jalapeños, red bird's eye chiles, lemon juice, extra-virgin olive oil, and a spice blend of caraway seeds, cumin seeds, and white peppercorns.
Chef J. Kenji Lopez-Alt told The Splendid Table that zhug — as it is more commonly spelled — is similar to Spanish-style salsa verde or a chimichurri in that it is made by grinding fresh herbs, then emulsifying them with olive oil. On his website, chef Andrew Zimmern offers a version of zhug he describes as bright and citrusy, but packed with a punch of heat with the addition of a serrano chili. The key to making zhug is the use of a mortar and pestle to grind the herbs and spices. Lopez-Alt says the flavor produced by the grinding is not reproducible with a food processor or hand chopping. So, if you don't already have one, it's a good time to invest in this relatively inexpensive tool.
Zimmern says he always keeps zhug in the refrigerator to use on skewered chicken off of the grill, on sandwiches, with rice dishes, and on vegetables.