The Best Burger In Hawaii Comes From An Unlikely Source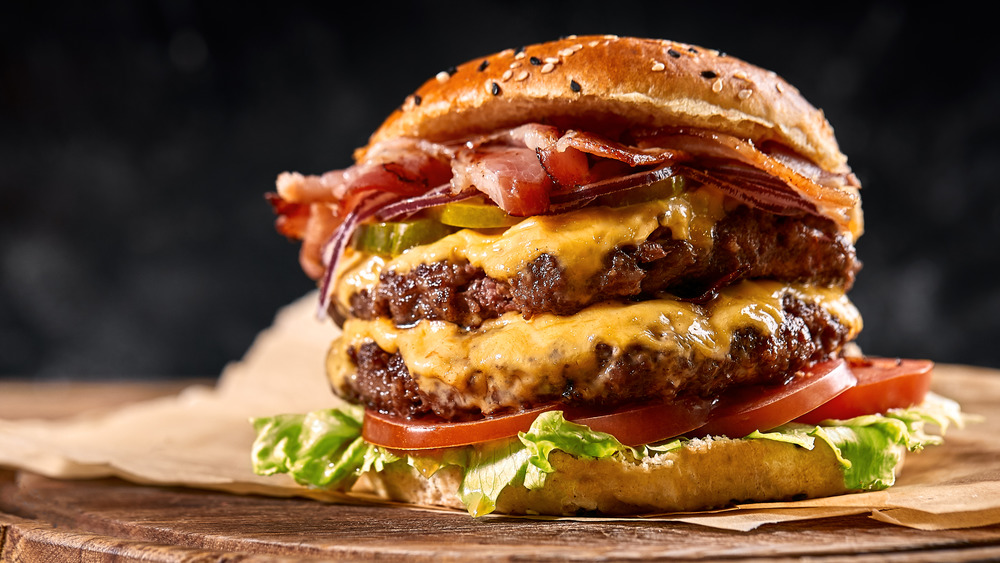 Shutterstock
We like our hamburgers in the United States. Per the South Florida Reporter, the Mongolian ruler Genghis Khan deserves credit for these juicy, grilled meat patties that we consume like they are going out of style. In fact, individually, we eat 30 pounds of hamburgers each year. And of those hamburgers, 73 percent or 9.6 billion were not eaten at home, but at a burger joint. We get that. Whether you are a fan of Five Guys, McDonald's, Wendy's, or West Coast favorite In-N-Out, these fast food restaurants know how to flip burgers to the satisfaction of our picky taste buds. But in the Aloha State, where poi and poke are regional favorites, these fast food giants are not at the top of the list when it comes to who serves-up the best local burger.
It may actually surprise you to learn that when you travel to Hawaii, also known as the Paradise of the Pacific, you are not going to find the best local burger in a traditional brick and mortar shop. So, where does one go to enjoy a juicy and mouthwatering hamburger that is equal to the blissful nirvana the Hawaiian islands have to offer?  We will give you a hint: you will need to travel to Honolulu.
This Honolulu food truck is a must stop
The best burger in Hawaii is sold from a food truck called Chubbies. What makes these burgers the best? According to Trip Advisor, burger lovers cannot get enough of Chubbies gourmet sandwiches which are made with locally sourced grass-fed beef, topped with their own special sauce, and served on a potato bun made at a local bakery just for Chubbies. Look through the reviews and you will find words like "awesome," "bodacious," and "ah-mazing" used to describe the burgers Chubbies grills up.
Per Honolulu Magazine, the owner of this booming burger business, Jeff Nedry, drew his inspiration from the classic burgers from In-N-Out and Shake Shack when he started grilling up his own. Nedry told the magazine, "I just thought there weren't a whole lot of good burgers out here with that Southern California flavor. I also fell in love with the local ingredients and I was shocked that no one [serving burgers] was really using this stuff." Multiple people that this publication spoke to affirmed that these are the best burgers on the island, and perhaps the lines of customers that people mention in their reviews back up that claim. 
If you get the chance to try a Chubbies burger, there are only four options, but the 50s burger which is made with American cheese, lettuce, tomato, and their signature sauce, may be the way to go. You can also add on fresh bacon, avocado, grilled onions, or jalapenos. Sounds like paradise to us.