The Best Burger Place In New York Might Surprise You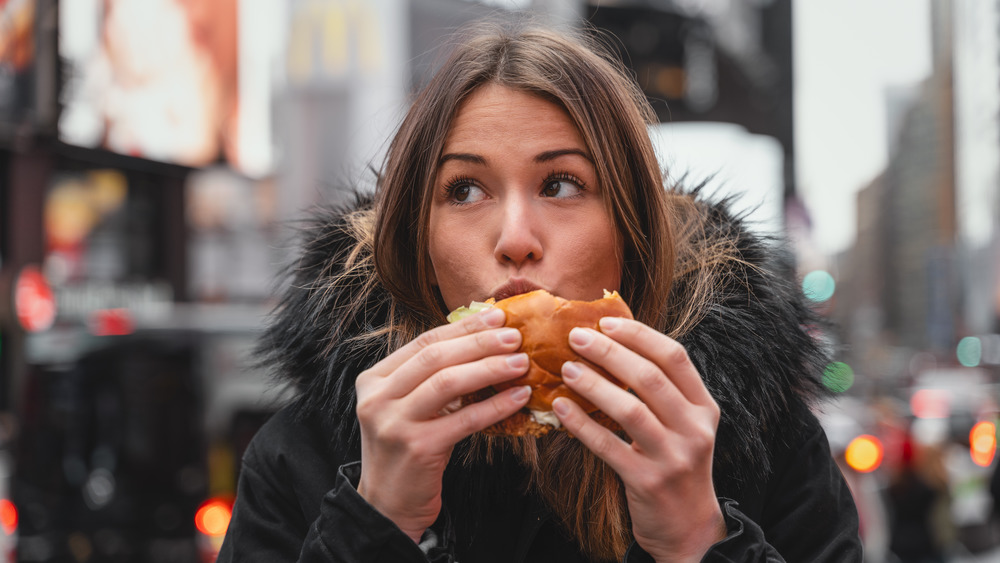 Shutterstock
New York City may be the ultimate foodie's paradise. You can get any type of food from just about every part of the world: Siberian pelmeni, Uzbek plov, Bangladeshi kacchi biriyani, and Ghanaian jollof rice. All of these treats and much, much more are available for the asking — as long as you're prepared to pay, that is. But what of American classics like the burger? New York is one of many states that claim to be the original home of the hamburger, at least in its U.S. incarnation. There's no doubt that this dish could be found on the menus of even such esteemed establishments as the venerable Delmonico's by the mid-19th century (via What's Cooking America). Today, of course, you're just as likely to find an exotic spin, like the kangaroo burger on the menu at Australian pub The Thirsty Koala, as you are the classic beef favorite.
The real shocker, though, is that New York's best burger ... isn't found in NYC at all! While some critics who never leave the five boroughs might heap praise upon the burgers at New York Burger Co., the burger selected as the finest in the state by the New York Beef Council is located in far-flung Oswego County on the shores of Lake Ontario.
The Mighty Declan burger is well worth the trip
The restaurant serving up New York's best burger is Monirae's Casual Dining and Entertainment in the town of Pennellville (population: about a high school stadium's worth). Monirae's menu features a selection of steaks, chicken, and Italian dishes, but just two burgers. One of these, the Mighty Declan, is the burger that beat out all competitors in the Big Apple and everywhere else in the state. As owner Paul Meyers told WSYR: "Basically it's 8 ounces of New York Strip Steak and 8 ounces of our other burger that we serve and we take it and grind it." The menu reveals that the Mighty Declan is also topped with bacon, sautéed mushrooms, A-1 sauce, cheese sauce, and onion "frizzles."
As to how the prize-winning burger got its name, co-owner Kathy Meyers reveals that "This was named after our grandson Declan." Meyers explained that they wanted his namesake burger to be "pretty large and something special." So how does Declan feel about his burger being named the state's best? His proud granny says, "He thinks he's a superstar now that he's won the award."