The Secret To Getting Perfectly Crispy Fries From Five Guys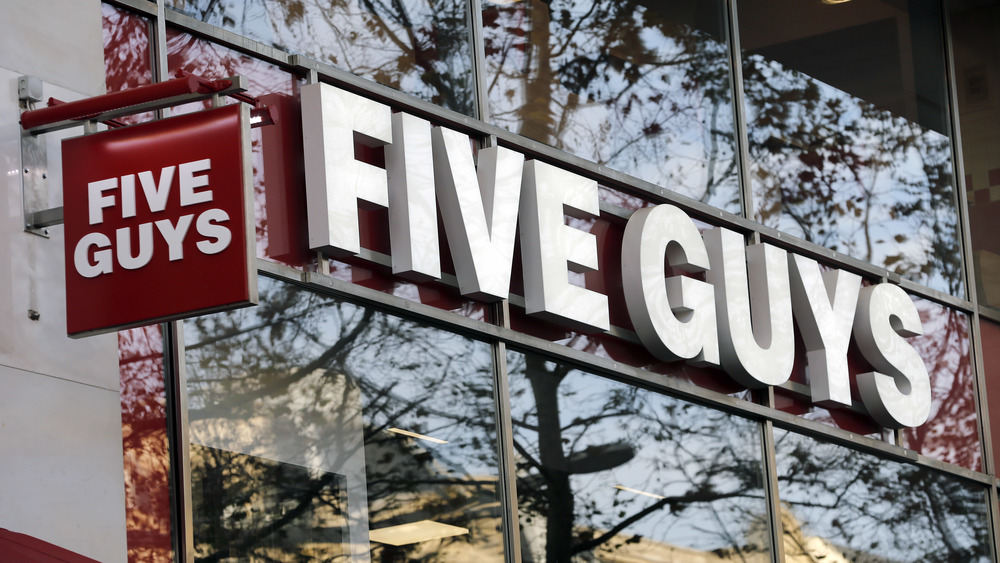 Chesnot/Getty Images
Who can resist ordering up fries at Five Guys? The perfectly cooked French fries they serve up are the calling card of this quick-service eatery that consistently ranks among our favorite spots to grab a burger, according to the Harris Poll's annual Equity Trend survey. But Five Guys fries are special. Art or science? We're not sure. Perhaps it's a little of both. Or maybe, per Food Republic, it's the fact that the chain doesn't start with frozen. Novel as that sounds, it's true. 
The majority of the potatoes – 140 million pounds, to be exact — are sourced from Idaho — mostly. For two months out of the year, Idaho potatoes are too soft to fry in Five Guys' chosen frying oil, so the balance comes from Washington. In fact, one of the founders, Chad Murrell, told the publication, "Peanut oil is a healthier oil. Lots of people prefer to use hydrogenated oils for a crisper fry, but we want that melt-in-your-mouth buttery taste that nonhydrogenated oil offers. There are no trans fats or preservatives, and it's the purest oil available. Since fries are all we cook in it, nothing touches our oil except for potatoes and our fry baskets."
We love the French fry frying philosophy of Five Guys, but if you want a crispier pommes frites to enjoy alongside your little bacon cheeseburger, here's a tip for when you order.
Ask for extra well done fries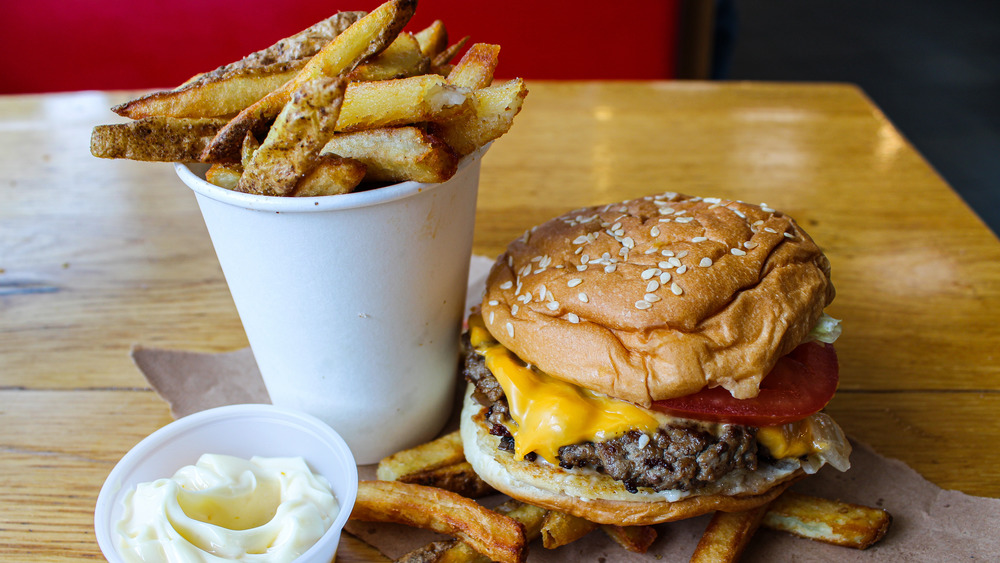 Shutterstock
We've never met a Five Guys fry we didn't like. But Wide Open Eats shares that if you are a lover of super crispy French fries, all you have to do when you place your Five Guys order is ask that they be cooked "extra well done." It's really that easy. This way, when you reach into that brown paper bag to grab a handful of those golden, salty, and delicious fries, overflowing from the cup, they will all be just the way you like them. 
And speaking of overflowing, how awesome are all those extra fries — the "topper," as they affectionately call it? Pop Sugar noted that extra crispy or otherwise, you are paying for those extra French fries — it's factored into the price, so, we highly encourage you to enjoy them, by yourself or with a friend. You can also save and reheat all those extra fries. The blog First for Women suggests reviving leftover fries in the oven — they will crisp right back up.