Don't Serve Mushroom Soup Without One Of These Side Dishes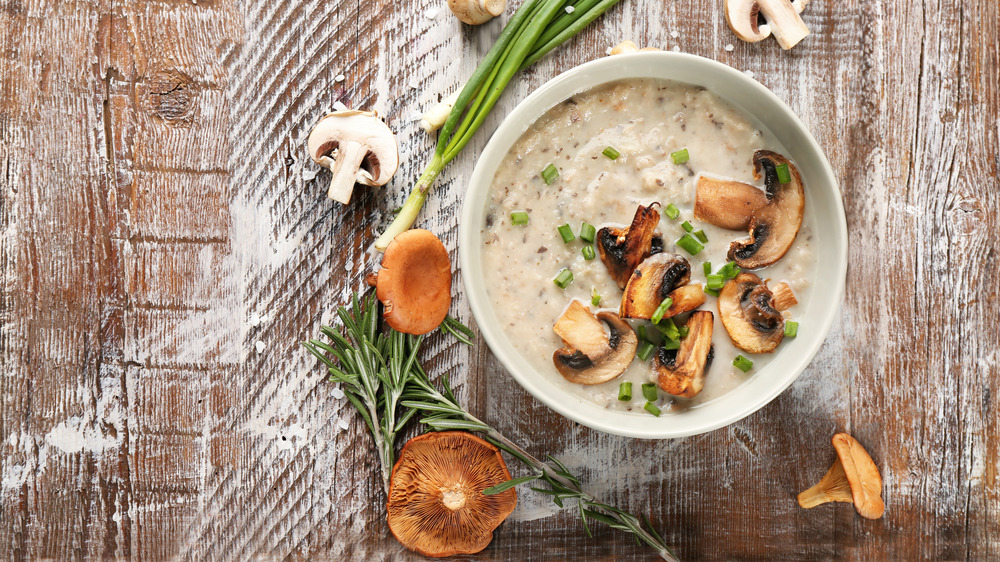 Shutterstock
Forget hot chocolate and marshmallows for a second. Call us old school, but we'd rather cuddle up with a warm bowl of mushroom soup on any cold winter night by the fire (or, for some of us, a space heater). Mushroom soup is creamy, savory, filling, and even vegetarian or vegan, if you play your cards right. We're not necessarily talking Campbells here — you can save that for the green bean casserole next year. Mushroom soup is surprisingly easy to make your own. Just be sure to serve up some sides that will bring out the best in this classic staple.
Mushroom soup needs only a few components: some aromatics like onion and thyme, a thickening base like a flour-and-fat roux, veggie or meat stock, cream, and of course, mushrooms. Fry up the onions and mushrooms with any herbs or spices, whisk them up with your thickener, add in the stock, let them simmer, and finish with cream, salt and pepper. There are some variations on this formula, of course: Serious Eats opts for milk over cream and adds in sherry or white wine. The now-closed Dallas restaurant the Grape, famous for its classic mushroom soup, also favored sherry and a little nutmeg. Vegan versions sub in cashews or soy milk, as The Spruce Eats suggests, for a creamy consistency.
Sides to serve with mushroom soup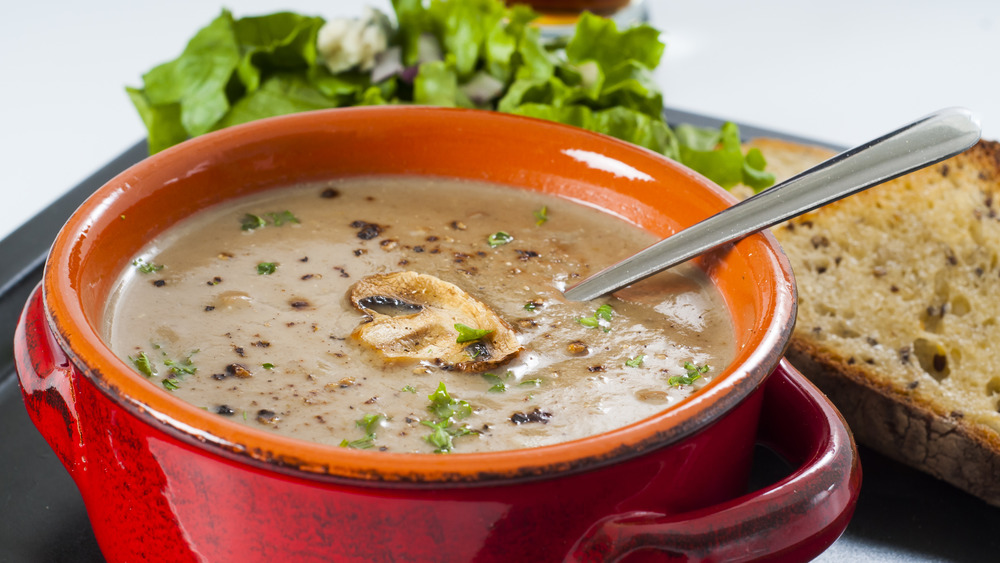 Shutterstock
Whether you're serving mushroom soup to a crowd or you're just enjoying it on your own, whip up some sides that will bring out the best in your 'shroomy soup. Sides should provide some contrast in texture, flavor, and "weight," but still complement the main dish and allow it to shine (via Eat at Home and The Kitchn). Mushroom soup is creamy and smooth, so consider sides that add some acidity or crunch, and aren't so heavy they make an overwhelming meal. What's for Dinner opts for a crunchy side, like chicken tenders, to round out the mushroom soup. Food & Wine goes upscale with crispy parmesan toasts. Some crusty bread is always a good bet, as the Pioneer Woman reminds us.
On the lighter side, consider some zingy vegetables to add some acidity and crunch, like a simple green salad with lemony dressing, as does the Simple Veganista. Greens add a fresh contrast, but they're also easy to prep and provide a cold counterpoint to hot soup (via the Kitchn and Etiquette Scholar). Try arugula and fennel with lemon, or a kale caesar from the Kitchn. Cooked vegetables can still be light, like garlicky roasted broccoli or green beans with harissa. You can even go for roasted potatoes, says Serious Eats, though they're a little heavier. Regardless of what you pick as a side, mushroom soup can always add some delicious warmth to a meal.