What Bobby Flay Thinks Authentic Italian Restaurants Do Better Than American Ones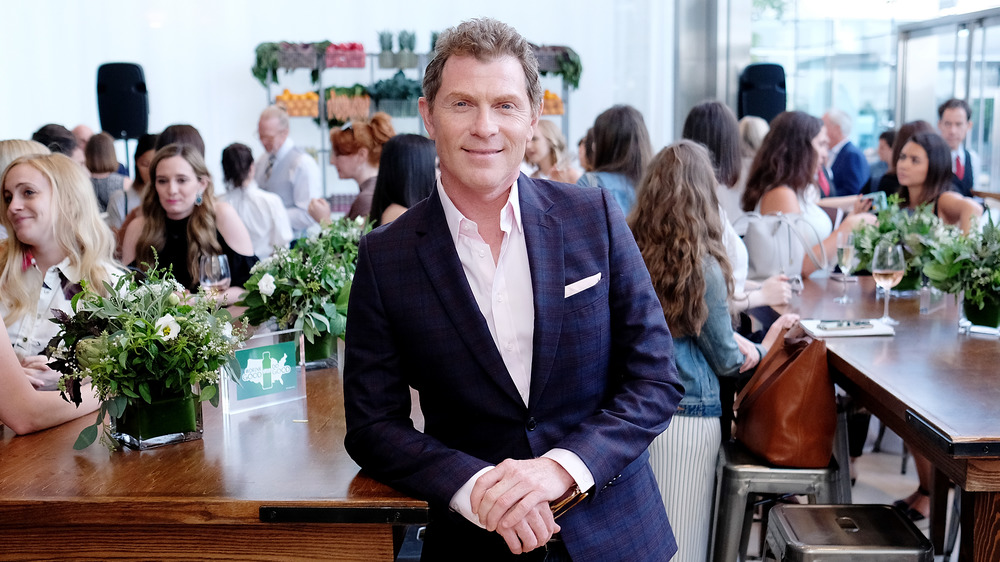 Nicholas Hunt/Getty Images
Fans of Bobby Flay and Giada De Laurentiis can now join the two celebrity chefs and friends as they travel through Rome and Tuscany together. The new four-episode series Bobby and Giada in Italy is now streaming on the new discovery+ app. As you might expect, during each episode, Flay and De Laurentiis visit restaurants and discuss the dishes they eat, explaining each course, and sometimes comparing experiences between restaurants in Italy and those in America (via People)
During one episode where Flay and De Laurentiis visit the restaurant Armando Al Pantheon in Rome with De Laurentiis' mother Veronica, they discuss the differences in the overall experience while enjoying a multi-course meal. Flay says that in Italy, "When they make the pasta, they just glaze the pasta with the sauce. In America, it's just sitting in way too much sauce." His dining companions agree with Giada, noting that the pasta swims in sauce in America, and her mother saying that it's a different mentality of cooking. Not to worry, it's not a show focused on dissing Americans' way of eating. It's a culinary adventure for those who love to travel and eat.
What fans can expect from Bobby and Giada in Italy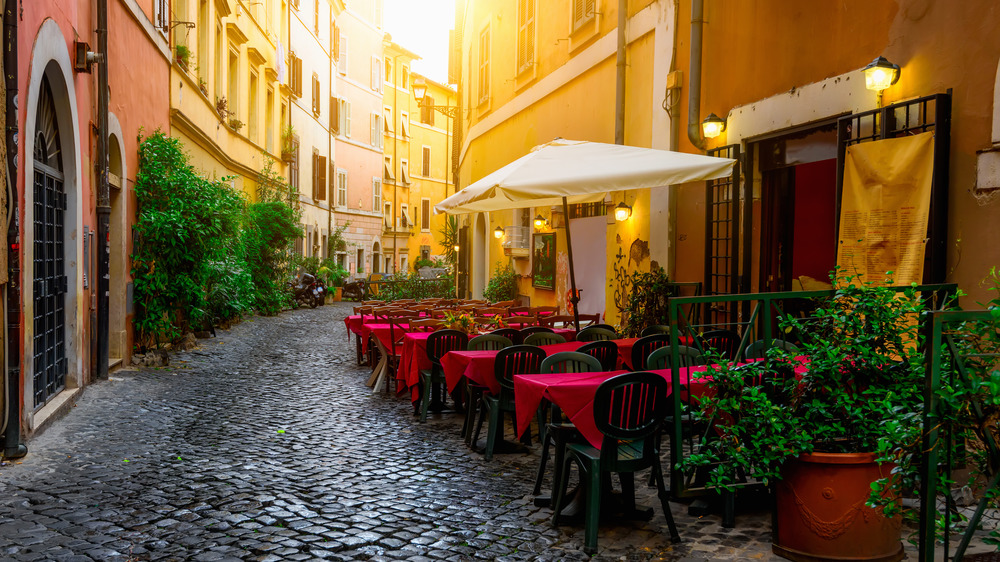 Shutterstock
De Laurentiis was born in Rome, and Flay lived there a couple of years ago to soak up the culture. The pair are perfect travel companions to accompany travel-starved viewers to the Spanish steps, on jaunts to eat pizza and gelato, and for drives through rolling Italian hills that lead to hands-on lessons in cheesemaking (via Food Network). You can leave the passport behind and live vicariously through Bobby and Giada.
Traveling around Rome and Tuscany with Flay and De Laurentiis can help hungry fans when they're trying to identify authentic Italian restaurants here in America, too. The pair explain authentic dishes, ingredients, and even highlight the chefs who create them. But, it's not just about the food that's being served, according to Flay. It's also the general feeling and pace inside restaurants in Italy. Flay says that he likes the culture of dining in Italy, adding, "In America, we don't give ourselves time to enjoy it." Perhaps the series will help inspire more people to slow down and enjoy life the Italian way. Bobby and Giada in Italy is now streaming exclusively on discovery+.