Jimmy Dean Has Exciting News For Vegetarians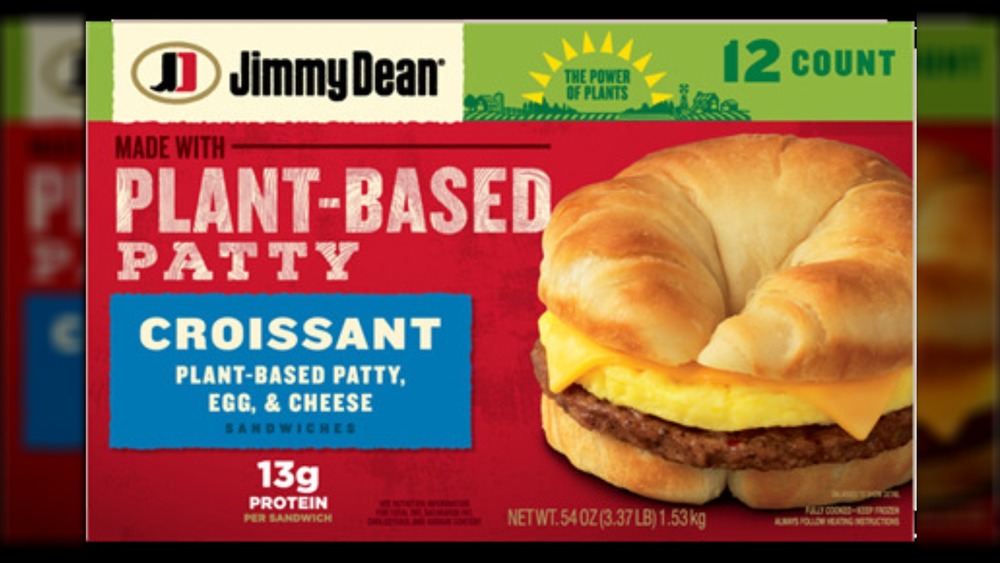 Jimmy Dean
Whether you are in a hurry some mornings, find yourself needing an easy and fast snack, or simply looking for a light dinner, the newest products to join Jimmy Dean's breakfast sandwich line up are bound to be a hit. Though most Jimmy Dean products are, of course, for meat eaters, the new breakfast sandwiches are made with vegetarians in mind. The brand that has brought delicious breakfast sausage to your table for more than 50 years is now offering two high-protein, plant-based options, according to a press release received by Mashed.
According to Jimmy Dean, 49 percent of consumers have eaten a plant-based alternative to meat. Of those who have not tried any vegetarian or vegan meat options, taste was the biggest factor named for avoiding it. The brand reported as much as 31 percent of consumers said that taste was the top reason for not trying a plant-based protein. Fortunately for them, the time has come to reconsider plant-based meat, thanks to Jimmy Dean's new sandwiches. Each is said to pack all of the same great flavor of Jimmy Dean's signature taste and will be widely available by spring 2021.
These are Jimmy Dean's new plant-based sandwiches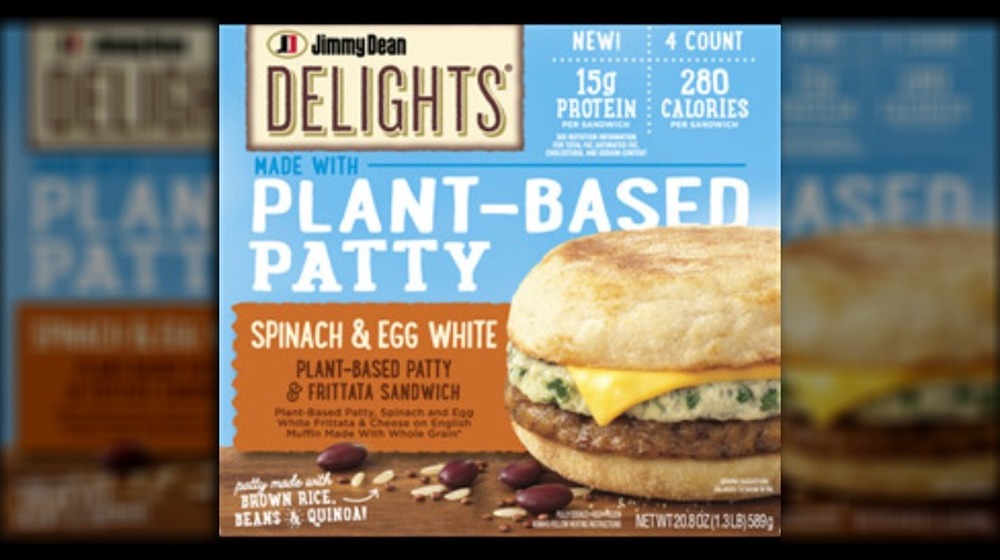 Jimmy Dean
The first of the two new sandwiches by Jimmy Dean that will be available is the plant-based patty, egg, and cheese croissant sandwich. The croissant sandwich consists of a plant-based breakfast sausage patty made with soybeans, pea protein, and egg whites. This comes topped with American cheese, and real, whole eggs. The sandwich has 13 grams of protein per serving, and can be found in the freezer section at Sam's Club locations today. There are 12 sandwiches in each box, which have a suggested price of $11.65.
The second plant-based option is the Jimmy Dean Delights plant-based patty and frittata sandwich. At 280 calories and 15 grams of protein per serving, this sandwich is made with tons of grains and vegetables. The patty is made with soybeans, black beans, brown rice, quinoa, and egg whites. The sandwich is then topped with a spinach and egg white frittata and American cheese on a whole wheat English muffin. Each box of four has the suggested price of $7.29 and will be available at grocery stores across the United States this spring.
These meat-free sandwiches sound delicious to us, so you will likely want to try them both. It's certainly an easy way to whip up a complete meal when you need it most.