These Keto Bars From Aldi Are Turning Heads
Weight loss is one of the most common New Year's resolutions. Following the indulgences of the holiday season, many people vow to shed their excess holiday pounds and recommit themselves to healthy habits in the new year. One of the most common ways people do this is by following a keto diet, which has become a very popular trend in recent years. The keto diet is a low-carb, high-fat diet that promises to improve health and lose weight, and its adherents swear by the results. 
In 2021, Aldi is making it easy for anyone who is looking to give this diet a try with the release of their new, keto-friendly snack bars. The popular Instagram user @aldi.mademedoit posted the news on their Instagram account: "Keto friends this one is for you!! @aldiusa added keto friendly snacks in salted caramel pecan, chocolate almond brownie and chocolate coconut macaroon for $5.99! Has any one tried these yet?! I'm too scared."
Aldi's keto bars are a low-carb way to satisfy cravings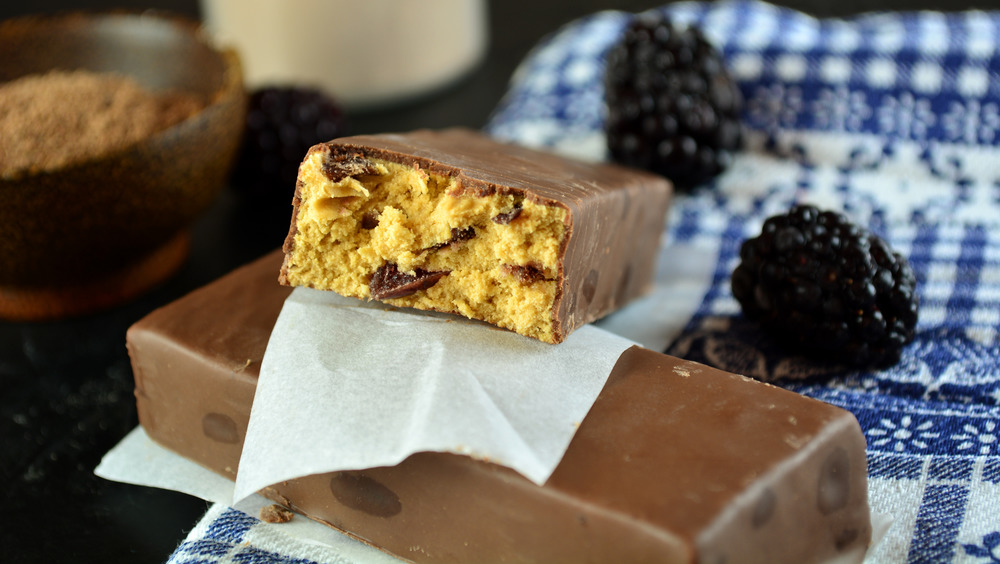 Shutterstock
Aldi fans who have tried out the snack have been pleased with the results. Instagram user @shareitmujer said, "Just tried the chocolate macaroon one, it satisfied my craving. I just started keto and need my sweets!!"
According to Delish (via Yahoo Lifestyle), the bars contain only three grams of carbs per serving and are totally gluten-free. They come in multiple tasty flavors, including salted caramel pecan, chocolate almond brownie, and chocolate coconut macaroon, which makes them a great way to satisfy a sweet tooth while still adhering to the keto diet. Fans of the bars say they are a great substitute for traditional sugar and carb-laden candy bars, like user @kkwiecin, who claimed, "Had the macaroon and it tastes like a mounds bar! So yummy."
Priced at only $5.99 per box, these snack bars are a low-cost, low-effort, low-commitment way for keto newbies to try out the low-carb lifestyle, or for long-time keto practitioners to mix up their snack menu while still reaping the benefits of the diet.