What Is Bourbon Chicken And What Does It Taste Like?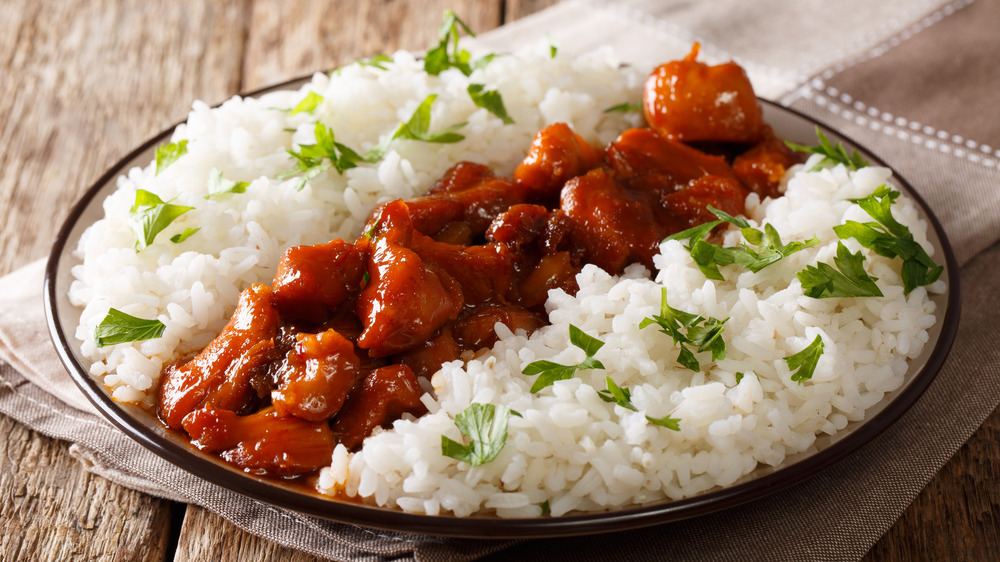 Shutterstock
If you've ever visited a Chinese food court buffet restaurant at the mall, you might be familiar with bourbon chicken. Picture sticky bite-size pieces of tender and juicy chicken, swimming in a mysteriously delicious sweet and salty sauce, served over your choice of rice or chow mein. Who cares what it is as long as it's tasty, right? Well, while you may not be surprised that bourbon chicken didn't originate in China, did you know that it was first made in Louisiana?
According to Immaculate Bites, bourbon chicken is named after Bourbon Street in New Orleans, Louisiana. The dish has Cajun roots, and became popular throughout Cajun-themed Chinese restaurants in the south. Turns out that making the sauce at home is also fairly simple, and just requires bourbon, low-sodium soy sauce, apple cider vinegar, brown sugar, ketchup, cornstarch, and chicken stock (via Immaculate Bites). So, what does this popular take-out dish taste like?
This is what bourbon chicken tastes like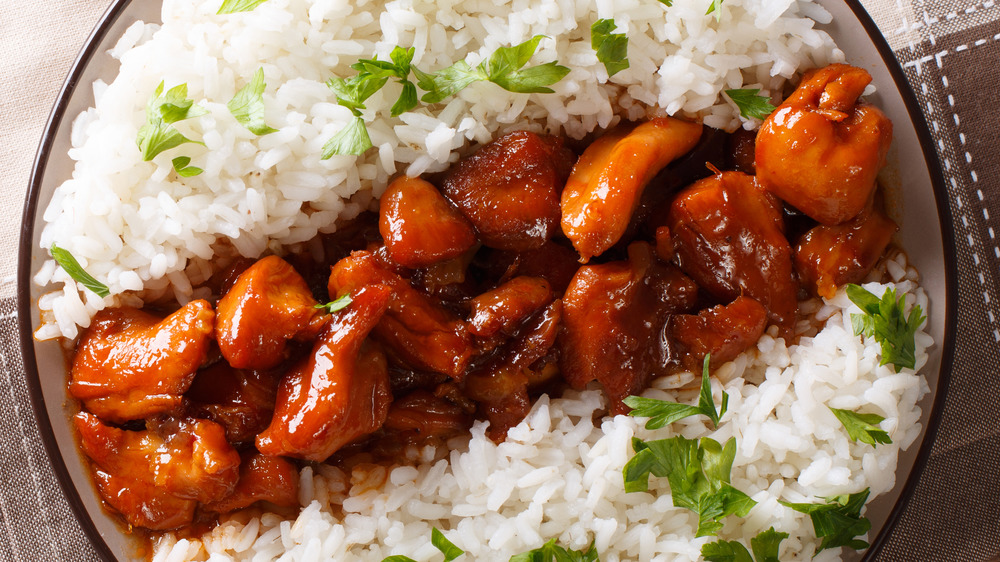 Shutterstock
You may only think of apples and bourbon when reminiscing about holiday cocktails, but now you can imagine those same flavor profiles on chicken. According to Dinner then Dessert, bourbon chicken is, "Deliciously sweet and sticky and has a deep bourbon flavor with hints of the apple juice." Never cooked with alcohol? The bourbon cooks down in the sauce for the most part (but it is actually possible to feel tipsy after eating bourbon chicken depending how you cook it). Don't want to waste your bourbon? Dinner then Dessert says you can double up the apple juice as a replacement.
In the recipe, the chicken is browned first, on its own. The sauce is then mixed and stirred into the chicken, cooking until it gets thick, sticky, and yummy (via Certified Pastry Aficionado). For even more flavorful bourbon chicken, Spend with Pennies suggests using chicken thighs for a juicier meat than breasts will offer. Fresh garlic and ginger can also amp up a bourbon chicken recipe, and try playing around with chili flakes or fresh chilis to adjust the heat level to your liking. All you need now is chopsticks!