Why Carla Hall's Southern Kitchen Disappeared
Daniel Zuchnik/Getty Images
In the world of cooking shows, Carla Hall has been a lot like a light bulb in the sense that when she's on, she lights up the room. However, there is no off switch for her infectious energy. During her time hosting The Chew, she didn't just chew the fat about food; she got the audience jazzed by dancing (per Pickler and Ben). But even someone as fancy-footed as Hall can make missteps. Unfortunately, she made some huge ones when running her first restaurant, Carla Hall's Southern Kitchen, which first opened its doors in Brooklyn in 2016 and permanently closed those doors the following year (via Eater).
At first blush, Carla Hall's Southern Kitchen sounded like a recipe for excellence. It promised "slow-cooked, fast-served food that hugs you" and "old-fashioned southern goodness," according to the restaurant's website. The pride of the place was its Nashville-style Hot Chicken. But the key ingredient was seemingly Hall herself. More than a dance-tastic talk show host, she was a Jackie of all trades and a master of food. She had the right stuff to excel in the accounting world, strutted her stuff in the modeling world (in Paris, no less!), and even rocked people's worlds selling sandwiches in a business she built from scratch, per NPR.
Hall's appearances on Top Chef showed she was a top talent, and she had cookbooks to boot. And let's face it: She's famous. Yet as Hall discovered the hard way, fame can be a hindrance.
Carla's Hall of flame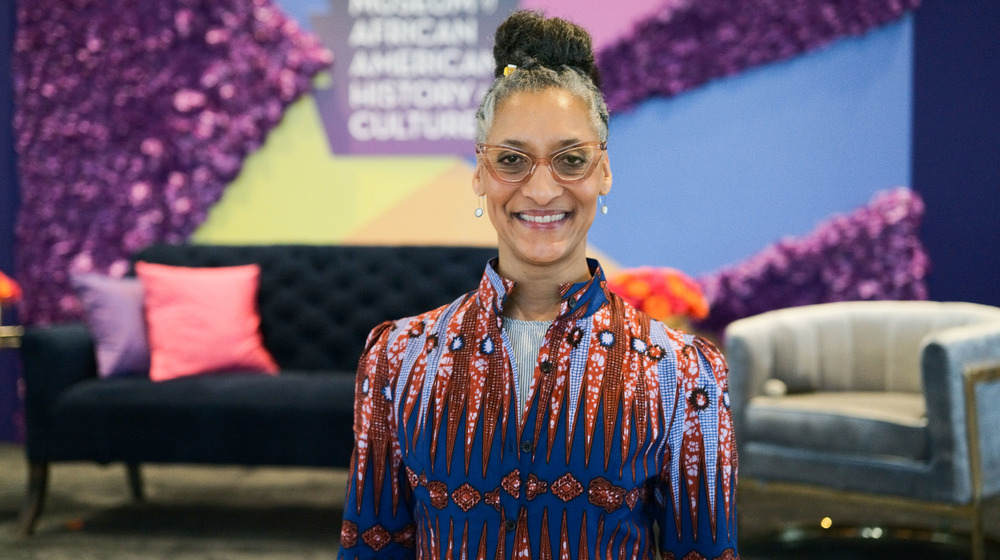 Earl Gibson Iii/Getty Images
Reflecting on her establishment's demise, Hall said in 2017, "How we funded the restaurant is really what ultimately led to our downfall." She crowdsourced the endeavor through Kickstarter, which left a foul taste in a lot of people's mouths. People knew her as a successful celeb but didn't know how much time and money must be invested in a restaurant. "So, we had all these people basically asking us, 'What's up? Are you stealing our money?'" recalled Hall.
Hall was also hamstrung by her ABC contract, which imposed restrictions on self-promotion. That meant not mentioning her restaurant on TV or social media as much as she otherwise could have and apparently needed to. Plus, because she was so well-known, her restaurant team emphasized avenues of expansion rather than ensuring the first restaurant was strong enough to prosper.
Unfortunately, setbacks abounded. An electrical fire combined with other problems put Carla Hall's Southern Kitchen out of commission for a month, per Eater. Afterward, the general manager jumped ship, which promptly began sinking. "From that point on, things just started to go downhill," Hall said. She received a harsh lesson in the importance of experience, realizing that even an avid dancer can't just waltz into the restaurant world and conquer it. But she also recognized failure as a step toward success, declaring, "Don't count me out just yet. I've learned some lessons, and you better believe I won't make the same mistakes twice."