Trader Joe's Fans Can't Get Enough Of These Canned Greek Chickpeas
Chickpeas have long been a popular food choice among vegans and vegetarians, thanks to their high protein content. The legume is not only high in protein and fiber but also packed with many essential nutrients like folate and manganese, making it a very healthy choice for vegetarians and meat-eaters alike, per Healthline. However, on their own, chickpeas can sometimes taste a little bland. But, as Trader Joe's popular seasoned Greek chickpeas show, it doesn't always have to be that way.
Trader Joe's has hit a home run with their brand of Greek chickpeas, which are seasoned with parsley and cumin and sold ready to eat. Happy customers flocked to social media to express their satisfaction with the item. User @rubatherese raved: "One of the best products TJs ever sold! They taste so similar to chickpeas I ate as a kid back home. I was so impressed I've been buying 4-5 at a time lol they are a great snack (especially if you're trying to eat healthy)" (via Instagram).
Trader Joe's Greek Chickpeas can be added to a variety of dishes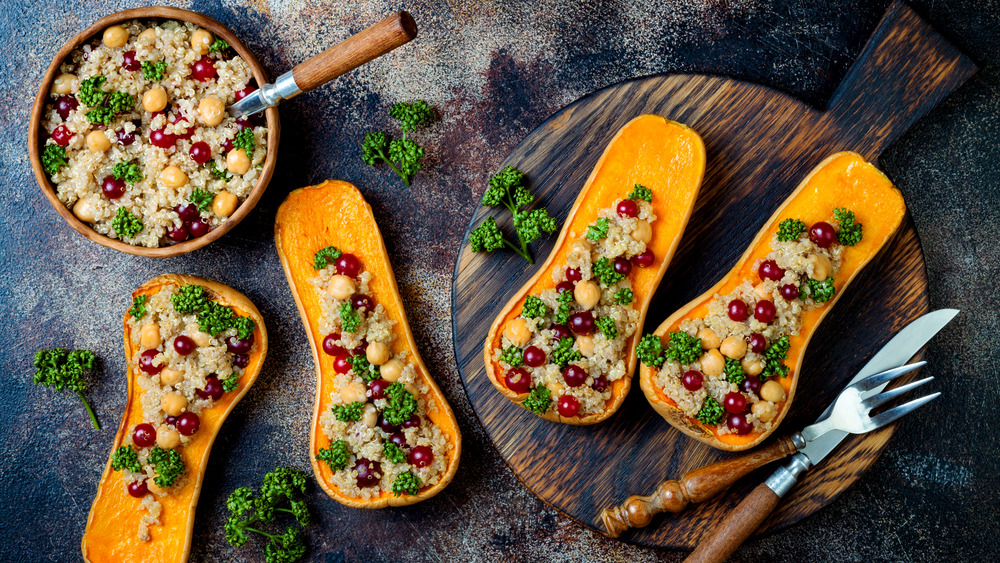 Shutterstock
Social media users were quick to offer up many creative recipes that were enhanced by Trader Joe's flavorful chickpeas. "Bake an acorn squash, top with these and a lemon yogurt drizzle," @schmyrka recommended. "I love these – pair em with the canned quinoa dolmas and a honeycrisp apple for a quick, filling and delicious meal," user @aimerson_ suggested. The chickpeas are an easy way to punch up salads, wraps, toasts, and sandwiches. They can even be pureed and made into a uniquely delicious hummus dip.
While they are a great addition to many meals, these chickpeas seem to pack more than enough flavor to hold their own as a standalone snack. User @bissy_silva_ admitted: " I love these...I eat them right out of the can with a spoon," while @melissacosdon advised other snackers to "bake them 400 degrees for 30 mins until they're crispy. My kids LOVE THEM!" It seems both adults and kids can't seem to get enough of Trader Joe's delicious and healthy take on the classic chickpea.