Don't Serve Salmon Croquettes Without One Of These Sides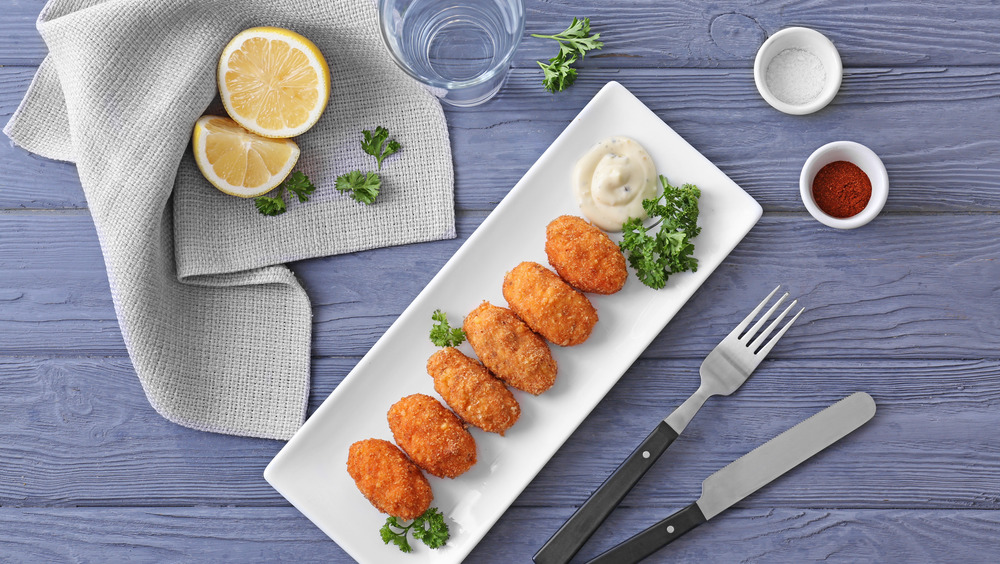 Shutterstock
In a Chowhound discussion, readers discussed the ideal side dishes for salmon croquettes, and let us tell you, the inspiration was endless. Everything from simple salads and scalloped potatoes to grits and mac 'n' cheese were mentioned, proving there's no reason for your fishy croquettes to ever feel boring again.
But before we dive in too far, let's look at what a salmon croquette is. While it would be natural to assume the geographical origins of this dish are the naturally salmon-rich regions of the Pacific Northwest, Canada, Alaska, and Northern Europe, salmon croquettes, typically oblong in shape, and the similar, flatter salmon patty, are also a staple of Southern U.S. cooking. 
According to The Alaska Life, salmon patties became a Southern staple during the Great Depression when hard-hit residents of the region began to develop vitamin B3 (niacin) deficiencies. To combat this problem, the federal government subsidized salmon producers, which drove down the retail price of niacin-rich salmon to less than five cents a can in the 1930s. (Of course, today, wild-caught salmon is the healthier and better-tasting choice.) This all led to salmon dishes becoming a popular choice down south, including croquettes.
Perfect companions for salmon cakes and croquettes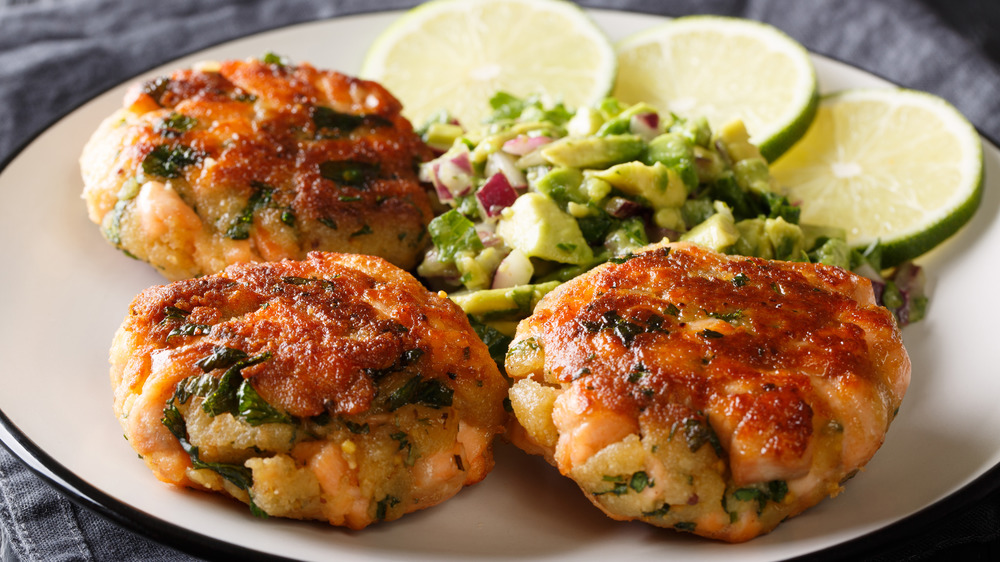 Shutterstock
In the Western world, fish cakes date back to 19th century England, when leftover fish like cod was combined with mashed potatoes, onions, and spices and served as snacks, according to iFood.TV. Classic croquettes are breaded, while fish cakes or patties typically have bread or bread crumbs incorporated into the cake itself, according to Lana's Cooking. The taste and basic ingredients, however, are very similar. And while they are delicious served alone with dipping sauces, such as this piquant one from Sandra Lee made with capers and lemon juice, or a lighter dill sauce from Skinnytaste, you can also make a meal of them with some well-chosen side dishes. 
In the Chowhound discussion, fans of the Southern salmon cakes suggested classic regional sides such as grits with stewed tomatoes, creamed corn and fried okra, sugar snap peas and carrots with fresh mint, or macaroni and cheese and cooked greens. But because fried fish cakes are quite satisfying on their own, others suggested something light and acidic would be a better accompaniment. Readers also recommended a vinegary coleslaw or a green bean and cherry tomato salad with lemon vinaigrette. An avocado salad was another option provided.
If you're looking for a salmon croquette recipe, The Recipe Critic promises its version is so good, even kids will like it. And this one from Epicurious ratchets up the flavor with Old Bay seasoning and cilantro. Regardless of how you decide to cook your batch of them, you'll be getting a tasty dish with plenty of nutrients.