How Burger King Is Trying To Stay Ahead In The Chicken Sandwich Wars
Matthew Horwood/Getty Images
"The King must eat like a king," Burger King said in a statement related by Restaurant Business. "So, we're constantly testing new items to satisfy his cravings. We don't have details to share just yet because he hasn't decided what's next." However secretive Burger King may be in their press release, the executives of Carrols Restaurant Group, the biggest Burger King franchisee, told investors that the chain was ready to introduce its improved chicken sandwiches to its menu by May. Carrols reportedly described the new item as hand-breaded and featuring fresh chicken.
Previous coverage has noted Burger King's cautious foray into the chicken sandwich craze. Chew Boom wrote on October 1 that three types of hand-breaded chicken sandwiches were being offered at select locations — namely, a minimal version with the chicken, pickles and sauce, another that added bacon and cheese, and another with tomato and lettuce.
Food vloggers Rodrickeats (posted on YouTube) and theendorsement (also found on YouTube) both tried the chicken sandwiches with positive responses that probably are a good sample for how the sandwiches have been received, considering that they will now become part of the menu. Burger Beast, however, is not as impressed. While allowing the fact the new sandwich both looks and tastes better than the previous iteration, he does not expect it to upend the chicken sandwich landscape. Still, considering the scope of the chicken sandwich wars, Burger King probably cannot afford to ignore these developments, even if it only manages a middling presence.
Burger King had no choice but to go in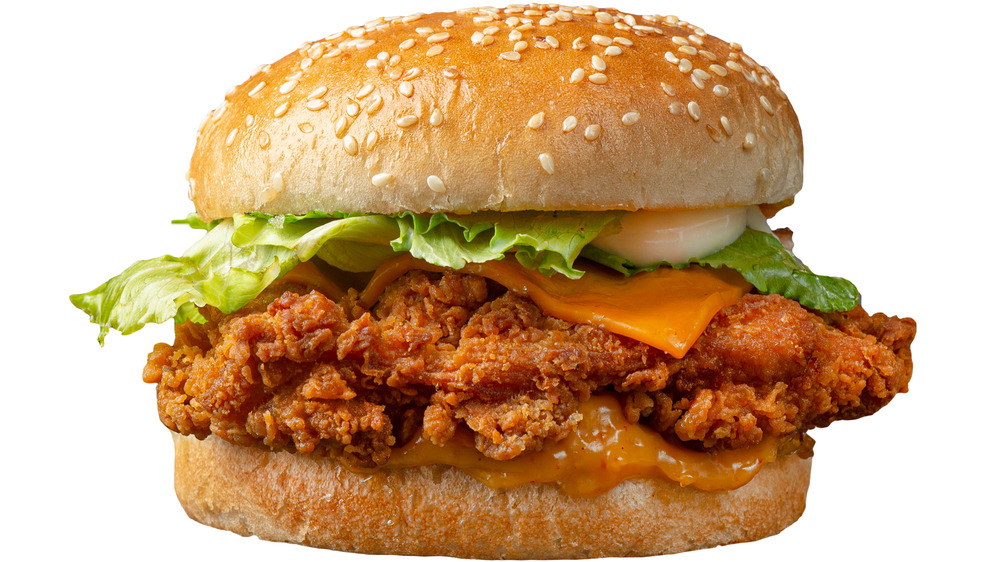 Shutterstock
As Restaurant Business notes, in the last 15 months, two of the largest burger chains and two of the largest chicken chains have introduced new chicken sandwiches along with other smaller competitors, making Burger King a relative latecomer to the fracas. 
Putting aside the tallies of which brand has pushed their new chicken sandwich and how they made it different, we should wonder why the wars have exploded. Of course, breaded and fried meat's always a winner and, as CNN notes, chicken is by far the most popular meat in the United States. However, that does not explain why the trend became such a scramble in 2019, especially not when brands like McDonald's had been experimenting with chicken sandwiches for decades, as CNN also notes.
Uproxx suggests that between Chick-fil-A's success in building a business based on the chicken sandwich as well as the political climate in which the original Tweet set off the chicken sandwich wars laid the basis for the dish's viral popularity. In 2019's media environment, in which everyone was primed to have a take on everything, the small stakes debate of whether Chick-fil-A or Popeye's offers the superior chicken sandwich blew up into the never-ending marketing campaign of the Chicken Sandwich Wars, which is still going strong in 2021. How Burger King ultimately fits within the branded battlefield waits to be seen, but its absence would certainly have been taken as a failing.