Old Fashioned Waldorf Salad Recipe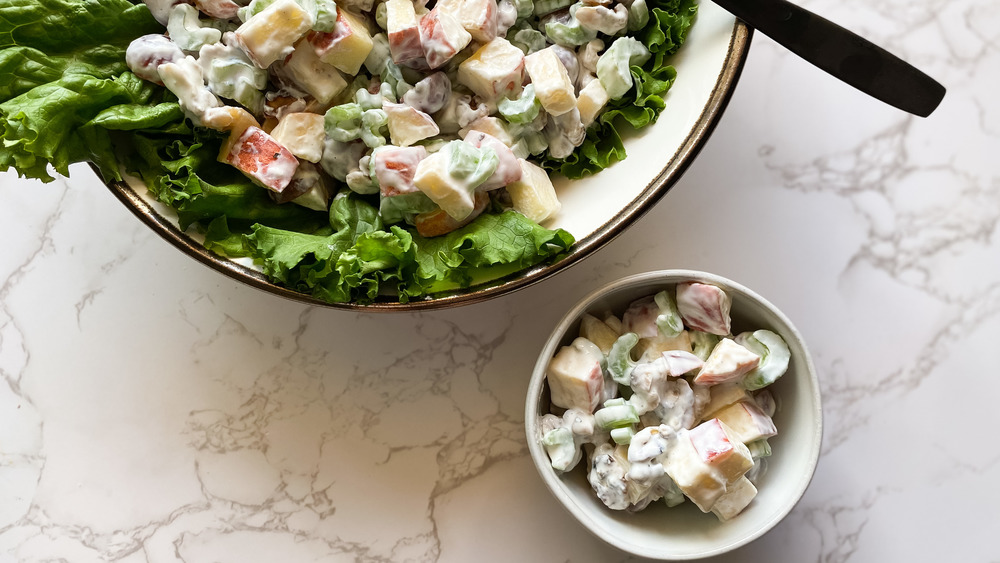 Kristen Carli/Mashed
You don't have to go to some fancy lunch spot to get your Waldorf salad fix. It's incredibly easy to create it in your own kitchen. We got this Waldorf salad recipe from registered dietitian and recipe developer, Kristen Carli.
Carli's Waldorf salad recipe is unique because she uses Greek yogurt as the base. Of course you always have the option to use the traditional mayonnaise instead, but Greek yogurt has some advantages. We asked her the reasoning behind the switch-up (should you opt to use it) and she explains, "Greek yogurt is a healthier alternative to mayo because it is high in protein. Protein helps make this recipe more balanced." Plus, Greek yogurt is simply delicious, so you really can't go wrong with the creamy swap.
It's your call if you decide to go yogurt or go mayo. Maybe even try both ways to see which one you like better? Either way, you really can't go wrong with this easy-to-execute Waldorf salad recipe.
Gather all the Waldorf salad ingredients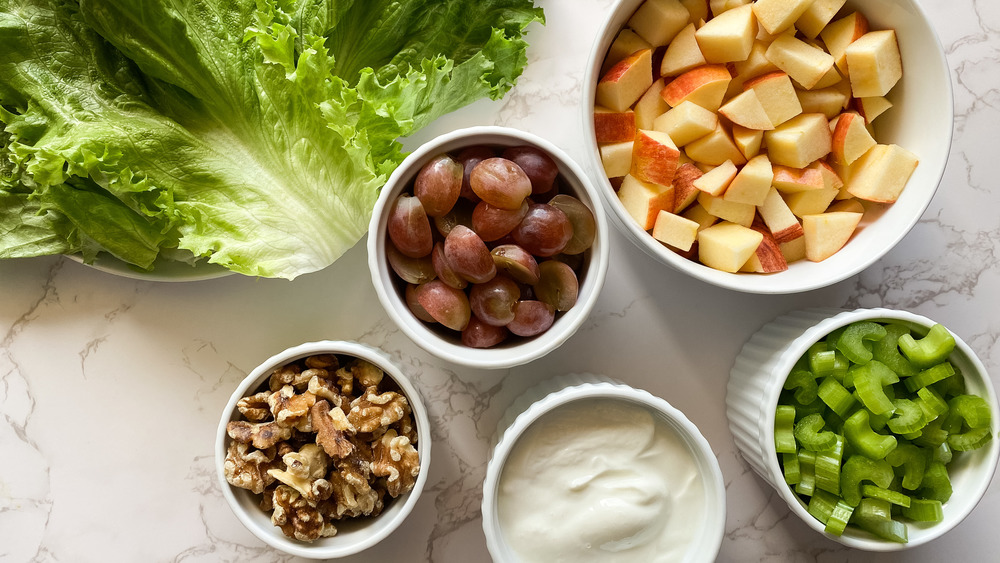 Kristen Carli/Mashed
For this recipe, you'll need your basic staples, salt and pepper, along with 6 tablespoons of Greek yogurt (or mayo); two apples (chopped); a cup of diced celery; a cup of toasted walnuts (more on that in the next section); 1 cup of red grapes (halved); and some green leaf lettuce for serving.
It's pretty standard for traditional Waldorf salad to always call for red grapes instead of green ones. However, according to Carli, you have a bit more leeway with the apples. "I chose gala because that is what I keep on hand. Gala, Honeycrisp, Envy, Lucy, or Golden Delicious would be great substitutes," she says.
Toast the walnuts for the Waldorf salad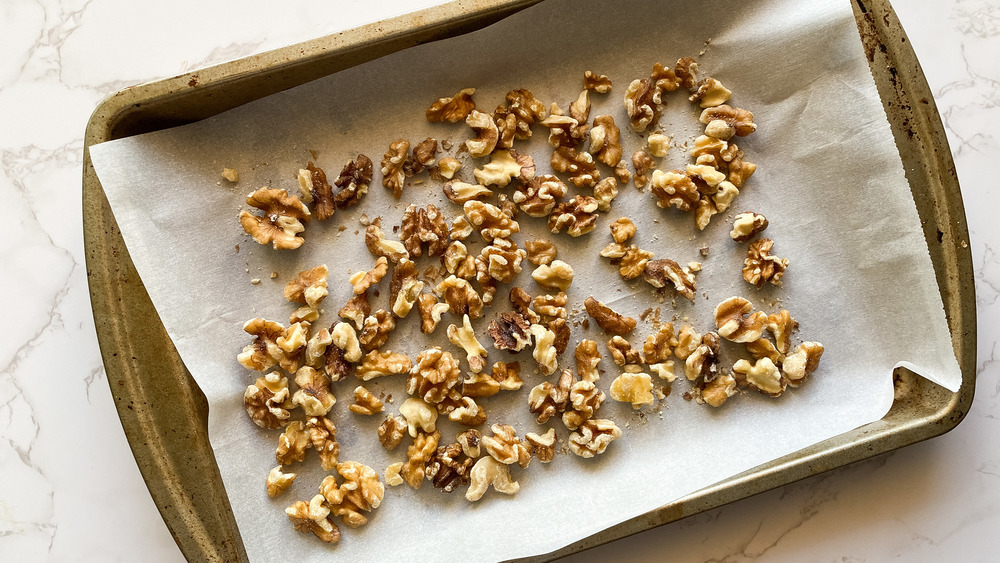 Kristen Carli/Mashed
Place the oven on the broil setting. Toast the walnuts for about one minute, and carefully watch so they don't burn.
If you need to do this in advance of making the rest of the salad, that's fine. While the taste will be superior when the nuts are toasted, they don't have to be straight out of the oven to really dazzle the taste buds. But again, do not skip this step if you know what's good for you (and your Waldorf salad).
Season the yogurt for the Waldorf salad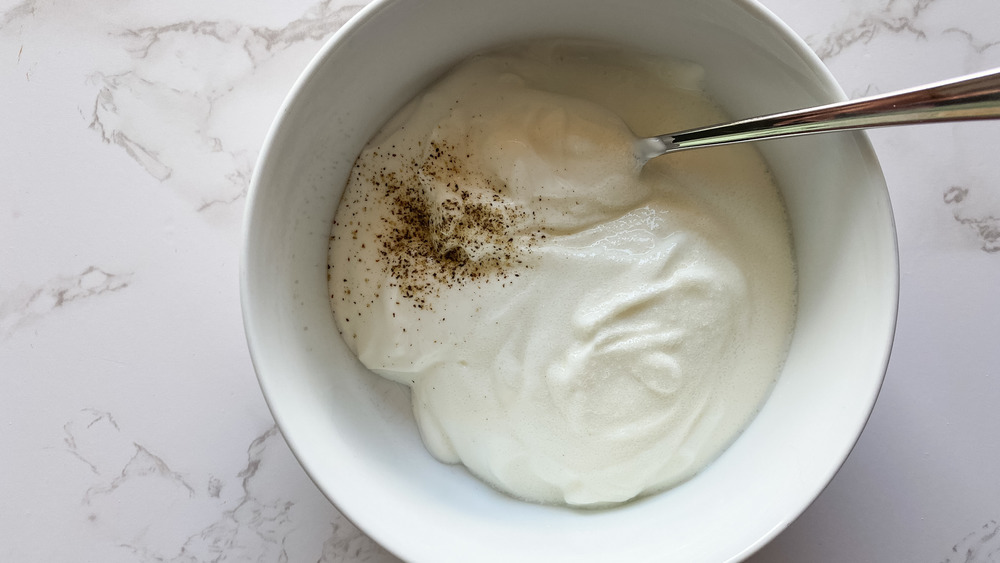 Kristen Carli/Mashed
The next step in this Waldorf salad recipe is seasoning the yogurt. A half a teaspoon of salt and a half a teaspoon of pepper should do the trick. Place the yogurt (or mayo, we don't discriminate) in a small bowl. Add the salt and pepper, then stir it to thoroughly combine.
Combine the apples, celery, walnuts, and grapes in a bowl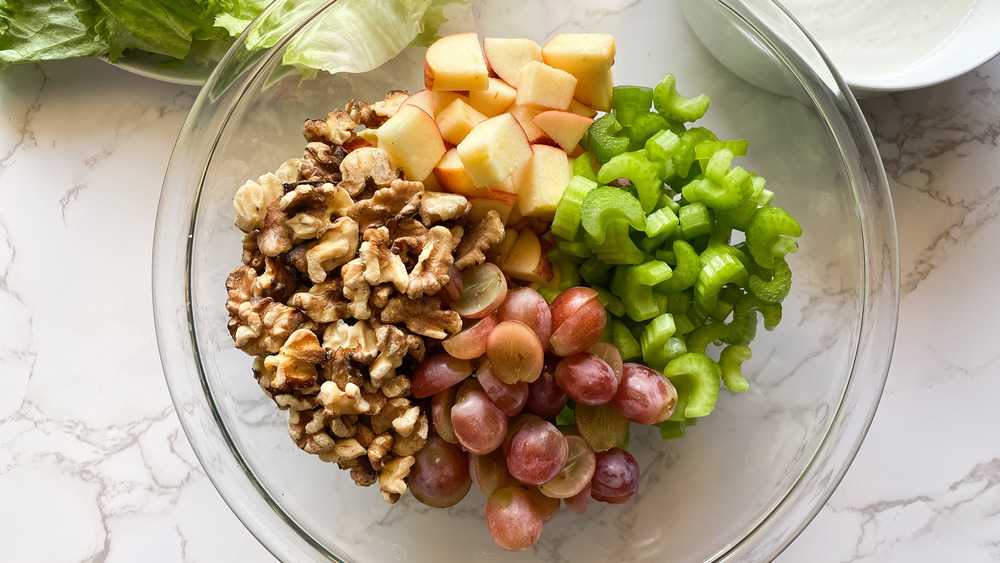 Kristen Carli/Mashed
The next step after seasoning the yogurt is combining the other recipe items together. Place the apples, celery, walnuts, and grapes in a large bowl. You'll be adding the yogurt later and mixing everything together but you can go ahead and mix these items together prior to the yogurt, or wait until after it's added, or do both. This part of the recipe would also be a good time to add another staple item to the Warldorf salad — chicken.
Mix the yogurt with the other Waldorf salad ingredients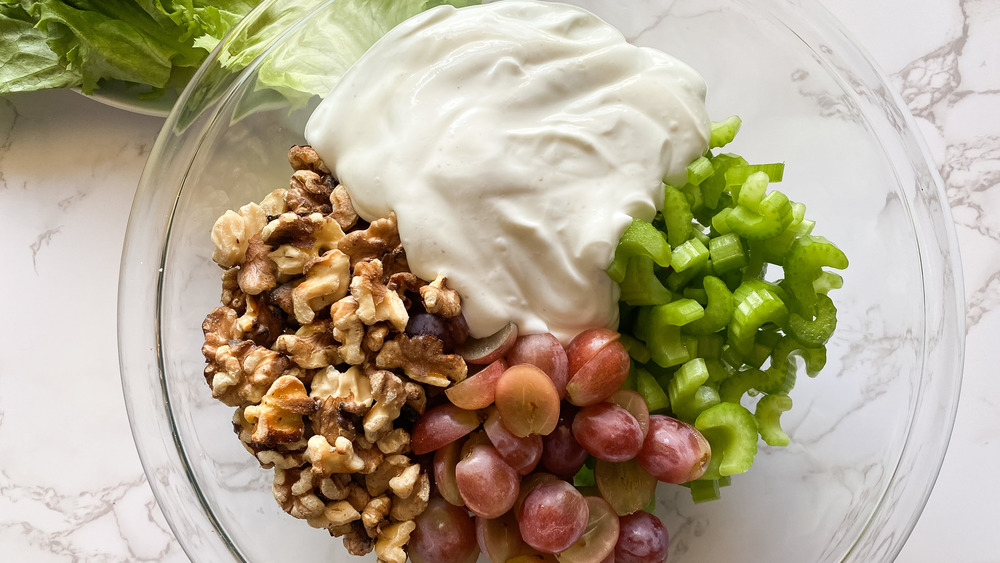 Kristen Carli/Mashed
Now you will top all the Waldorf salad bulk ingredients with the yogurt, and stir everything in the bowl until thoroughly combined. Don't stir with too much vigor as you don't want to smush the grapes.
The Waldorf salad is basically ready at this point but there are opportunities to add even more ingredients if you think it needs a kick. "Optional add in ingredients include raisins, dried cranberries, diced pears, or diced peaches," says Carli. So depending on what's in season and what your palate prefers, these added dried or fresh fruits can really jazz up this grandma-basic Waldorf. Feel free at this point to add any more salt or pepper if you think it needs it.
Serve the Waldorf salad over greens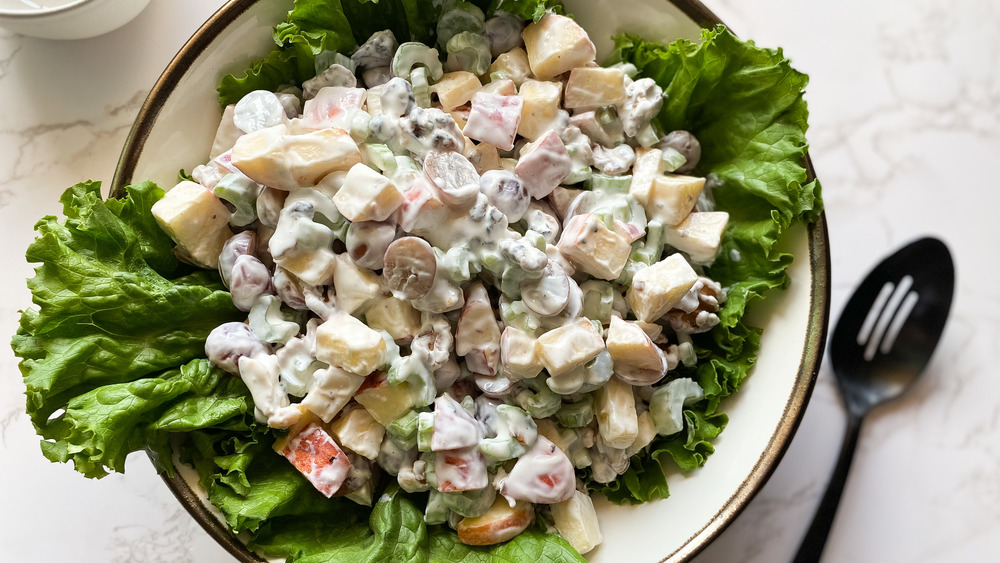 Kristen Carli/Mashed
Your Waldorf salad should be ready to serve by this point. Carli uses green leaf lettuce to serve it over, as exemplified in the photos here, but any type of greens will work! Kale and spinach are welcome — they might make your grandma shudder though. You can also enjoy the Waldorf salad plain with a fork or crackers. Put it between two slices of bread if you really want to get wild!
How long does Waldorf salad prepared with Greek yogurt last? We all know that mayo-based salads can be dicey in terms of longevity so we asked Carli about this one. "This will keep in the fridge for three days in an airtight container," she confirms. So if you want to prepare this salad in advance, you have a couple days for it to keep! 
Enjoy and definitely brag about how much protein you're getting these days.
Old Fashioned Waldorf Salad Recipe
Mayo is a key ingredient of the classic Waldorf salad, or is it? This recipe swaps in Greek yogurt for a healthier version that still delivers trademark flavor.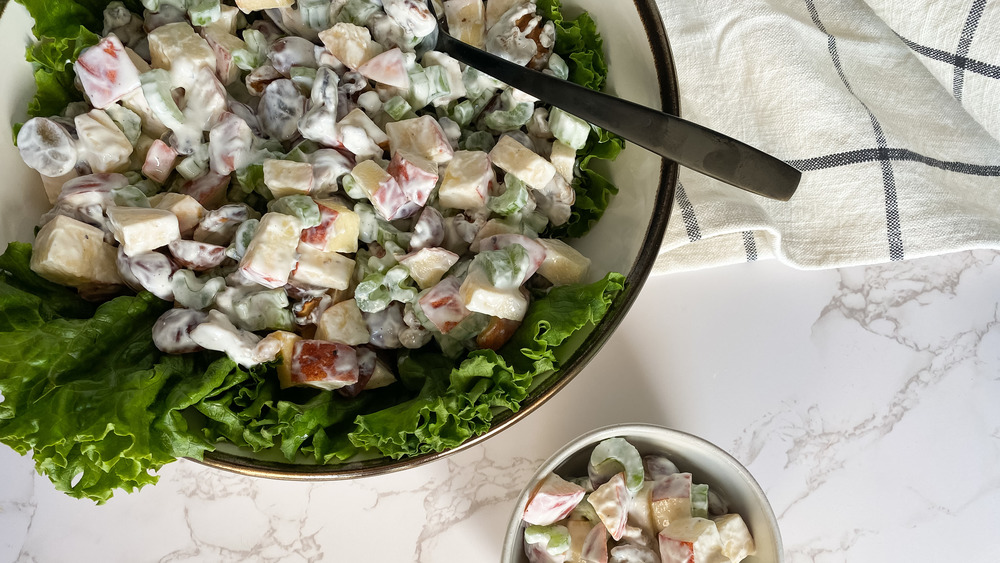 Ingredients
6 tablespoons unsweetened Greek yogurt (or mayonnaise)
2 apples, chopped
1 cup celery, diced
1 cup walnuts
1 cup red grapes, halved
½ teaspoons salt
½ teaspoons black pepper
green leaf lettuce, for serving
Optional Ingredients
raisins
dried cranberries
diced pears
diced peaches
Directions
Place the oven on broil. Toast the walnuts for about 1 minute. Carefully watch so they do not burn.
Place the yogurt in a small bowl with salt and pepper. Stir to combine.
Place the chopped apples, celery, walnuts, and grapes in a large bowl.
Add yogurt to rest of ingredients and stir to combine.
Serve over green leaf lettuce leaves.
Nutrition
| | |
| --- | --- |
| Calories per Serving | 109 |
| Total Fat | 2.4 g |
| Saturated Fat | 1.0 g |
| Trans Fat | 0.0 g |
| Cholesterol | 3.6 mg |
| | |
| --- | --- |
| Total Carbohydrates | 21.4 g |
| Dietary Fiber | 3.1 g |
| Total Sugars | 16.6 g |
| Sodium | 325.3 mg |
| Protein | 2.9 g |