Upgrade Your Homemade Hoisin Sauce With These Secret Ingredients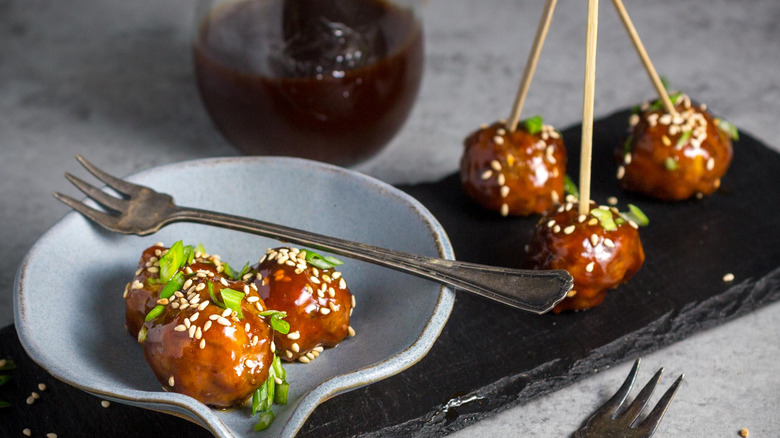 Shutterstock
Salty, sweet, rich, and fragrant, hoisin is a bold sauce that catapults mealtime to new heights. And although you can find hoisin sauce at most grocery stores, crafting your own, homespun batch allows lots of room for personalization.
Hoisin sauce is a thick, sticky sauce made from fermented soybeans, garlic, Chinese 5-spice, chilies, sesame oil, and sugar. The aromatic, pungent sauce is used in a variety of Asian dishes.
Known as Chinese barbecue sauce, Healthline adds that although "hoisin" means seafood in Cantonese. The sauce is vegan and widely used as a marinade, cooking sauce, and condiment.
The Daring Gourmet adds that because hoisin balances sweet, tangy, and salty flavors while adding savory umami qualities, the all-purpose sauce is an excellent addition to vegetables, meat, poultry, pork, noodles, marinades, vinaigrettes, and barbecue sauces, and as a dipping sauce for dumplings, egg rolls, wontons, and chicken nuggets.
How to make versatile hoisin sauce with pantry staples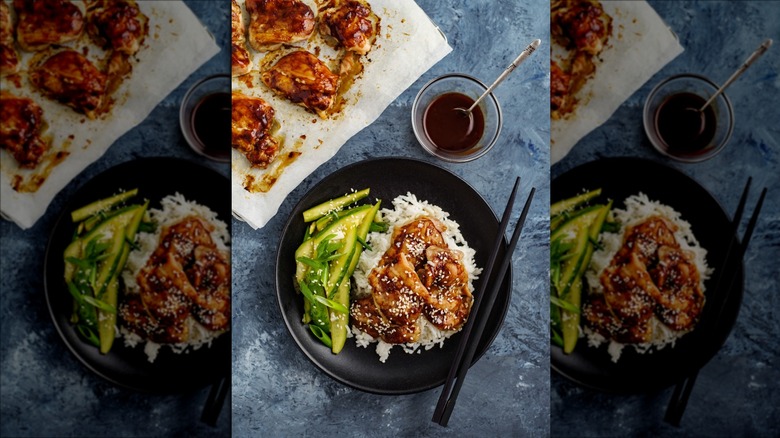 Shutterstock
One of the best features of hoisin sauce is that it's totally customizable and easily created at home. Omnivore's Cookbook explains that mimicking the essence of fermented soybeans is easily accomplished by blending soy sauce, peanut butter, and miso. Their recipe also incorporates garlic, honey, and rice vinegar for pungency, sweetness, and tang.
Food.com offers a similar recipe concept but suggests molasses instead of honey for more depth of color and flavor. If you're not a fan of bitter molasses, All Recipes proposes sweetening your hoisin sauce with brown sugar.
For a thicker sauce with a little kick, Chili Pepper Madness shares a hoisin recipe that includes both sriracha and cornstarch. The hot sauce adds heat and the cornstarch thickens the sauce as it simmers on the cooktop.
If you need to avoid soy sauce for dietary reasons, Pure Wow suggests substituting Worcestershire sauce, fish sauce, coconut aminos, or the liquid used to rehydrate dried shiitake mushrooms. If you're dodging wheat, those four options also work, as do gluten-free tamari sauce and liquid aminos.