The Reason So Many Italian-American Restaurants Look The Same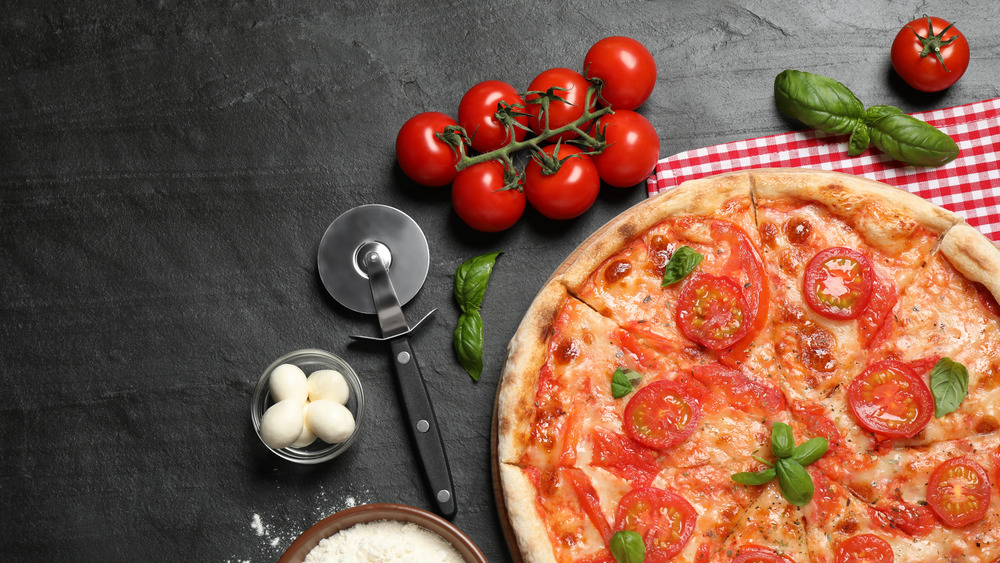 Shutterstock
Rustic wood and checked red and white tablecloths. Baskets of bread and carafes of olive oil. Perhaps a painting of tomatoes, or a decorative garland of garlic bulbs. If these images feel familiar, it's probably because you've stepped foot in an Italian restaurant — or rather, an Italian-American restaurant. In addition to offering familiar, not-exactly-authentic fare such as spaghetti and meatballs or fettuccine alfredo, Italian-American restaurants also tend to look the same. That's not a coincidence.
In his essay "Commodified Identities: the Myth of Italian Food in the United States," published in the Journal of Communication Inquiry and posted at Researchgate, author Davide Girardelli cites theorists Mike Featherstone and Jean Baudrillard to put forth the notion that in American restaurants, food is only one part of the equation. The "carefully constructed symbolic environment" of a restaurant's design and atmosphere, which Girardelli deems "the package that wraps" the food, is just as important. The way Girardelli sees it, you can't have one without the other.
The "package" of Italian-American restaurants, per Girardelli, seeks to channel an authentic Italian-ness, even if the restaurant is anything but. The appeal of Italian-ness comes from a combination of "exoticism and identification." It's foreign food and culture, but it's simultaneously comforting, palatable, and old-fashioned.
Familiar sights seen in Italian-American restaurants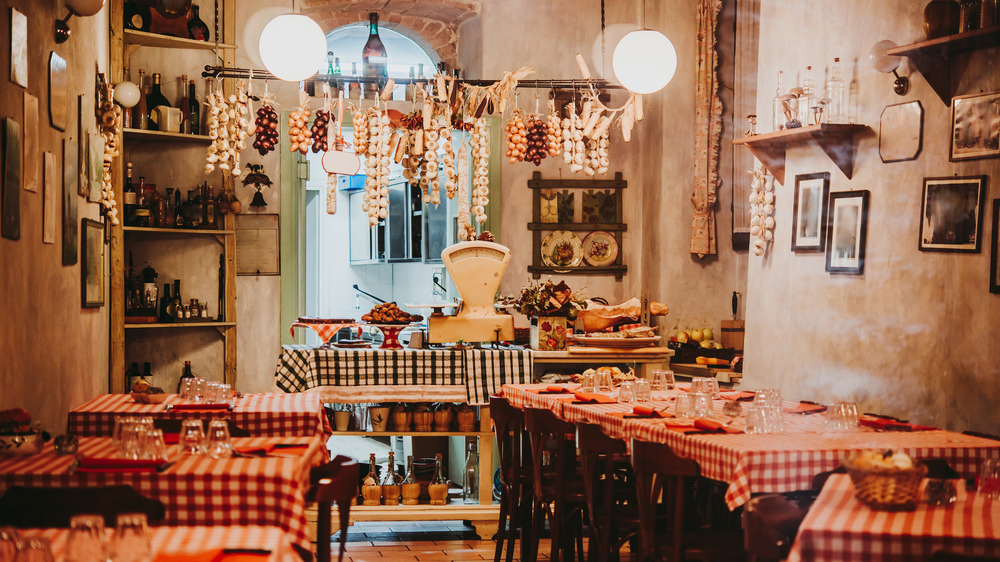 Shutterstock
According to National Geographic, Italian restaurants comprise 100,000 of America's 800,000 restaurants, compared to just 40,000 Mexican eateries. Whether you're at chains like Olive Garden and Maggiano's or your local pizza joint, look out for these aesthetic choices that help create the Italian-American "package."
Italian-American restaurants rarely have bare walls. Instead, you'll find imagery that furthers what Girardelli calls the "myth of Italian food": photos of big Italian families, rustic farm scenes, and celebratory meals, often in black-and-white or sepia tones. The website Restaurant Furniture recommends hanging kitchen tools, displaying vintage tin signs for Italian groceries, or even employing a faux wall finish that recalls old Italian stucco.
Decor-wise, Girardelli notes the ubiquitous Italian flag colors of green, white, and red. He also mentions decor that makes the restaurant seem "down-home," like bricks, wicker baskets, and "soft, dim" lighting. Restaurant Furniture similarly suggests checkered tablecloths, "faux grape vines," and "decorative olive oil jars."
Referencing tourism scholar Dean MacCannell, Girardelli suggests these restaurants act more like tourist attractions than anything. They may not be authentically Italian, but they're what Americans want Italian to be. And as the saying goes, the customer is always right.