Trader Joe's Most Popular Cheeses In 2020 Might Surprise You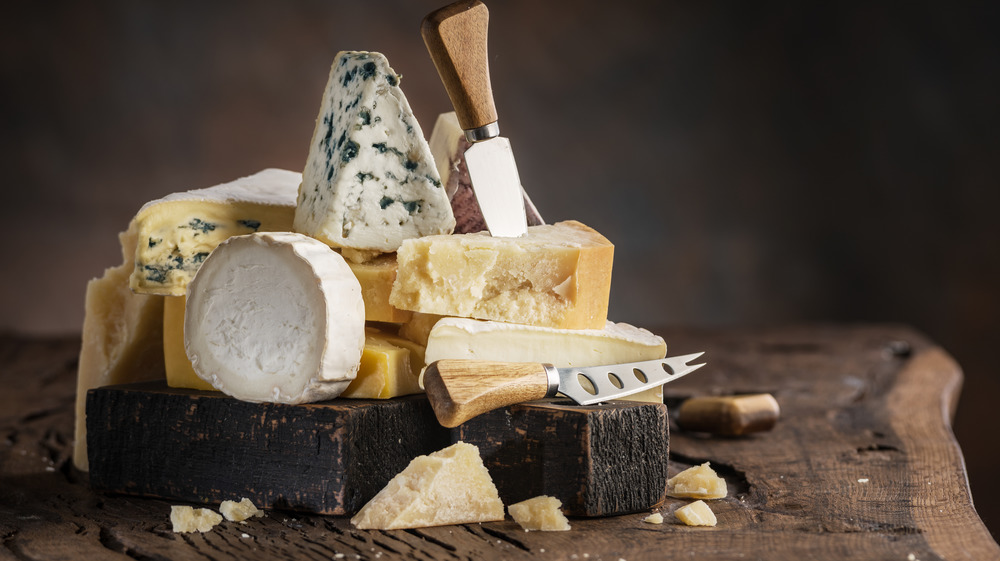 Shutterstock
There's a lot of reasons to love cheese. Not only does it taste delicious by itself, it pairs well with a lot of mouthwatering things. Who doesn't love creamy macaroni and cheese with fresh cheddar or flavorful parmesan sprinkled on your favorite pasta dish? Just thinking about it makes us crave it and we're apparently not the only ones. CNBC reports that Americans eat a staggering 38 pounds of cheese per year. So, when Trader Joe's announced its most popular cheeses of 2020 based on customers' reviews, we were very interested. 
Coming in at the top of the list is a versatile cheese that we can't get enough of — Trader Joe's Unexpected Cheddar Cheese. It's an aged cheddar that also has hints of parmesan. The best of both worlds really. Food blogger Trader Joe's Rants raved about it writing, "I have to say Unexpected Cheddar is one of the best cheeses I have purchased there, or frankly anywhere. I'm a huge fan of a good Cheddar, the sharper the better for my tastes." So what were some of the other cheeses that TJ customers can't get enough of? Some of them might surprise you.
Other cheeses that made the top of Trader Joe's most popular list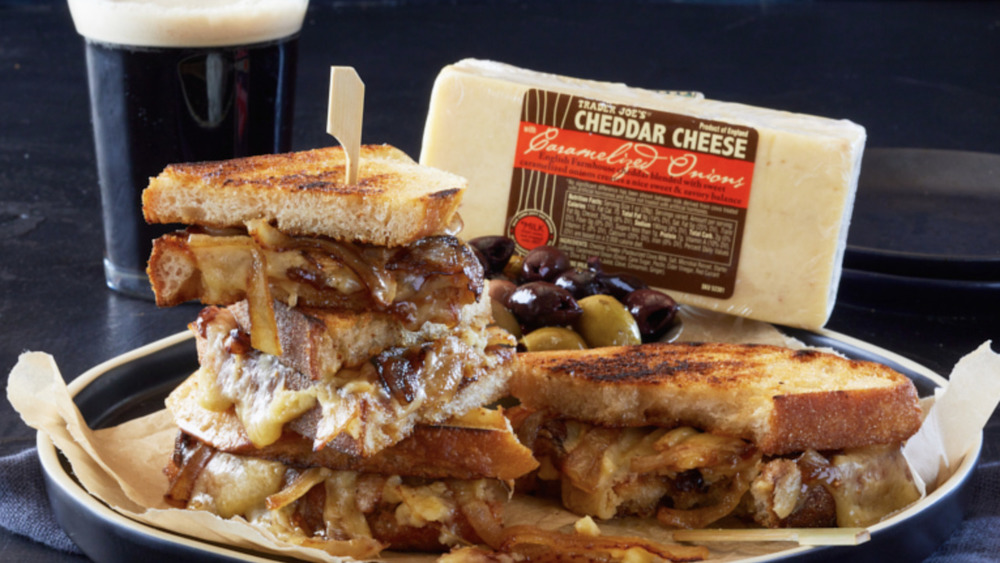 Trader Joe's
The second top cheese to make the list, was the grocery chain's English Cheddar with Caramelized Onions. Need we say more? Trader Joe's explains the cheese is aged for 15 months to get the flavor just right. "The cheese is decidedly rich, with the sweet & savory onions adding an additional layer of flavor complexity not found in just any ol' Cheddar," the grocery chain added. "It's rich, yet still somewhat delicate." Sounds incredible, we get why it's a must-have.
Next up on the list of most popular items you'll want to add to your next charcuterie board, is Wild Blueberry & Vanilla Chèvre. It's a tasty goat cheese that's both tangy and sweet. Fourth runner-up is Trader Joe's Creamy Toscano Soaked in Syrah. Popsugar is a big fan of this one writing, "This red-wine-soaked cheese is both fancy and crowd-pleasing. Its creaminess helps it to spread on crackers, toasts, and pairings of all sorts." 
Last on the list of favorites, was a seasonal item at the grocery store — Baked Lemon Ricotta. Trader Joe's explains it has a "cheesecake-like texture and fragrant lemon notes." It also suggests mixing it in with hot pasta or just eating it with a spoon. Yep, it's apparently that good. With so much variety, you really can't go wrong with any of these affordable and decadent cheeses.