Chocolate Peanut Butter Fudge Tart Recipe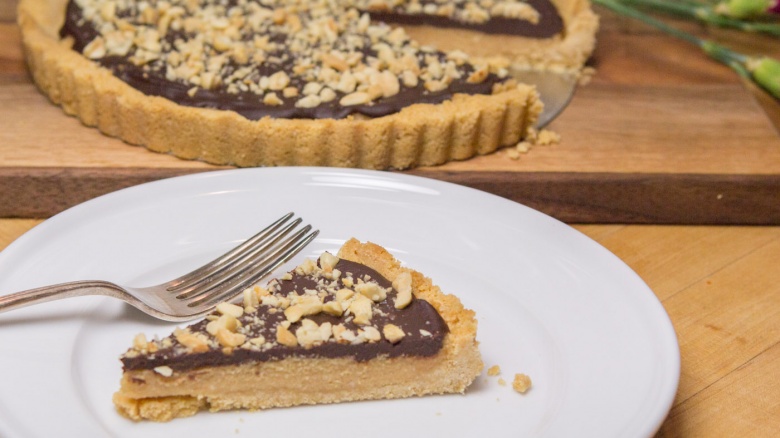 Prep time: 40 minutes. Cook time: 10 minutes. Servings: 6-8.
One of my favorite desserts for achieving casual weeknight fancy, this streamlined (but no less decadent) take on beloved peanut butter fudge pie is oh so sweet with just the right touch of salty. Whereas I find some versions of this classic Southern treat a little too rich, cloying, and over-the-top for everyday consumption, this dense and creamy but noticeably thinner tart remake is something I could enjoy regularly with a cup of coffee or tea.
If you're a fan of the sweet and salty notes in peanut butter as well as its smooth and thick texture, you've probably enjoyed your fair share of peanut butter fudge. A confection is often made by cooking together sugar, butter, and milk until the mixture is deliciously toffee-like. While this concoction is often associated with chocolate, the peanut butter variety has its own legions of followers.
Here, peanut butter fudge is given a fresh spin in the form of a tart! A lovingly baked golden shell made using all-butter shortbread crumbs is topped with a thick and nutty no-cook fudge filling of savory peanut butter, tangy cream cheese, butter, and confectioner's sugar. Glazed with simple dark chocolate ganache and garnished with flaky Maldon sea salt and finely chopped roasted peanuts, this beautiful dessert promises big flavor with little effort.
Ingredients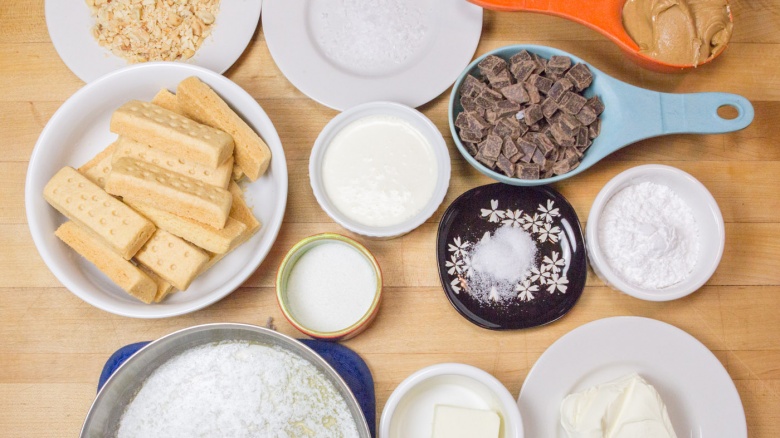 Shopping list
For tart shell:


2 5.3-ounce shortbread cookie packages (about 1¾ to 2 cups crumbs)


2 tablespoons granulated sugar


¼ teaspoon kosher salt


3 tablespoons unsalted butter, melted


For filling:


4 ounces cream cheese, softened


2 tablespoons unsalted butter, softened


⅓ cup powdered sugar


½ cup creamy no-stir peanut butter


¼ teaspoon kosher salt


For topping:


1 cup dark chocolate chunks or chips


½ cup heavy cream


roasted and salted peanuts, finely chopped to finish


flaky Maldon sea salt to finish


Equipment list


9-inch round tart pan with removable bottom


small pot


Make tart shell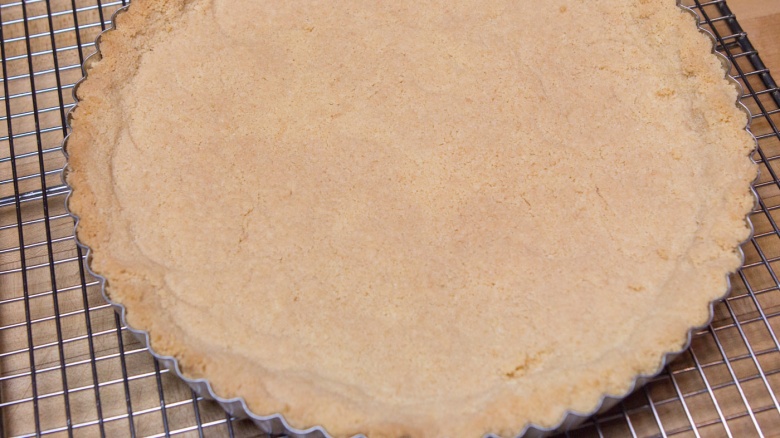 Heat the oven to 350 degrees. In a food processor, finely grind shortbread cookies, granulated sugar, and salt. Add melted butter and pulse until the mixture is clumpy. Transfer the crumb mixture to a 9-inch tart pan with removable bottom and use the bottom of a glass or measuring cup to press into the bottom and up the sides of the pan. Transfer the tart shell to the middle rack of the oven and bake until light golden, about 10 minutes. Remove the tart shell and set it aside on a wire rack to cool completely.
Make peanut butter fudge filling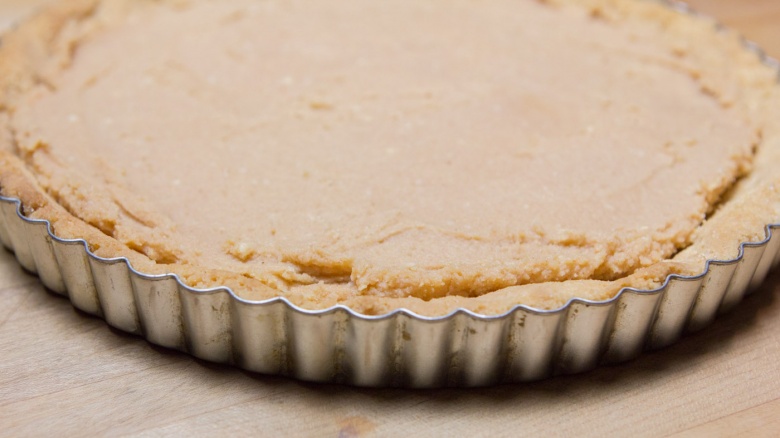 While the tart shell cools, in a large bowl, whisk together the cream cheese, butter, powdered sugar, peanut butter, and salt until the mixture is light and fluffy. Transfer the mixture into the cooled tart shell and smooth the surface with a spatula. Transfer the filled tart to the refrigerator to chill until ready to use.
Make ganache topping
Heat the heavy cream in a small pot over medium-high heat until bubbles begin to form. Immediately add the chocolate and leave it for about 1 minute, then stir until the mixture is smooth. Set it aside to cool for about 5 minutes.
Assemble tart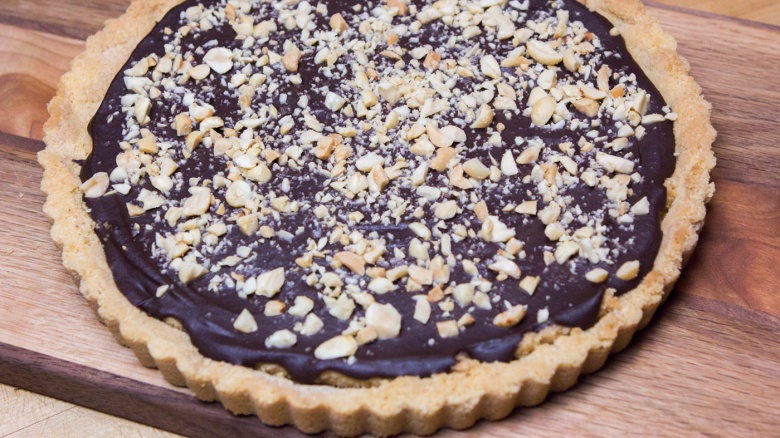 Pour ganache topping over the chilled tart and smooth the surface with a spatula. Sprinkle the Maldon sea salt on top, followed by the peanuts. Return the finished tart to the refrigerator and chill until firm. Once firm, cut and enjoy in good company.