Costco's New Guacamole Salsa Is Turning Heads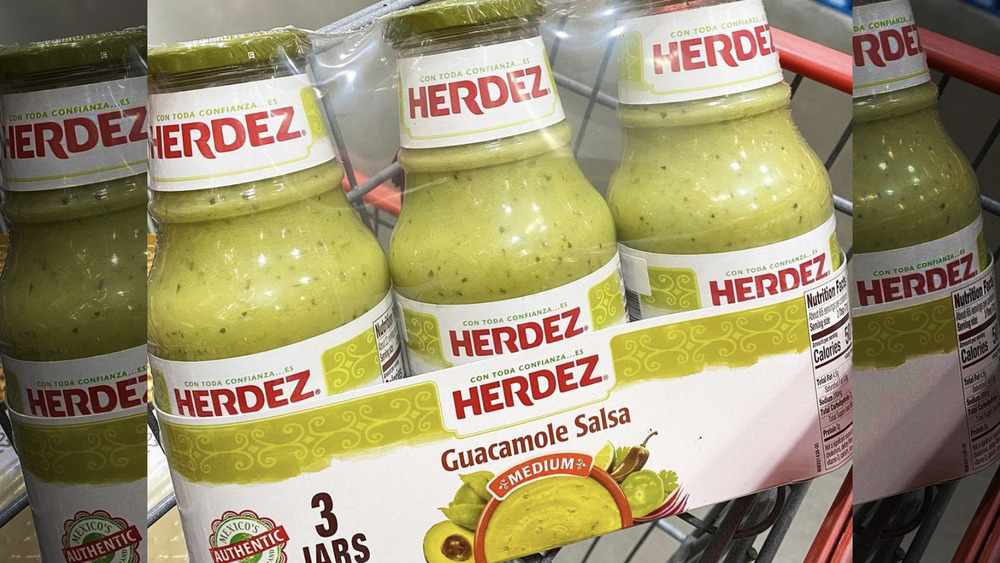 There's nothing quite like fresh, homemade salsa, but we don't always have the time, energy or ingredients on hand to make it from scratch. Luckily, there are plenty of prepared versions on the market. Take the brand Herdez for example — it might look like any other brand of bottled salsa, but it's actually the number one selling brand of salsa in Mexico, so when it says "authentic" on the label, you can trust it (via Nosh).
Instagrammer @costco_doesitagain recently posted a photo of the brand's guacamole salsa and the post received almost 2,000 likes in just 15 hours, with people more than a little excited to be able to purchase the product at Costco. According to one commenter, "I use this as my salad dressing and it's so yum!" and another wrote, "I make a mean pizza with this sauce. Enchiladas too, it's so versatile!" Of course, not everyone agrees that the guacamole salsa is all it's cracked up to be.
What people have to say about Costco's new guacamole salsa
Guacamole salsa might sound like a bit of a strange mashup, especially for an authentic Mexican salsa brand, but according to most reviewers online, the combination definitely works (via Mex Grocer). In fact, the dip was so popular that Herdez followed the launch up with three new creamy salsas (via Progressive Grocer).
However, while plenty of salsa lovers stand by the opinion that Herdez's guacamole salsa is "so good" and even "The greatest salsa ever!!" Others aren't so convinced. According to one commenter on @costco_doesitagain's post, "It's gross. I ended up tossing it away" and another accused it of being too "tangy." Finally, one comment with eight likes simply stated, "I thought [it] would be great but it wasn't." So, it might be worth trying out a sample of the stuff before you go ahead and buy a three-pack of 23.6 oz bottles from your local Costco.