Pierogie Recipe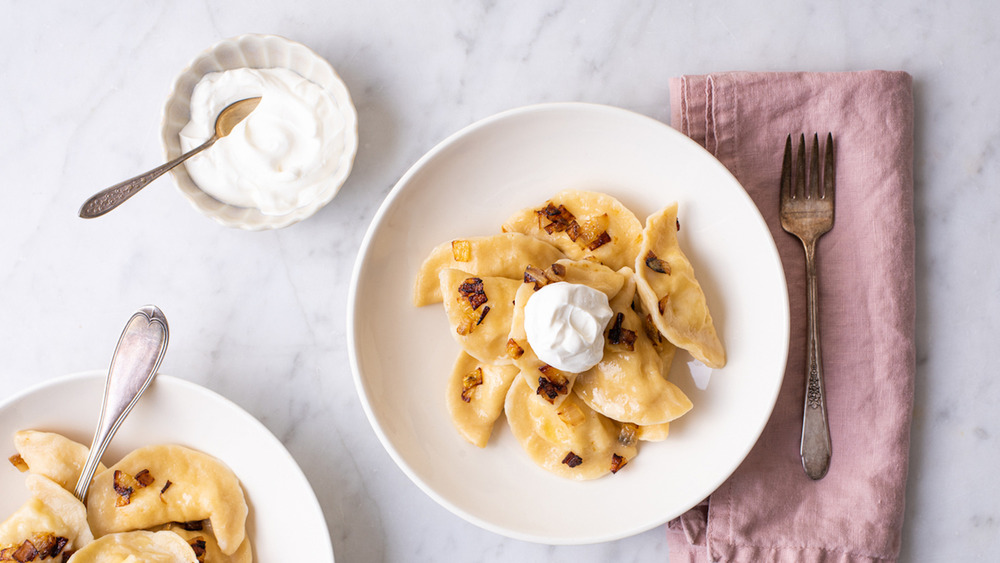 Alexandra Shytsman/Mashed
There are many types of dumplings in the world. One of the most delightful dumplings you'll find come from Eastern Europe: Polish pierogies. What goes inside varies depending on where you're eating them and who is making them — pierogi recipes, like nearly every other cherished food, each have slight twists. A mixture of potatoes and cheese is a classic option. However, and this recipe from Alexandra Shytsman, who runs The New Baguette, is the perfect recipe for the home cook looking to dip their toes in making their own pierogies.
"Fillings vary based on the region and on each family, but this potato-cheese one is universally loved," Shytsman says. "These pierogi have a toothsome, chewy dough, and a soft, pillowy filling. Don't even think of serving them without the sweet-savory onions and sour cream!"
Without further ado, here's how to make homemade pierogies that everyone will love.
Gather your ingredients to make pierogies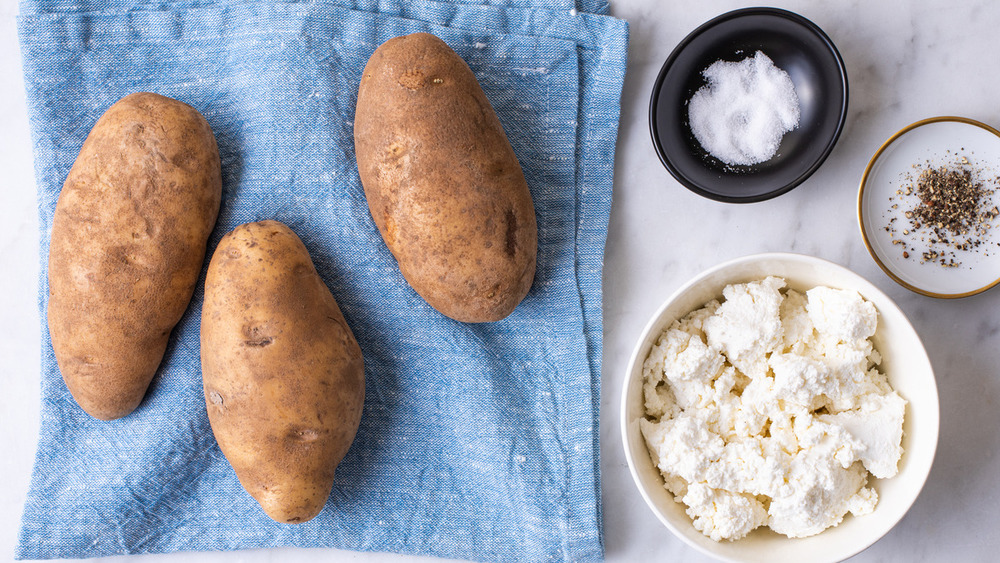 Alexandra Shytsman/Mashed
It only takes a simple set of ingredients to make these pierogies, and you likely have much of what's needed already in your kitchen. You'll need a large egg, fine sea salt, all-purpose flour, lukewarm water, black pepper, extra virgin olive oil, a yellow onion, unsalted butter, and sour cream for serving. You'll also need farmer cheese, which is also known as quark. This style "is a tangy, strained cow's milk cheese with a texture slightly firmer than ricotta or cottage cheese," Shytsman explains.
At the heart of the recipe are potatoes, and you'll need about three medium-sized potatoes that are peeled and cut into half-inch chunks. Just make sure you pick up the right kind of potato from your local grocery store.
"Either white or russet potatoes will do," Shytsman says. "I'd stay away from Yukon gold because they are creamier and less fluffy than russet. I'd also stay away from any mini potatoes (like fingerling, etc.) because they take longer to peel."
Make the dough for your pierogies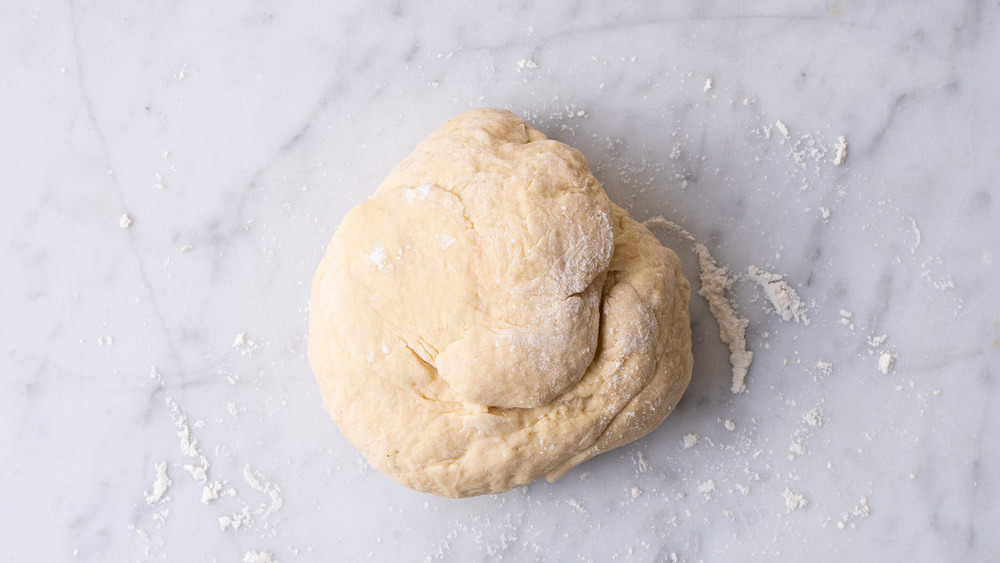 Alexandra Shystman/Mashed
The first step is to make the dough for the pierogies. Grab a large bowl and add in the egg, water, and salt, and then beat all of the ingredients until it's fully combined. Next up is the flour. Take about two and two-thirds cups of flour, and add it in slowly while stirring the mixture. It should take about three additions of the flour to get it into the bowl. The final mixture should look a bit like a shaggy dough.
Once this is prepared, turn the dough out onto a floured surface using the one-third cup of leftover flour. Kneed it until it's smooth and elastic. Add more flour as needed until the dough doesn't stick to your hands any longer — this should take about five minutes.
Take your kneaded dough and put it back into the bowl you started mixing in. Cover it with a kitchen towel and then let it sit for 30 to 60 minutes to rest like you do with other flour-based doughs.
Make the filling for your pierogies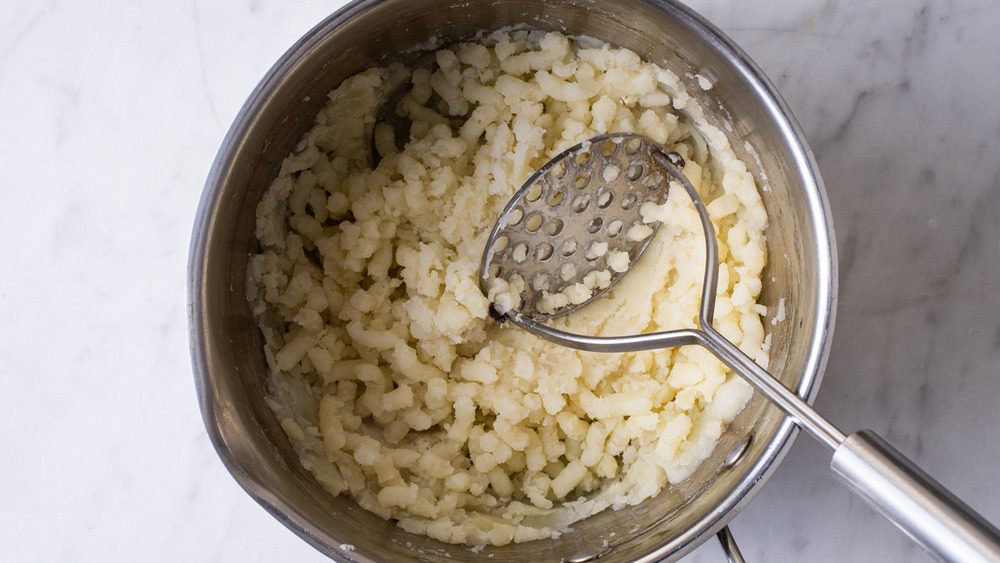 Alexandra Shytsman/Mashed
Just because the dough for the pierogies is resting doesn't mean it's time for you to rest. Take this time to make the filling for your pierogies. First, you need to cook the potatoes. Put the potatoes and one teaspoon of salt into a medium pot. Fill the pot with enough water to cover the potatoes with about two inches of water above the tubers. Cover the pot and then bring the water to a boil. Once it's at a rolling boil, bring the heat down to low and simmer the potatoes with the lid ajar. Cook the potatoes until they are easily pierced with a fork. This should take about 12 to 15 minutes.
Then, drain the water from the cooked potatoes and throw them back into the pot to mash them until they're smooth. Take the farmers cheese (or quark) and stir it into the mashed potatoes along with salt and pepper to taste. With the filling mixed, you'll need to then wait for it to cool down until it's about room temperature. For those short on time (or simply impatient), you can speed this step up by putting the filling in the fridge.
Roll out your pierogi wrappers and fill them with dough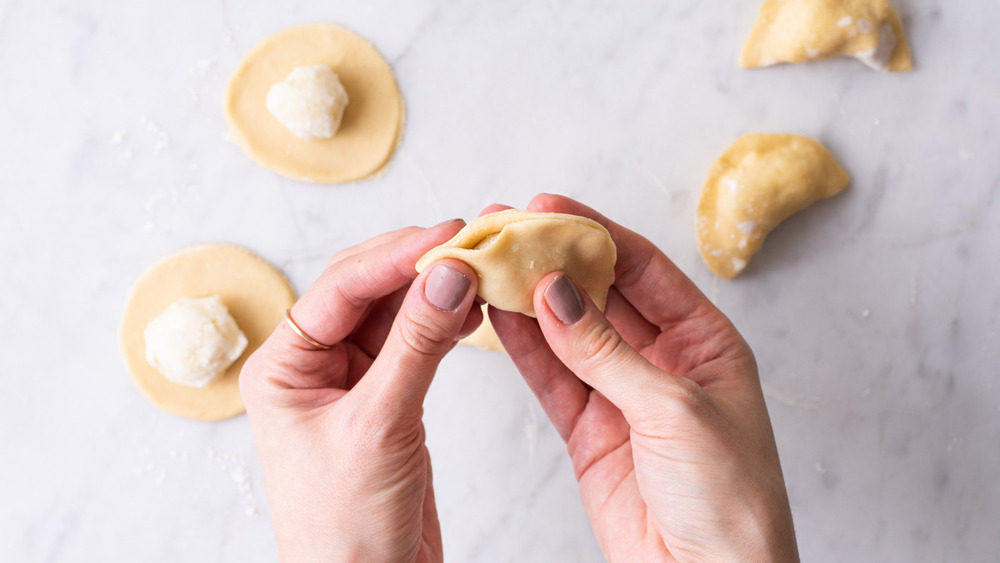 Alexandra Shytsman/Mashed
Your dough should be close to finished resting once you've finished making the filling. First, cut the dough for the pierogies into three pieces. Put two of the pieces back into the bowl and cover it with the towel, and put the remaining piece onto a floured surface. Roll it out until it's about an eighth of an inch thick and then cut out rounds that are about three inches in diameter using a cookie cutter or cup. Pro tip: Dip the cookie cutter or edge of the cup in flour to keep the dough from sticking.
Don't be discouraged by the leftover dough after you've cut it. "This dough is very forgiving and can be re-rolled as many times as needed," Shytsman says.
The rolled-out dough is nothing without the filling, which can be added as soon as you have your dough rounds. "Pierogies are best to make as a group, with someone rolling out dough while someone else forms the dumplings."
Fill the center round with a heaping teaspoon of the room-temperature potato filling. Make a half-moon shape pouch by pulling one side of the dough over to the other and pinching it closed. Be sure to push out any excess air. Once it's done, set it on a floured baking sheet and put successive pierogies far enough away so they're not touching.
Cook the pierogies and onions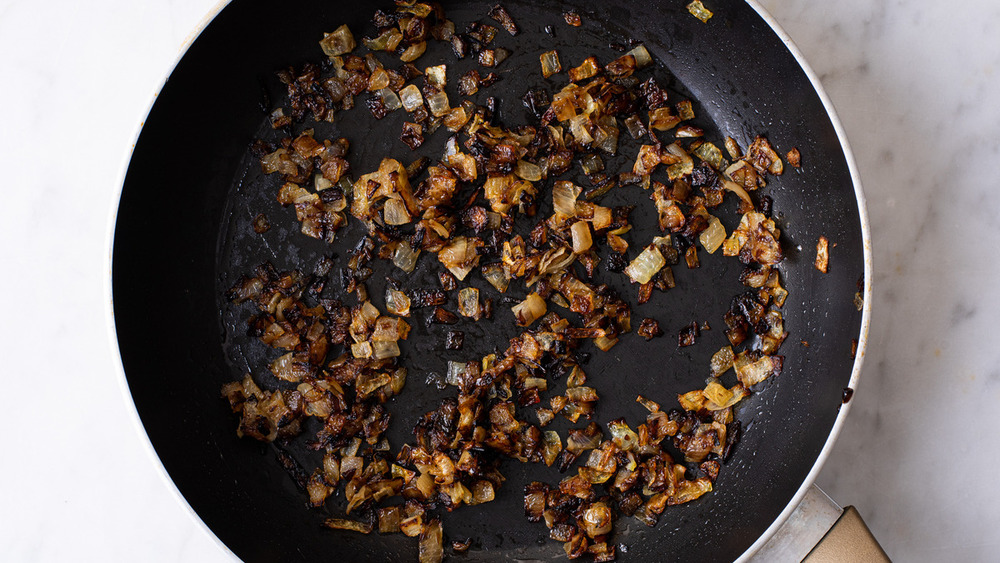 Alexandra Shytsman/Mashed
First, cook the onions with oil over medium heat for about ten minutes until they're dark brown and crispy. All of your pierogies lined up on that baking sheet are now ready to be cooked. Add the pierogies to a pot of boiling water in batches between six and ten at a time.
"To cook the pierogies in batches, you want to fill a large pot until it's three-quarters of the way full," Shytsman says. "It's okay if pierogies touch while they are cooking — rather, they should have enough room to swim around to cook evenly. If the pot is too full, they will not cook evenly. You definitely don't want it to be as full as when you boil a box of pasta."
Cook them until they've floated to the surface, which should take about two to three minutes. Be sure not to overcook them, as the pierogies could open up and the filling may fall out. Fish them out with a strainer or slotted spoon and then add butter and onions and toss them to keep the pierogi from sticking together. Then it's on to the next batch.
Serve pierogies with sour cream and onions, and save the rest for later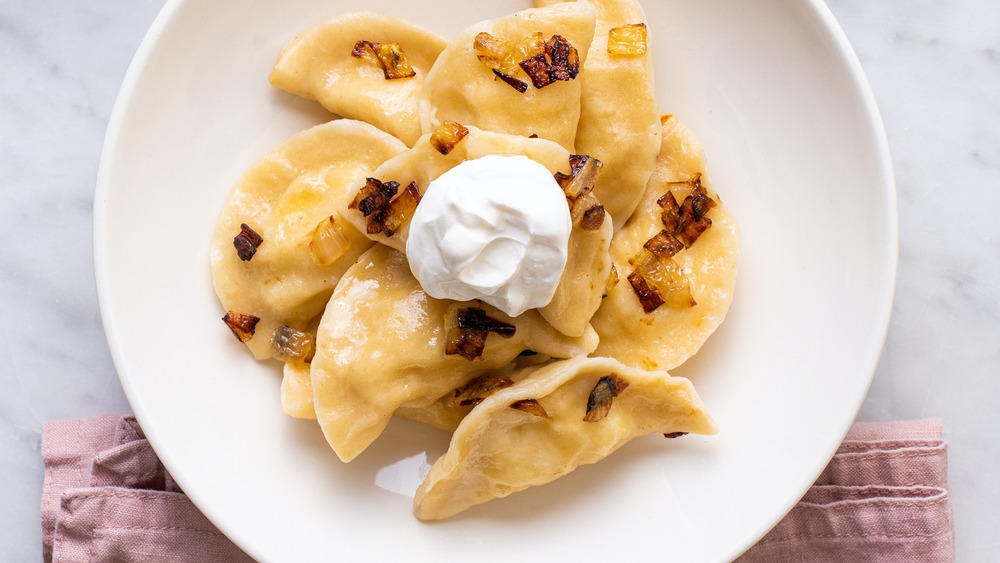 Alexandra Shytsman/Mashed
The best time to serve and eat your homemade pierogies is right after they're done. Serve them alongside sour cream, and make sure all of the onions you cooked to a crisp are included. Some of the pierogies might look a bit off or have varying shapes, and that's perfectly fine. "In my opinion, the more rustic the look of the pierogi, the better they taste," Shytsman says.
If you have extra, let them cool to room temperature on a parchment-lined tray with enough space to keep them from touching, and then freeze them on the tray. Put them into an airtight container once they're frozen. "This option is good if your intention is to pre-cook them and then fry them (instead of boiling) when you're ready to eat," Shytsman says.
If you know that you're going to have some leftovers before you even start, another way to store these pierogies is to freeze them on a baking sheet and transfer them to a bag after they are formed but before they're cooked. They'll last for up to three to six months in the freezer this way.
Pierogie Recipe
There are many types of dumplings in the world. One of the most delightful dumplings you'll find come from Eastern Europe: Polish pierogies.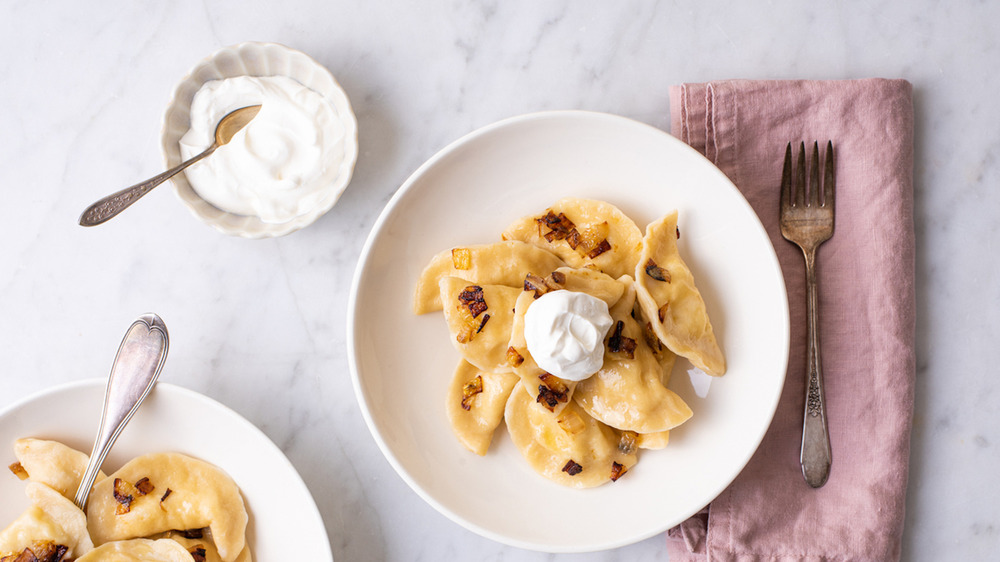 Ingredients
1 large egg
⅔ cup lukewarm water
1 ½ teaspoons fine sea salt, divided, plus more to taste
2 ⅔ cups all-purpose flour, plus more for dusting
1 ¼ pounds russet potatoes (about 3 medium potatoes), peeled and cut into ½-inch chunks
8 ounces farmer cheese
Freshly ground black pepper, to taste
2 tablespoons extra virgin olive oil
1 medium yellow onion, diced
2 tablespoons unsalted butter
Sour cream, for serving
Directions
To make the dough, combine the egg, water, and ½ teaspoon salt in a large bowl and beat until combined. Gradually mix in 2-⅔ cups flour in 3 additions, and stir to combine into a shaggy dough.
Turn the dough out onto a floured surface. Knead with the heels of your palms for about 5 minutes, until it is smooth, elastic, and no longer sticks to your hands, incorporating more flour as needed. Place the dough back in the bowl, cover loosely with a kitchen towel, and rest for 30 to 60 minutes.
To make the filling, place the potatoes and remaining 1 teaspoon salt in a medium pot, and add enough water to cover by 2 inches. Cover with a lid, bring to a boil, reduce the heat to low, and simmer with the lid ajar until the potatoes can be pierced easily with a fork, 12 to 15 minutes.
Drain the potatoes and return to the pot. Mash until smooth. Then stir in the cheese and season to taste with salt and pepper. Bring the filling to room temperature before filling the dumplings.
Cut the dough into three pieces. Working with one piece at a time (keep the remaining dough covered with the towel), roll the dough on a floured surface into a ⅛-inch-thick disc using a floured rolling pin. Using an inverted glass/cup with an approximately 3-inch diameter, press out dough rounds. If the glass is sticking to the dough, dip it in flour. Re-roll the scraps.
Place a heaping teaspoon of the filling into the center of each dough round. Stretch the dough into a half-moon shape around the filling and pinch the top closed, then pinch both edges closed, making sure to press out any excess air. Place the shaped dumpling on a floured board or baking sheet and continue rolling and filling the rest of the dough. Make sure the finished pierogies are not touching — you don't want them to stick together.
Bring a large pot of generously salted water to a rolling boil.
Heat the oil in a large skillet over medium heat. Add the onions and cook, stirring frequently, until they're dark brown and a bit crispy, about 10 minutes. Set the skillet aside.
Boil the pierogies in batches, 6 to 10 at a time, depending on the size of your pot. Boil them for 2 to 3 minutes. They are done when they've floated to the surface, the water has returned to a simmer, and they've been simmering for about 30 seconds. Do not overcook, as the filling may escape the dough.
Using a small mesh strainer or slotted spoon, fish the pierogies out and place in a large bowl. Add a small pat of butter and some of the onions, and gently toss to prevent the pierogies from sticking together. Continue cooking all the pierogies and tossing each batch with butter.
Serve immediately, alongside sour cream.
Nutrition
| | |
| --- | --- |
| Calories per Serving | 63 |
| Total Fat | 1.8 g |
| Saturated Fat | 0.7 g |
| Trans Fat | 0.0 g |
| Cholesterol | 7.3 mg |
| | |
| --- | --- |
| Total Carbohydrates | 9.8 g |
| Dietary Fiber | 0.5 g |
| Total Sugars | 0.4 g |
| Sodium | 92.6 mg |
| Protein | 2.0 g |