Good News For Fans Of Krispy Kreme's Chocolate Glazed Doughnuts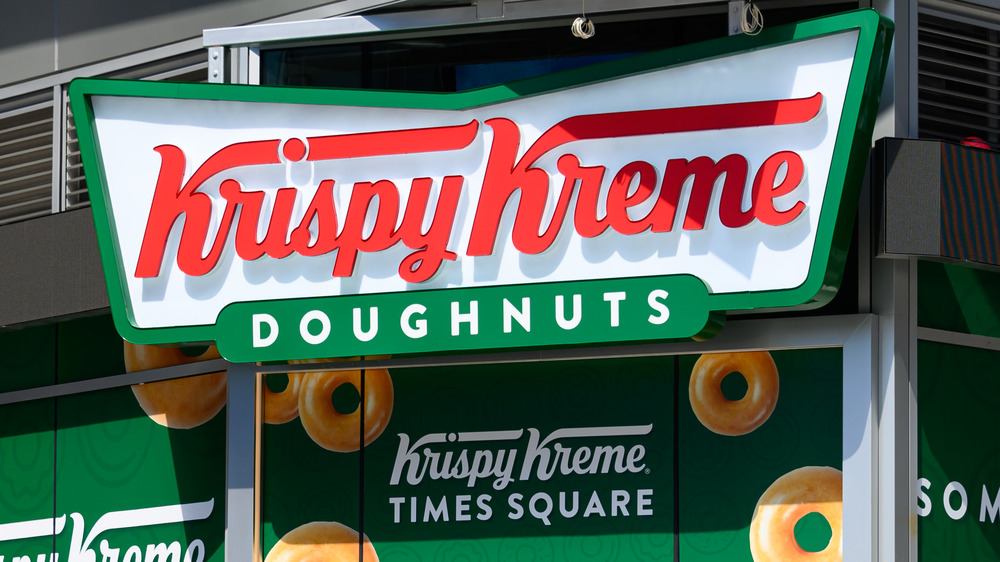 Noam Galai/Getty Images
Who doesn't love a deliciously soft and flaky donut? Don't even get us started on the incredible aroma that hits you when you walk into a donut shop, as they're freshly baking. Other breakfast items like muffins can try to compete, but there's nothing quite like biting into a sweet and savory donut. There's also so many varieties of them to choose from like glazed, sprinkled, strawberry and our personal favorite — chocolate donuts. If you love them too, we have some great news. According to Delish, Krispy Kreme's first "Chocolate-Glazed Friday" of 2021 is officially starting tomorrow.
This is big, considering Krispy Kreme doesn't always make this chocolatey treat available for customers. It's only offered on specific days of the year, leaving fans jonesing for more. The donut chain recently announced the exciting information on Instagram writing, "Get ready...the first Chocolate Glazed Friday of 2021 is approaching in a delicious way! Coming Friday 1/29!" As you can imagine, customers were thrilled to read the news.
Fans react to Krispy Kreme bringing back chocolate donuts on Fridays
One Instagrammer responded to the post writing simply, "Yummmmmm." Another confessed they were excited about the return because they said they've been "not so patiently waiting." A different user even serenaded Krispy Kreme with lyrics from a song: "My whole life has changed, since you came in, I knew right then, you were that special one, I'm so in love, so deep in love. You made my life complete, you are so sweet, no one competes @krispykreme me and you forever bae."
However, some fans were a bit disappointed when they saw in the caption that the chocolatey goodness would only be served on select Fridays in the U.S. and Canada. One Instagram user included a sad face emoji writing, "Too bad I don't live in The US or Canada." To make sure you don't miss out on this delectable snack, visit Krispy Kreme's website to see which location near you is offering chocolate donuts.