The Italian Condiment That Jeff Mauro Claims To Eat Every Day
We may receive a commission on purchases made from links.
While the sandwich may seem like a pretty plebian dish, it does have royal roots, having been invented by an Earl. The modern-day heir to the Earl of Sandwich, and current reigning monarch of all things served on bread, is someone who's aspired to an even loftier title, that of Sandwich King. While Jeff Mauro's Food Network show of the same name may have gone off the air in 2014, he's still hanging around the Food Network kitchen, or rather, Food Network's The Kitchen, of which he is one of four co-hosts. While not everything Mauro dishes up is bread-based, he still holds a place in his heart for his favorite on-the-go meal as well as a place in his refrigerator for his favorite sandwich topping: giardiniera.
In a recent tweet promoting his own line of craft giardiniera (available from Mauro Provisions), Mauro called it "Definitely the best Giardiniera I've ever had and not just cause I invented it," and went on to claim, "I eat it daily." The product website confirms this, with Mauro saying that for anyone born and raised in Chicago like him, giardiniera is "a staple in your fridge, right next to the ketchup and mustard," and says his family "put[s] it on everything."
There are actually two different types of giardiniera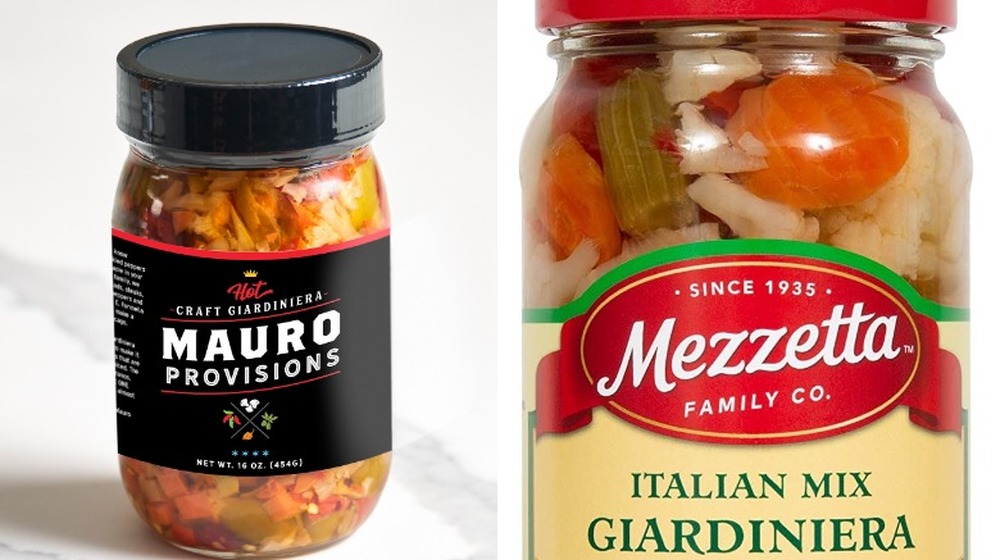 Mauro Provisions/Amazon
While Mauro's giardiniera comes in three different heat levels, those being mild, medium, and hot, all three are the Chicago style. As Bon Appetit points out, Chicago giardiniera is not the same as the giardiniera eaten in Italy. Italian-style giardiniera, which is also widely available in the U.S. (one well-known brand, Mezzetta, is carried by Amazon Fresh), consists of vegetables pickled in vinegar. These pickled veggies, which often include cauliflower, carrots, bell peppers, and celery, are usually eaten on their own or as part of an antipasto platter or a big Italian salad.
Chicago-style giardiniera starts off with those same pickled veggies, although after the pickling, they are then marinated in olive oil. Hot peppers of some sort are often added to give this giardiniera additional heat, and the veggies are also chopped so as to better facilitate its use as a sandwich topping. Or a pizza topping, or perhaps on pasta, burgers, or anything else you think it might enhance. If you want to experience this condiment at its finest, however, there's nothing better than an Italian beef sandwich smothered in Chicago-style giardiniera. Even the Sandwich King himself would probably agree there's no better meal on a bun.