Costco Fans Can't Get Enough Of These Pepperoni Pizza Rolls
One of Costco's most avid shoppers has exciting news for pizza lovers. According to a recent Instagram post from @costcodeals, the account found some tasty pizza bites currently residing in the frozen aisles of the mega wholesaler that aren't worth missing. "These #pappalos pepperoni pizza snacks are so good! Just pop them into the air fryer and ready to go in minutes! Now on sale for $3 off, only $6.99 for 120 pieces!" 
The Costco large box comes with two individual bags of pepperoni treats so you don't have to worry about half your stash going stale in the freezer. Pappalo's offers a healthier and more upscale version of this nostalgic comfort food with all-natural uncured pepperoni and real mozzarella cheese. Fans are already searching for this tasty treat and that ratings are positive so far.
One consumer, who has tried many different pizza rolls, gave the pepperoni flavor a thumb's up — despite not being a huge pepperoni fan — in a review from 2018, "...this pepperoni had a decent taste to it. It had enough of a kick to keep the pizza snacks interesting. But, at the same time, it wasn't overly spicy," (via Steve Helmer Publications). Rating these snacks as an overall good taste for the value, he notes that these tiny pockets are surprisingly filling, more so than many other brands. 
Pizza snacks are filled with childhood nostalgia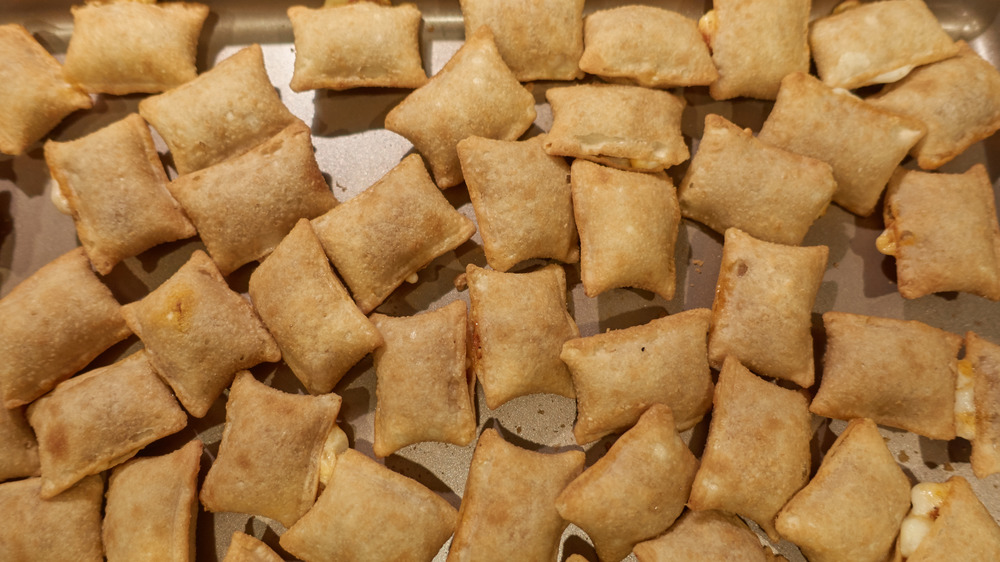 Shutterstock
We at Mashed have collectively eaten our fair share of pizza snacks, or pizza rolls as they were often called back in the day. These bite-sized fried-yet-microwaved dough pockets filled with marinara and cheese (and maybe some meats) were mainstays in many of our childhoods and college years, too. However, there's one undeniable thing we don't miss — a burnt mouth. 
It turns out that when you level-up pizza snacks for adults, they expect you to be patient and wait a very adult-like amount of time before consuming. Says one Papallo's taster and comedian, "If you do not wait at least another 35 minutes before attempting to consume Papalo's Pizza Rolls, you may never taste food or drink again," (via The Blueberries). One commenter fittingly added, "I call them Scream Rolls."
If you'd like to avoid painful burns, we highly recommend following the directions on the box that are in big bold letters, "Filling will be very hot. Be cautious on first bite," (via Instacart). So cook, cool, and enjoy!