Krispy Kreme Wants You To Send 'Dough-Notes' For Valentine's Day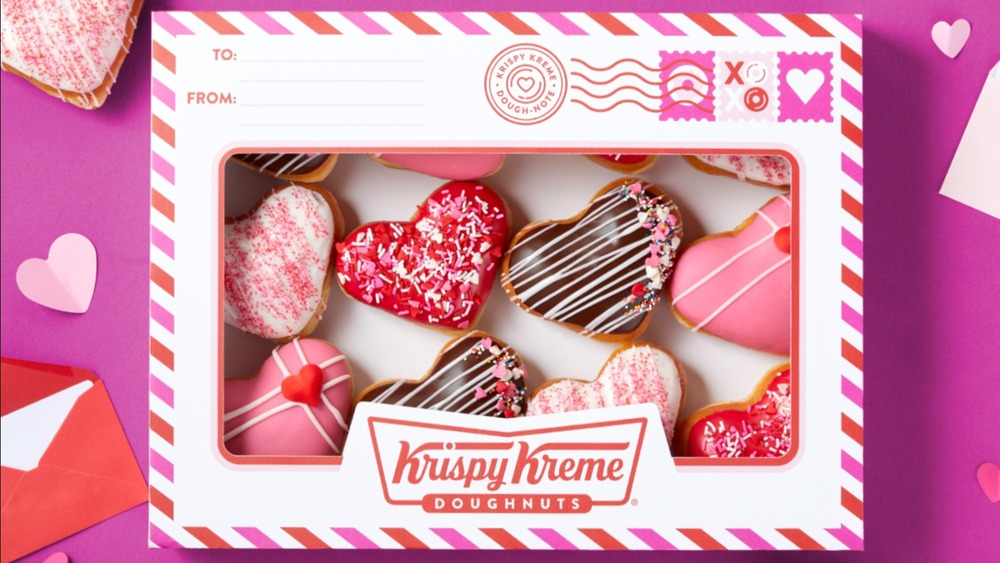 Krispy Kreme
Now that we are officially in February, Valentine's Day is just around the corner. While the day is one to celebrate with those you love, it's a particularly sweet day for Krispy Kreme fans. To help bridge the gap between friends, family and loved ones, the doughnut chain is delivering sweet treats, according to a press release received by Mashed. 
"Valentine's Day marks another holiday that many of us will be spending apart from our loved ones, but we still want to show people how much they mean to us," said Dave Skena, Krispy Kreme's chief marketing officer. "So, we've created these new heart-shaped doughnuts and 'Dough-Notes' to help fans share their full hearts with anyone who has a special place in theirs." 
The "Dough-Notes" are the perfect way to let those you are missing, know you're thinking of them. The doughnuts come in a custom Valentine's Day box of one dozen, where customers can add a personalized note. Each box looks like a post-marked letter that is brimming with 12 heart-shaped and filled Krispy Kreme doughnuts that the receiver will absolutely love digging into.
The Krispy Kreme "Dough-Notes" have a variety of delicious doughnuts inside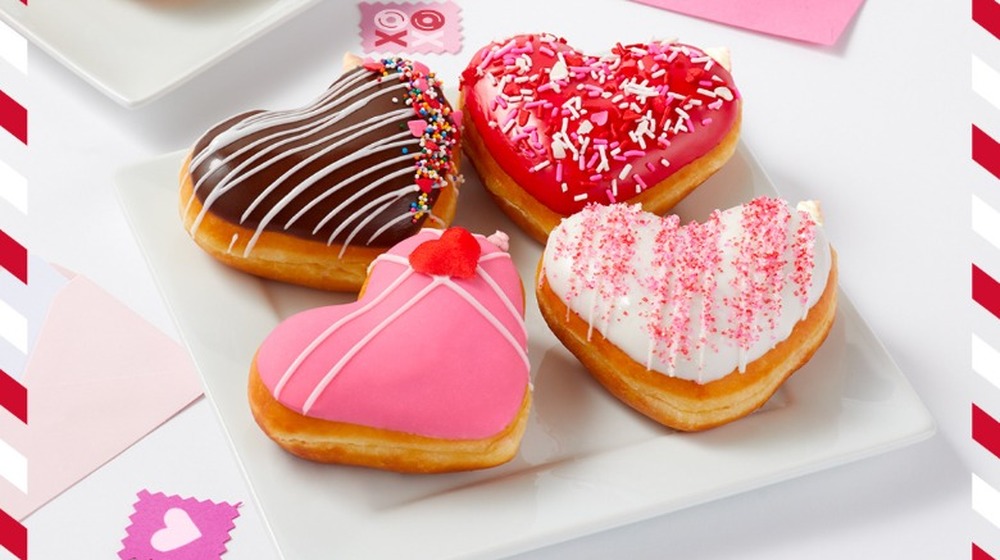 Krispy Kreme
There are four kinds of Valentine's Day doughnuts that will fill the boxes, which are available across the U.S. starting on Feb. 1. The first kind of doughnut is filled with cake batter kreme and topped with red icing and heart-shaped sprinkles. Next up is the sugar cookie heart, which has sugar cookie-flavored kreme and is dipped in white icing then topped with a blend of Valentine's day sugar. The third doughnut is strawberries and kreme, which sounds like a natural Valentine's Day flavor. Of course, it is filled with strawberries and kreme then dipped in strawberry icing. The doughnut is then topped with a sugar heart. 
Lastly, there is the chocolate lover's doughnut, which is a chocolate caramel heart. It's filled with caramel kreme, dipped in chocolate icing and topped with Valentine's Day confetti sprinkles for festive flare. To make the gift incredibly easy, anyone can order the box of doughnuts online and opt for the delivery option. Just type in your personalized note and have the doughnuts delivered straight to those your heart is with this year. And don't forget to send one to your own house, so you can enjoy them with some coffee too.