The Surprising Way Auntie Anne's Pretzel Dough Recipe Came To Be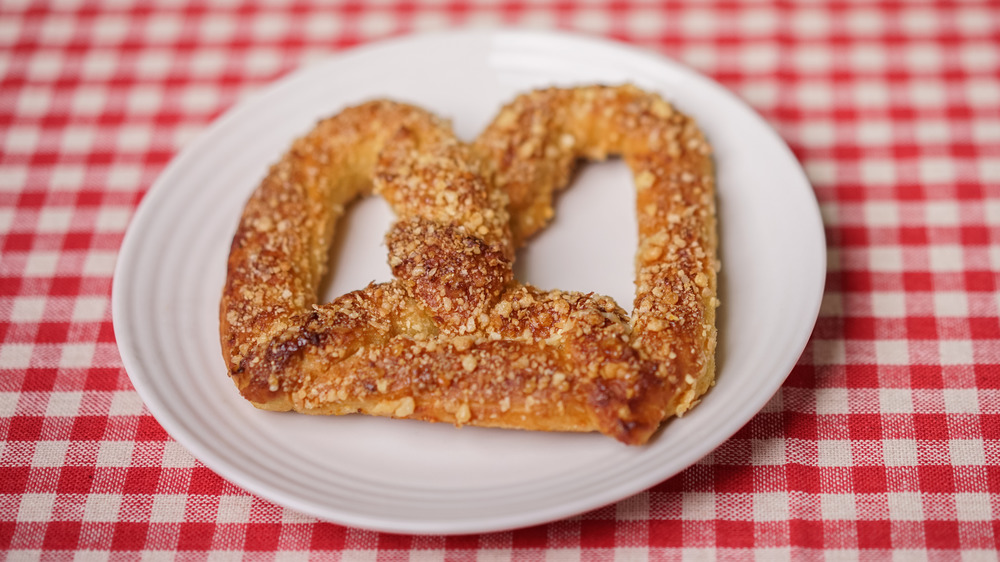 Shutterstock
There are few greater pleasures in life than sinking your teeth into a salty, chewy, soft pretzel. (And when it's generously dipped in creamy, zesty cheese sauce? Even better!) The taste, texture, and smell of soft pretzels are heartwarming, taste bud-satisfying, and nostalgia-inducing. Anyone who has ever strolled in a shopping mall or jogged through an airport knows the all-too-familiar enchanting scent of Auntie Anne's freshly baked soft pretzels.
But who is the iconic Auntie Anne? Well, believe it or not, Auntie Anne is a real woman! Her name is Anne Beiler, and she is the founder of her namesake's chain. According to her personal brand website, Beiler was born and raised in Lancaster, Pennsylvania – commonly referred to as Amish Country. She and her husband Jonas endured some tough experiences early on in their marriage, including the tragic loss of their toddler daughter. In order to pay for counseling and support her husband's dream to help others who were struggling, Beiler decided to launch a small bakery business with a $6,000 loan from her in-laws, according to Time. In 1988, she bought a concession stand at a Lancaster farmers market, where she whipped up batches of delicious soft pretzels for hungry customers. They were a massive hit! Being an aunt to 30 nieces and nephews, she fittingly named her brand Auntie Anne's Hand Rolled Soft Pretzels (via Mental Floss). Over time, it became "the world's largest pretzel franchise." But that success might not have happened without a happy accident.
What makes Auntie Anne's pretzels so tasty?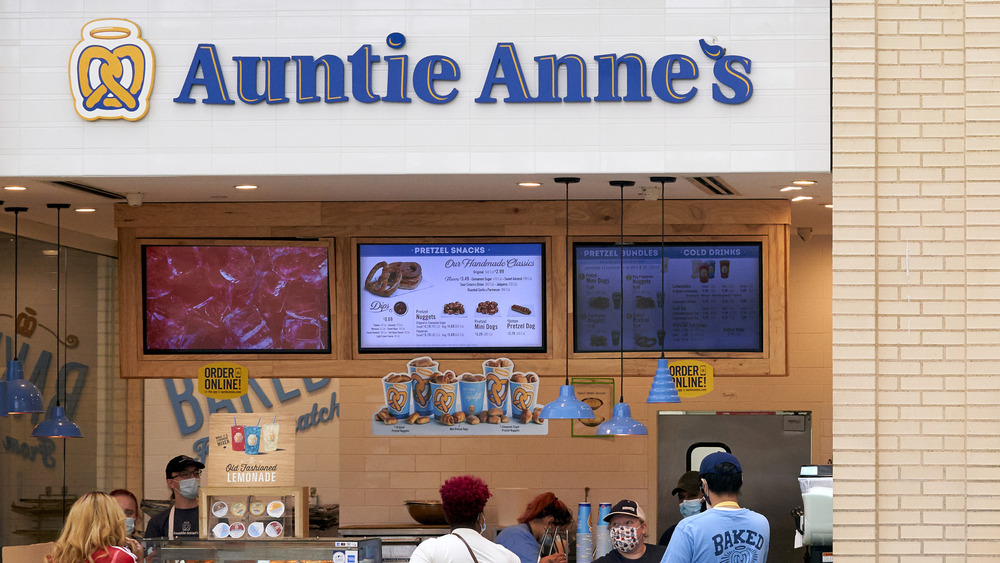 Bloomberg/Getty Images
Some of the very best things are serendipitous! The recipe for the beloved Auntie Anne's pretzels was, according to the founder, purely an accident. In an interview with The Washington Post, Beiler revealed that one day, the wrong ingredients arrived, and she was forced to improvise with what she was given. Jonas encouraged her to use the secret ingredient (which still remains a mystery) anyway. The result was the masterpiece that fans love and crave to this day.
Auntie Anne's soft pretzels are so delicious for several reasons, including how they are made. They are hand-rolled in-store throughout the day to ensure optimal freshness and top quality. And it's definitely worth the wait to enjoy a hot pretzel straight from the oven. (Psst... The official Auntie Anne's YouTube channel shows viewers how to roll, twist, and bake like a pro.)
Philanthropy has always been a key ingredient in Auntie Anne's story. According to Mental Floss, the Beilers sold the company to a relative in 2005. And with their well-earned fortune, they built a new location for the Family Resource and Counseling Center in Lancaster. "You can't do anything about what you don't have, but you can do a whole lot with what you have," said Beiler.
Can't get to the mall anytime soon? You can make your own soft pretzels just like Auntie Anne's at home!