The Bizarre Way Stonyfield Organic Wants You To Spend Valentine's Day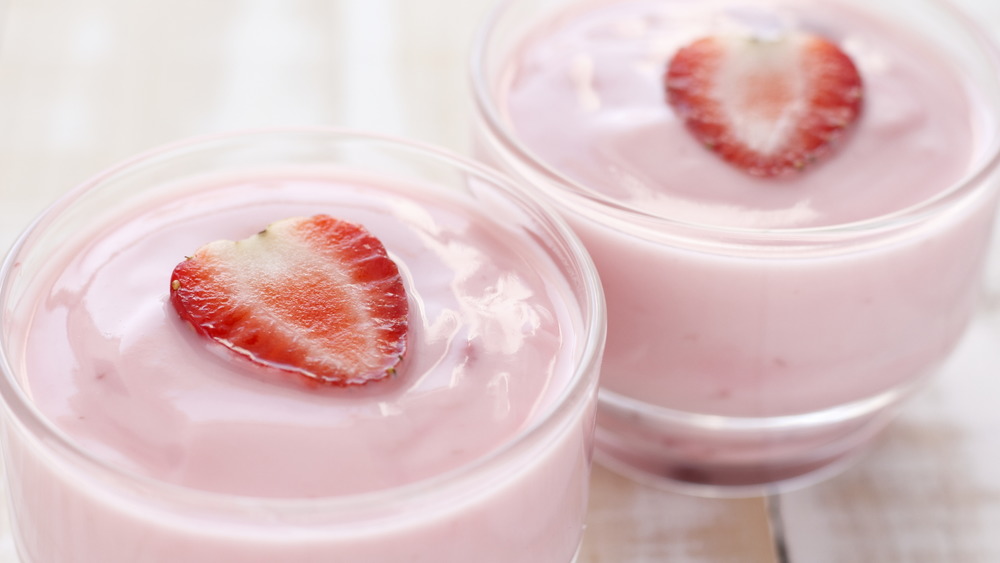 Shutterstock
For most romantics, Valentine's Day means a special meal, a cozy fireplace, and perhaps a bouquet of your loved one's favorite flowers. What might not be top of the list is an afternoon with a dairy cow. However, a date with a cow is exactly what Stonyfield Organic has in mind for you, or the animal lover in your life, this February 14th.
The idea is based on "koe knuffelen" which is Dutch for "cow hugging," a wellness practice that takes advantage of the physiological benefits of a good hug; something we can all appreciate after a year of varying degrees of isolation (via Insider). Cows offer a very unique kind of hug, providing a large, warm body, slower heartbeat, and very patient nature, according to a press release from Stonyfield Organic. That means you can hug cows for several hours to see the full effects of lowered cortisol levels and increased oxytocin (via BBC). Of course, we don't all have the opportunity to make our way to a farm in the middle of a week to hug a cow, which is where Stonyfield Organic's Valentine's Day "Date With a Cow" package comes in.
What you need to know about the virtual 'Date with a Cow' Valentines Day package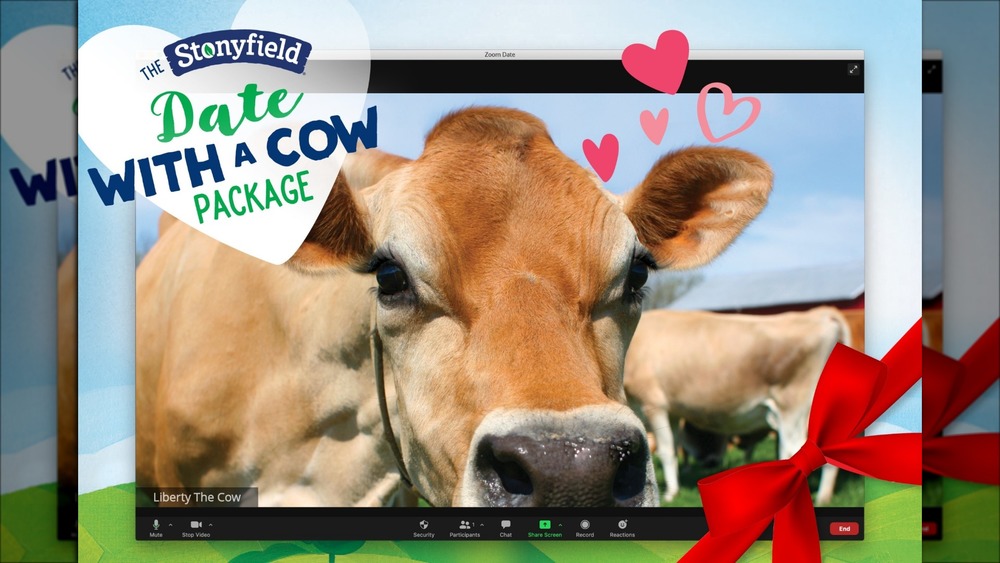 Stonyfield
If you like the idea of a date with a cow but don't feel like making your way out to a farm to try it out, you're in luck. Stonyfield Organic is offering a virtual version perfect for a fun, silly, and safe Valentine's gift this year. The virtual cow date Valentine's Day package includes a 15-minute Zoom call with a cow from one of the farms that supplies milk for Stonyfield, which if nothing else will be a funny story you can tell your grandchildren someday when describing what 2020 and 2021 were like. 
You'll also get some theme-appropriate Stonyfield Organic products (like the brand's strawberry yogurt and Lake Champlain organic milk chocolate), and a stuffed animal cow to cuddle up with when you're feeling lonely, all for a package of $50.
If that sounds like a lot, keep in mind that the proceeds are going to Wolfe's Neck, an organization helping to support sustainable organic farming for future generations. If this sounds like something you or someone you love might enjoy this Valentine's Day, you can purchase your package on the promotional website. When you sign up, you can select a time on February 14th that works for you — your cow date will be waiting.