Why You Recognize The 'King Of Cold Cuts' In Jimmy John's Super Bowl Ad
During Super Bowl LV, Jimmy John's, a growing fast food chain from Illinois, will unveil its first Super Bowl advertisement. The long-form trailer for the ad, which you can watch on YouTube, introduces the viewers to the absurdly wealthy, mafioso-styled Tony Bolognavich, the self-professed "King of Cold Cuts." Having made his money from taking basic bread, slapping "on a little not quite meat," and composing an addictive jingle, he scopes his newest enemy: Jimmy John's. The ad then follows with Bolognavich scorning Jimmy John's for their commitment to freshly baked bread and real meat before he declares a sandwich war against the rival brand, even as his allies and family are shown eating Jimmy John's behind his back throughout.
At the end of the trailer, Jimmy John's reveals a slogan: "The Sandwich of Sandwiches." 
The high budget advertisement is matched with news of Jimmy John's introducing a chicken sandwich to their menu, the limited-time offer of Smokin' Kickin' Chicken. It, as the Jimmy John's menu attests, consists of seasoned chicken, a creole chili pepper sauce, Jimmy peppers, veggies, and Provolone cheese between two slices of the bread of your choosing. 
But who is the King of Cold Cuts?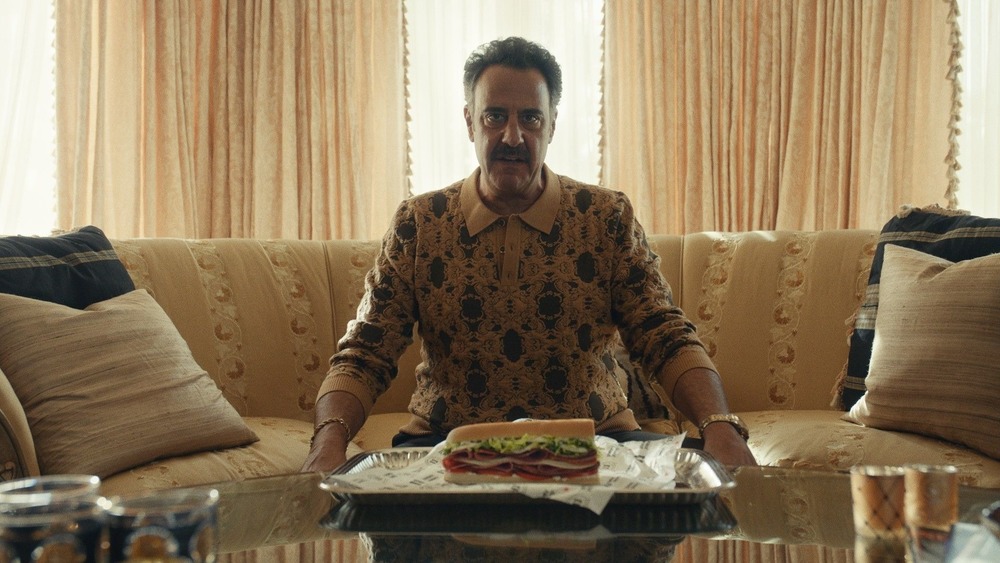 Jimmy John's
"For too long the good name of sandwich has been besmirched by cost-cutting, sandwich imposters. So we gave them a face," Josh Fell, Partner and Chief Creative Officer at Anomaly LA, Jimmy John's creative agency, explained to Inspire. That face is Tony Bolognavich, played by Brad Garrett, a stand-up comic who later took up acting. 
According to IMDb, most recently, Brad Garrett can be seen acting in the TV series Single Parents and Penny Dreadful: City of Angels. Garrett is also an accomplished voice actor and has taken on beloved roles including the Easter Island Head in Night at the Museum (via YouTube), Gusteau in Ratatouille (via YouTube), and Eeyore in the 2018 Christopher Robin movie (via YouTube). He also voiced characters in the English language versions of Hayao Miyazaki's Kiki's Delivery Service and Porco Rosso.
Most, however, will probably recognize Garrett for his Emmy-nominated role in the sitcom Everyone Loves Raymond as Raymond's older brother Robert Barone. Now, he may reach even greater fame as the tough guy adversary of Jimmy John's. The brand's 30-second spot will air nationally in the second quarter of the Super Bowl on February 7th.