Classic Omelet Recipe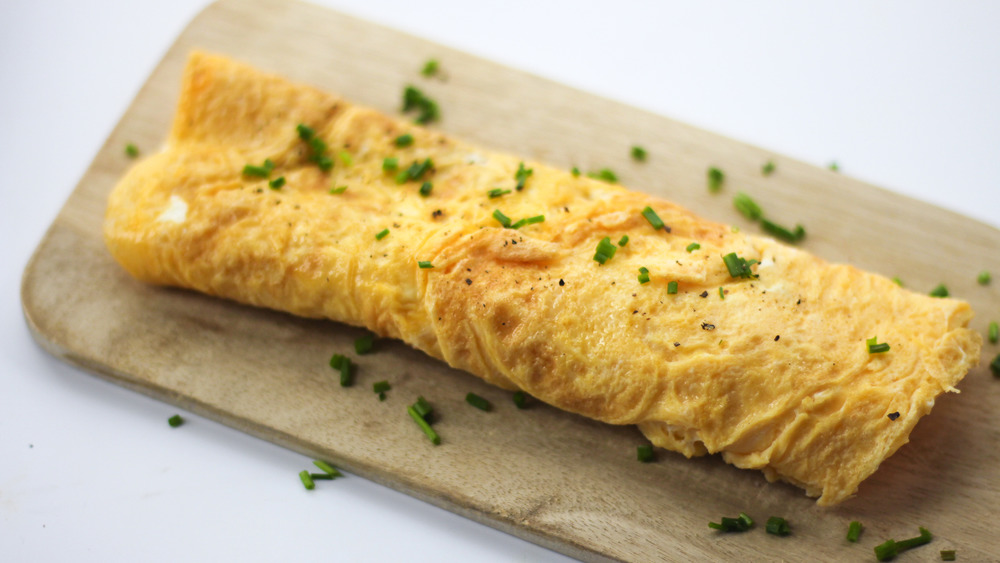 Susan Olayinka/Mashed
There are a lot of great omelets out there, but you don't have to head out to a diner to enjoy one — you can whip up a great omelet yourself in mere minutes, no matter the hour. But the quick and easy omelet only becomes quick and easy with some practice.
Before you start in on more complicated fare like Denver, Greek or Savoyarde omelets, chef and food writer Susan Olayinka of The Flexible Fridge wants you to master the basic omelet. And frankly, this might become your new favorite omelet: just as sometimes you can't beat a "plain" cheese pizza, sometimes less is more when it comes to egg dishes, too. According to Olayinka, her classic three-egg omelet recipe will help you "make an omelet in its purer form that you can later customize it as [you] please."
Once you have this classic mastered, its recipe can prove quite flexible, Olayinka says: "As everyone like different veggies, it is very easy to add what you like to the mixture," ensuring everyone the brunch or breakfast table is satisfied. 
"Once you have the basics down," Olayinka further advises, then consider "some great additions like avocado and spinach, smoked salmon and kale, bacon and tomatoes, or even spiced chicken, soy sauce, [and] scallions." 
Oh, and before we get started, let's settle one age-old debate: both "omelet" and "omelette" are acceptable; what's not acceptable is turning the heat up too high under that pan, which is a surefire way to ruin this recipe! 
Gather your ingredients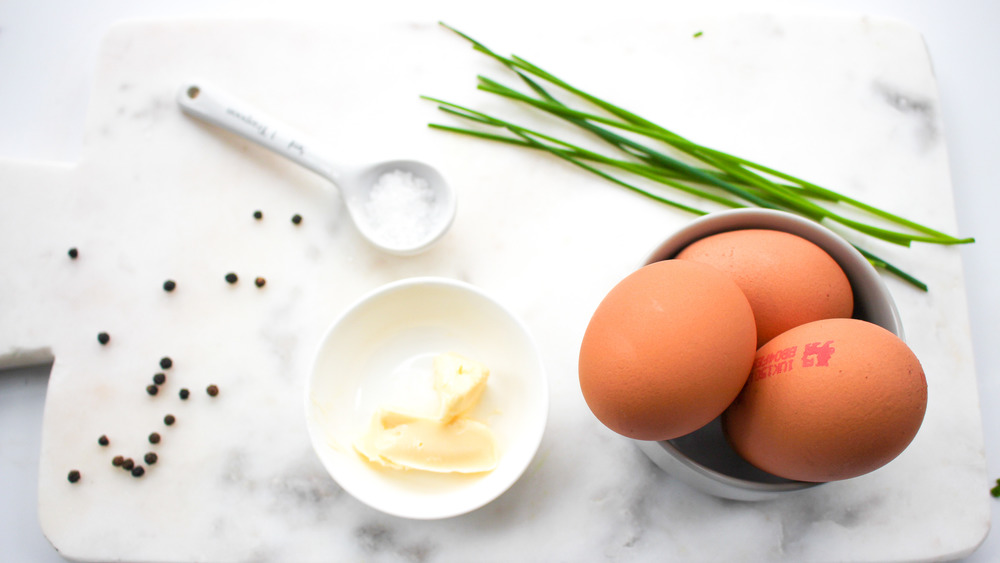 Susan Olayinka/Mashed
There will come a time, later on in your omelet journey, when your omelet ingredients may well include everything from diced ham to Swiss cheese to chopped peppers to baby spinach — and on it goes. For today, though, you'll need just three basics for the omelet itself and two pantry staples to top the finished product. 
Those three main ingredients are eggs, salt, and butter. And to top your classic omelet, you'll need some freshly ground black pepper and some freshly chopped chives. And that's it!
Prep the eggs and heat the pan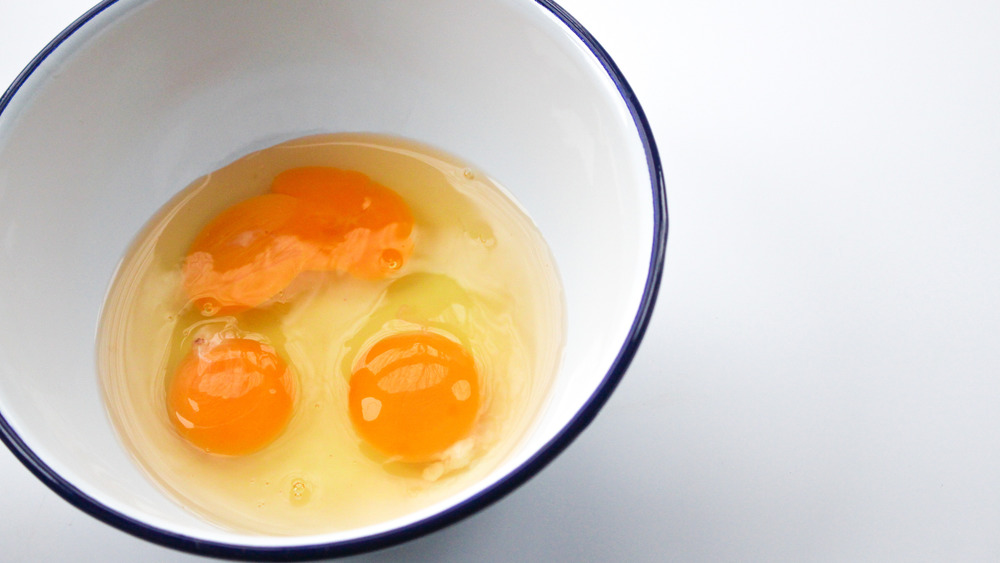 Susan Olayinka/Mashed
First things first: start heating a medium-sized (think 10-inch) nonstick pan over medium heat.
Once that's done, crack your 3 eggs into a medium-sized bowl and then whisk them well until the yolks and whites are fully combined, but not so much that the eggs froth. Now, toss in the salt and whisk that into the eggs; you can also add some black pepper at this stage, though you may want to wait to add it over the finished omelet if you're cooking for others, so the amount can be customized to different palates.
Cook that omelet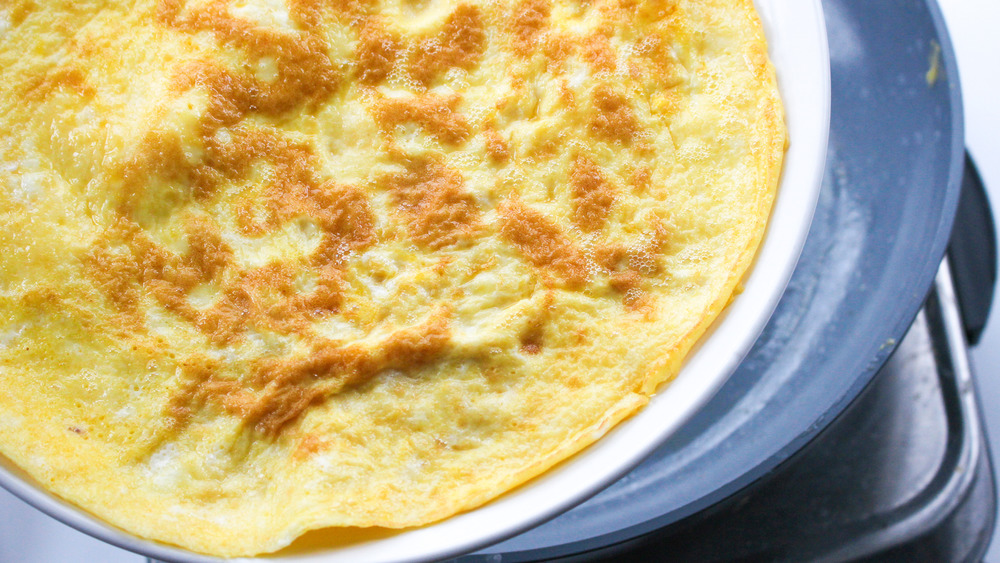 Susan Olayinka/Mashed
With the eggs whisked up, put the butter in the heated pan; it will melt almost instantly. Roll the pan around to get the butter spread evenly, and then pour the whisked eggs onto the pan and let them cook for about 1 minute. Resist the urge to touch or fiddle with the eggs as they cook. 
Now, use a decently broad spatula and gently flip the omelet over onto its other side. Then, keep it cooking for another 40 seconds. Next, grab that spatula again and carefully lift the cooked eggs and place them on a plate.
Roll it, top it, and serve it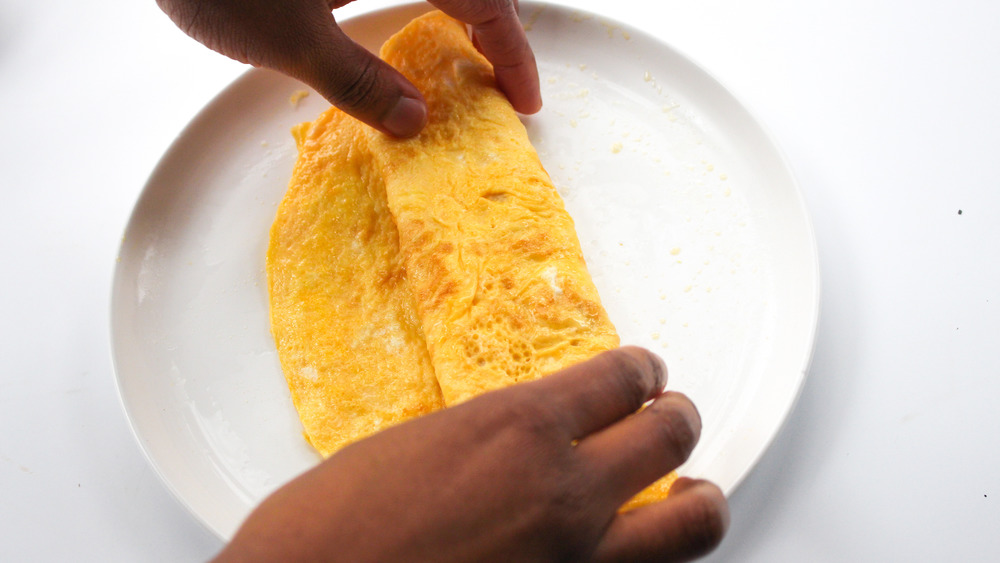 Susan Olayinka/Mashed
One common mistake people make when prepping an omelet is thinking that all the shaping has to be done in the pan. But in the case of this recipe, it's quite the opposite. 
Once you get the cooked omelet out of the hot pan and onto the plate, carefully roll that disc of eggs into a spiral shape; you should be able to create a tube that folds over itself at least three times.
Finally, top the hand-shaped omelet with the chopped chives, the freshly cracked black pepper, and maybe another pinch of salt for good measure. And enjoy!
Classic Omelet Recipe
Here's how to make the perfect classic omelet with three eggs, butter, chives, salt and pepper.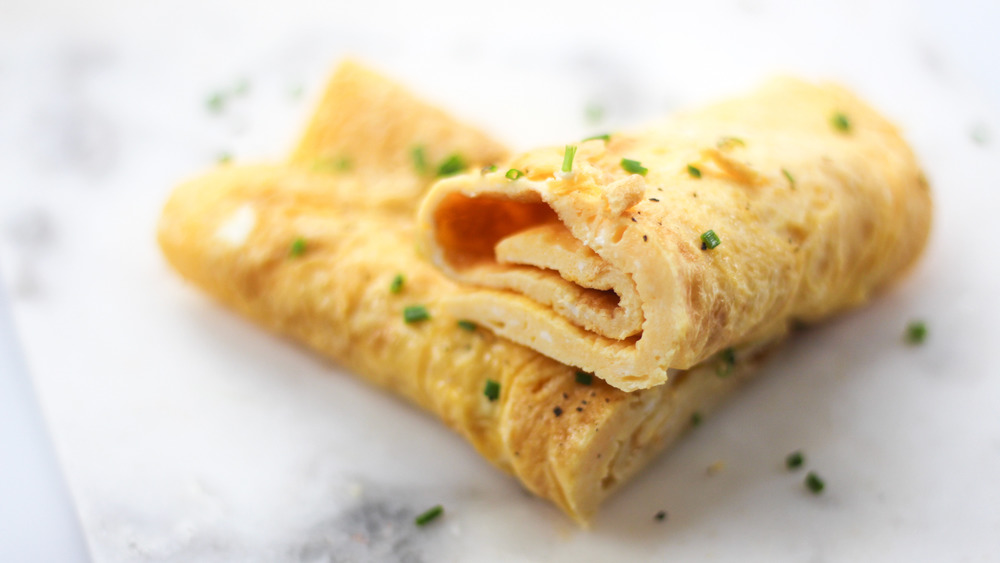 Ingredients
3 eggs
⅛ Tsp salt
1 Tbs chopped chives
⅛ Tsp of freshly cracked black pepper
1 Tbs butter
Directions
Crack 3 eggs into a bowl
Add the salt (and optionally some black pepper) to the bowl, and whisk.
Put butter in a medium-sized heated pan.
Place whisked eggs onto the pan for about 1 minute.
Use the spatula to turn it over for a further 40 seconds.
Use a spatula to carefully place the cooked eggs on a plate.
Carefully roll the eggs into a spiral shape.
Top your omelet with chives, salt, and freshly cracked black pepper.
Nutrition
| | |
| --- | --- |
| Calories per Serving | 288 |
| Total Fat | 23.8 g |
| Saturated Fat | 11.3 g |
| Trans Fat | 0.5 g |
| Cholesterol | 510.4 mg |
| | |
| --- | --- |
| Total Carbohydrates | 1.3 g |
| Dietary Fiber | 0.2 g |
| Total Sugars | 0.5 g |
| Sodium | 340.8 mg |
| Protein | 16.5 g |