Aldi's Vegan Italian Meatballs Are Turning Heads
As long-time vegans and vegetarians know, many vegan meat substitutes often leave a lot to be desired in the taste department. But vegetarians won't have to eat unsatisfactory, flavorless meatball alternatives anymore, thanks to Aldi. Their Zesty Italian Meatless Meatballs are vegan, nut-free, and totally delicious, according to most Aldi shoppers, and a 16-ounce bag at Aldi costs under five bucks, per Instacart. They're just the latest in a growing line of vegetarian and vegan-friendly Aldi products.
Reddit user u/lilmissmartypants posted the vegan find to the popular r/Aldi subreddit, singing the praises of the meatless meatballs. "Tried these tonight and they were really good. My meat-eating boyfriend said they were the best tasting frozen meatballs he's ever had, and they're vegan! Definitely a must-try, if you haven't already," she wrote. 
That's right, these vegan meatballs have received perhaps the highest praise any vegan product can get: the approval of meat-eaters, including one who responded "Love these. Not vegetarian or vegan at all, just think they taste better than most frozen actual meatballs." 
Aldi shoppers raved about the meatless meatballs online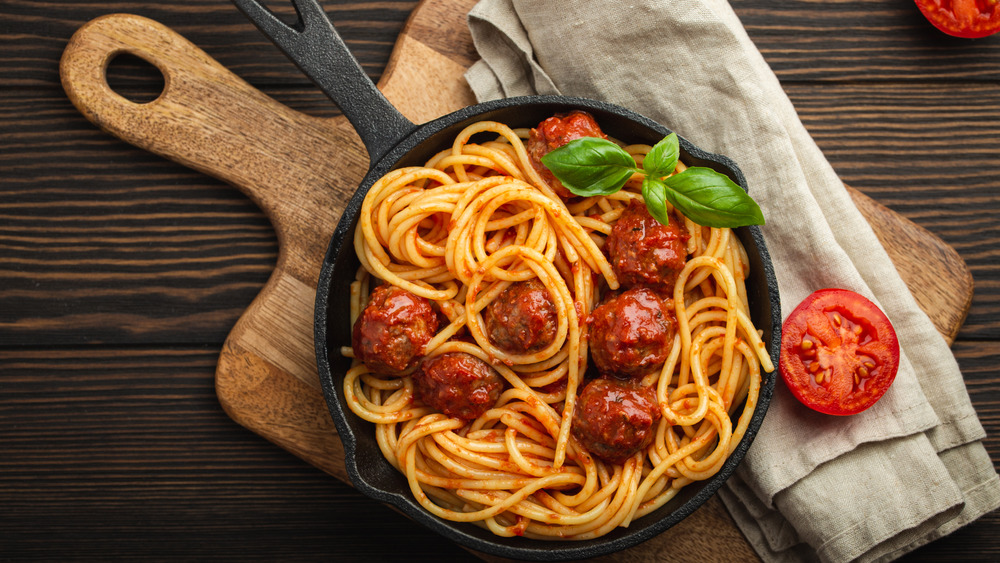 Shutterstock
Vegans and vegetarians were also excited to find a great-tasting meat substitute to add to their repertoire. "I've tried them all and these are my favorite ones," one user commented on r/Aldi.
These frozen meatballs are already fully cooked and simply need to be heated before serving, which means they can be plated and ready to be enjoyed in just a few minutes. They are a versatile ingredient and can be added to a number of dishes, including pasta, sandwiches, and even salads. "We're endeavoring to reduce our meat consumption and these are super tasty! They're a little soft, but we crumbled them into a red sauce and they made for a great bolognese," one commenter suggested on the original Reddit thread. 
As per Instacart, each meatless meatball is made up of soy protein and seasoned with a number of spices, including garlic, onion, mustard powder, basil, oregano, and parsley. In addition to flavor, they also pack 16 grams of protein, only 180 calories, and 1 gram of trans fat into a serving of six meatballs. So if you're trying to cut down on red meat consumption, eat a little healthier, or simply want to mix up your dinner menu, Aldi's meatless vegan meatballs are definitely worth the purchase.