Good News For Fans Of Aldi's Asian Salad Kits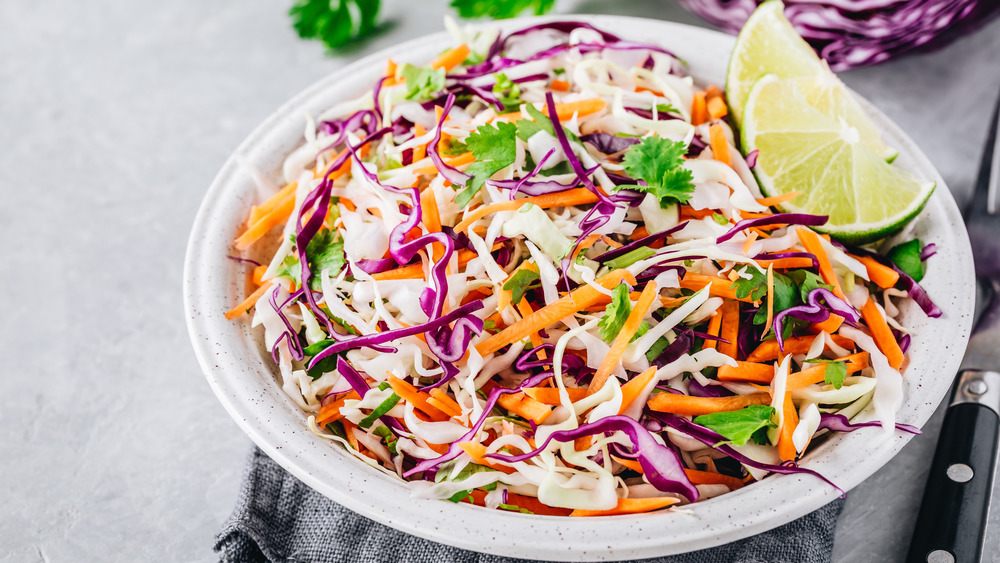 Shutterstock
If you are a fan of Aldi's Asian salad kits, you'll be happy to know you can buy bottles of the tasty dressing that's included in the popular salad set. The kits that are cult-favorites for many Aldi shoppers contain green cabbage, romaine lettuce, kale, red cabbage, carrots and green onion, wonton strips, sliced almonds, and of course, the sesame dressing.
On a Reddit thread created by one person who loves the dressing in particular, they shared the good news that you don't have to buy the whole kit just to get the tasty dressing. Commenting on the same post, another Redditor said the Aldi's Restaurant Style Asian Sesame Dressing delivered big, delicious flavor. They described it as slightly sweet compared to the Italian dressing they usually put on salads, but added that "a little goes a long way on my salads which is nice." It seems the reason why this particular salad topping is so popular is two-fold: its flavor profile and how many things buyers like to use it for.
People are using the dressing for more than salads
Aldi's Restaurant Style Asian Sesame Dressing gets its big flavor profile from mandarin orange juice, soy sauce, roasted sesame oil, ginger, and garlic. A two-tablespoon serving of the dressing has 100 calories (via Open Food Facts).
Beyond salads, Redditors on the post said the Restaurant Style Asian Sesame Dressing works wonderfully as a marinade. One Redditor said she marinates chicken breasts in the dressing overnight, first using a fork to puncture the chicken several times so the Asian Sesame Dressing "can really get into the chicken breast." She says the results are so good, her dip-addicted kids eat them without any dipping sauce.
On the same thread, another Redditor said Aldi's Asian Sesame Dressing makes a great dip for egg rolls. And because Aldi has a tasty variety of both Park Street Deli Pork or Chicken Egg Rolls (via Aldi) found in the refrigerated foods section, you may as well grab it all in one place on your next shopping trip.