What Is Yusheng And How Do You Make It?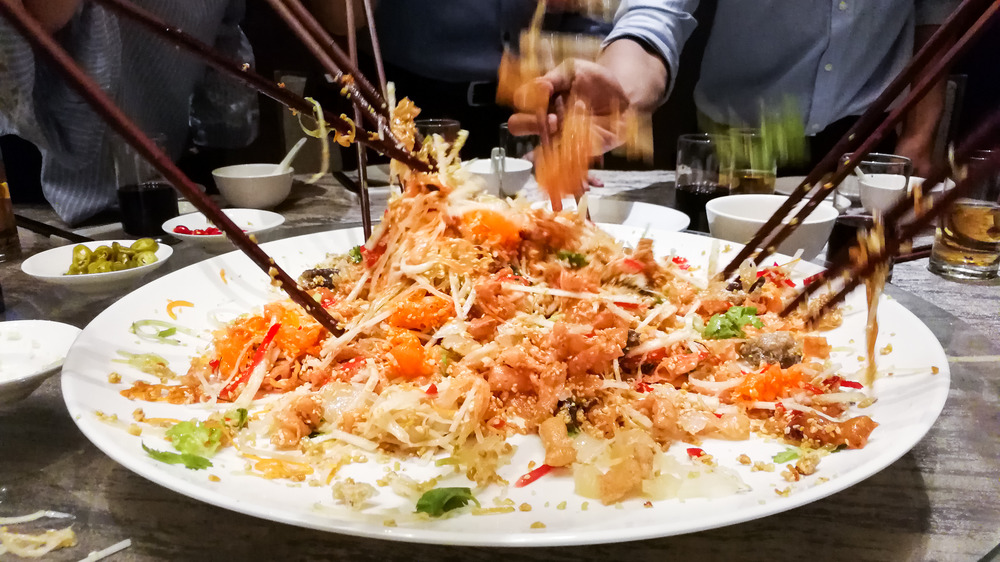 Shutterstock
Even if you don't typically celebrate Lunar New Year, don't feel left out of the festivities (which begin on February 12 in 2021). According to The Culture Trip, the occasion can be celebrated by anyone, and features a ton of fun activities ranging from gifting money between family members, watching fireworks, and most deliciously, eating plenty of traditional foods. According to Oprah Magazine, you can celebrate the holiday with a variety of dishes like dumplings, long noodles — even a whole fish. If you want to celebrate with some lighter fare, you have to check out a Malaysian salad that can change your view on fish.
According to Atlas Obscura, people in Malaysia and Singapore welcome in the holiday with yusheng, a sweet and sour raw fish salad featuring strips of fish, shredded vegetables, and a variety of drizzled-on sauces. The salad also features lime for luck, peanut crumbs representing wealth, green radishes for everlasting youth, and shredded white radish for luck at one's job. The name of the dish stems from the word yu, meaning "fish" but sounding like "abundance" in Mandarin, while yusheng directly translates to "raw fish."
Is yusheng easy to make?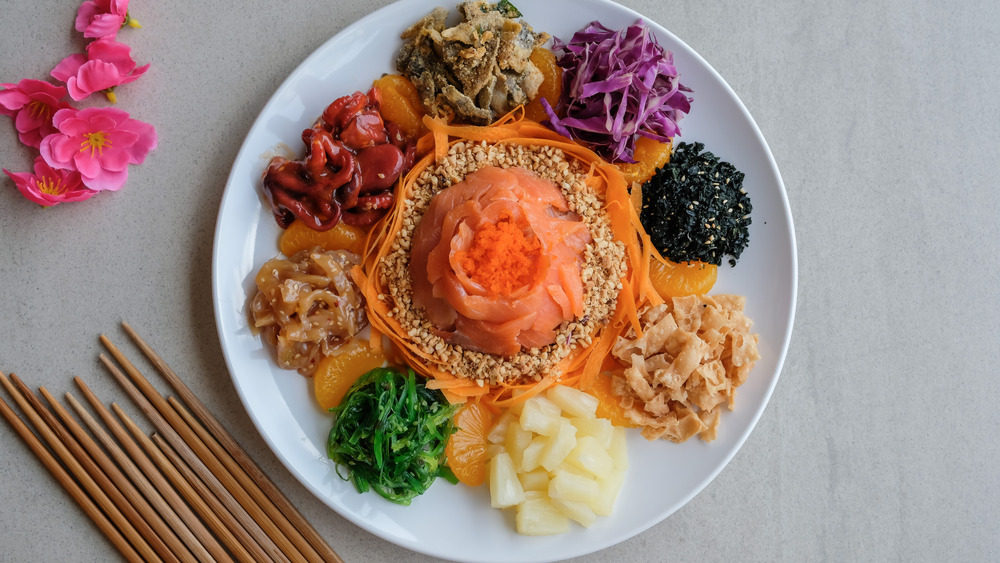 Shutterstock
According to Malaysian Chinese Kitchen, you can make the salad by first frying strips of wonton wrappers and shredded taro until crispy. Shred carrots, daikon, and jicama into long strips and set them apart. Put smoked salmon into a bowl, and separately mix hoisin sauce, plum jam, honey, water, and sesame oil together to form a dressing. Bring your components to the table and mix the salad together with your family — according to tradition, the higher you toss the salad, the more luck comes your way.
The time-tested salad originated in Malaysia as early as 1947, but the original recipe may have a much longer history, stemming from South China. It has received the status of a Malaysian heritage food, and now pops up across Southeast Asia (via Atlas Obscura). No matter where the dish came from, this delicious salad has won its place at the heart of anyone who has tried it. If you want a refreshing salad to welcome in the Lunar New Year, you can't beat yusheng.