Cosmic Brownie Fans Need To Know About This Nostalgic New Cereal
With 2021 showing promise of being a great year as the days go by — and we're only in January! — it seems the internet is anxiously awaiting for the month of May to get here already, as news that Little Debbie and Kellogg's have yet again partnered to bring hungry customers across the country some nostalgia in a box and remembrances of their youth. The last partnership brought us Oatmeal Creme Pies Cereal, and while we thought it couldn't be topped, much to our surprise, it has been. Be prepared to flock to the cereal aisle this May as the two brands have brought out the big guns with the release of the Cosmic Brownie Cereal. Yes, you read that right (via Best Products).
Relieve those childhood trips to the store and go back in time to yet again experience those feelings of eagerness and excitement at the sight of a Cosmic Brownie box, except now you can actually eat them for breakfast (like you've secretly always wanted to).
The cereal you didn't know you needed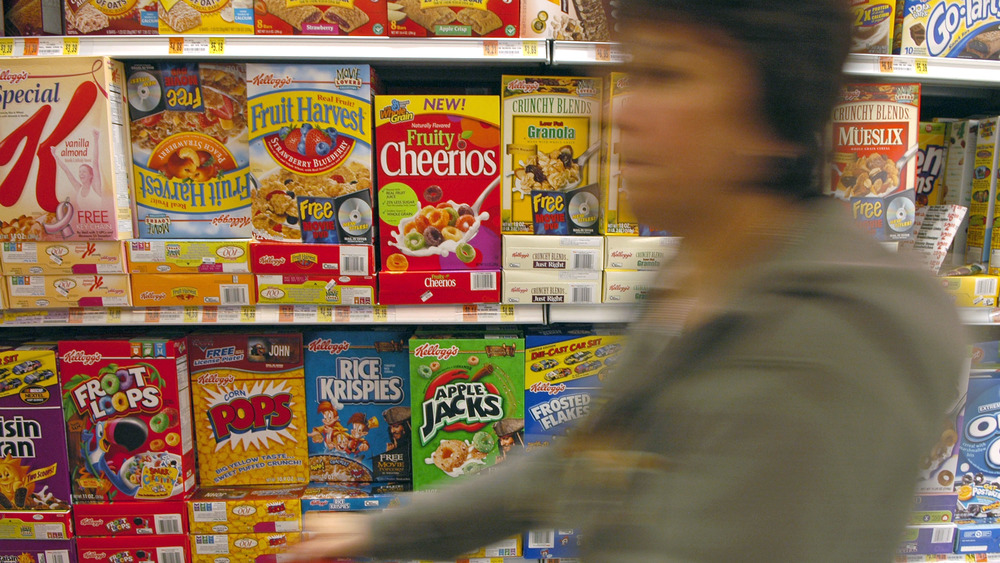 Bloomberg/Getty Images
While you might think you didn't need this cereal, odds are you'll be thankful that someone at Kellogg's and Little Debbie decided to give this amazing gift to the world once you try the Cosmic Brownie Cereal. "Omg this could ruin my life!!" said one excited Instagram user after hearing about the cereal news, and if that isn't what's on everyone's mind then we have failed our younger selves.
Featuring "crispy, indulgent brownie squares" (via Food Business News) along with the iconic snack's famous rainbow pieces, the result will be a bowl of chocolate-y goodness that we're sure you'll want to refill more than once. Find the Cosmic Brownie Cereal at $3.99 for an 8.2-ounce box and $5.69 for a 13.2-ounce box. (via Best Products). With May just around the corner, you'll have plenty of time to prepare both mentally and physically for this cereal to drop and get caught up in the warm glow of nostalgia.