This Recipe Took Ina Garten 6 Years To Get Right
You might know her as Ina Garten, you might know her as the Barefoot Contessa. And if you've ever seen The Food Network star whip up the perfect roasted chicken dinner or effortlessly put together a decadent chocolate cake, it's easy to assume she's never struggled through a new recipe or cooked a dish that's anything less than five-star-worthy. It's easy to assume she's a pro at everything in the kitchen (and always has been). 
But not everything comes easily to Garten. When interviewed by The Food Network on her creative process, the 73-year-old chef said it all depends. "Sometimes it takes four years and sometimes it takes a day," she explained, adding that everything has to do with the recipe. One dish, in fact, took her six years to finally perfect. Surprisingly enough, it isn't an elaborate beef Wellington or intricate seafood dish — it's actually a pretty common sweet treat.
It's a dessert every New Englander is familiar with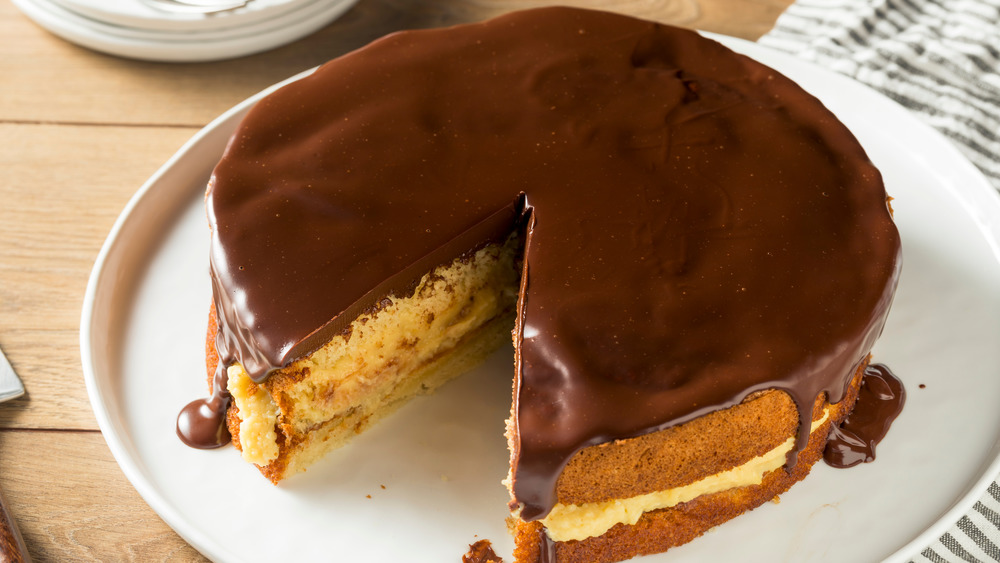 Shutterstock
Crack open the pages of Garten's Modern Comfort Food cookbook, and you'll find a ton of mouthwatering recipes. One of those dishes actually took Garten a few years to perfect. On Twitter, the Barefoot Contessa confessed, "My Boston Cream Pie takes a little time to make but I've spent more than six years (I'm not kidding!) working on the recipe so it would come out perfectly every time — your family won't believe you made this cake yourself!"
What made it such a tricky dish to nail? Garten didn't clarify, but according to a writer from The Kitchn who tried out the recipe for herself, Garten's Boston Cream Pie is a little different than the traditional one. Not only does it have four layers instead of the standard two, but it also involves a zesty orange soak that's brushed over each of those four layers and a pastry cream that's flavored with Grand Marnier. So fancy.