Trader Joe's Shoppers Are So Excited For The Return Of These Cheesy Potato Chips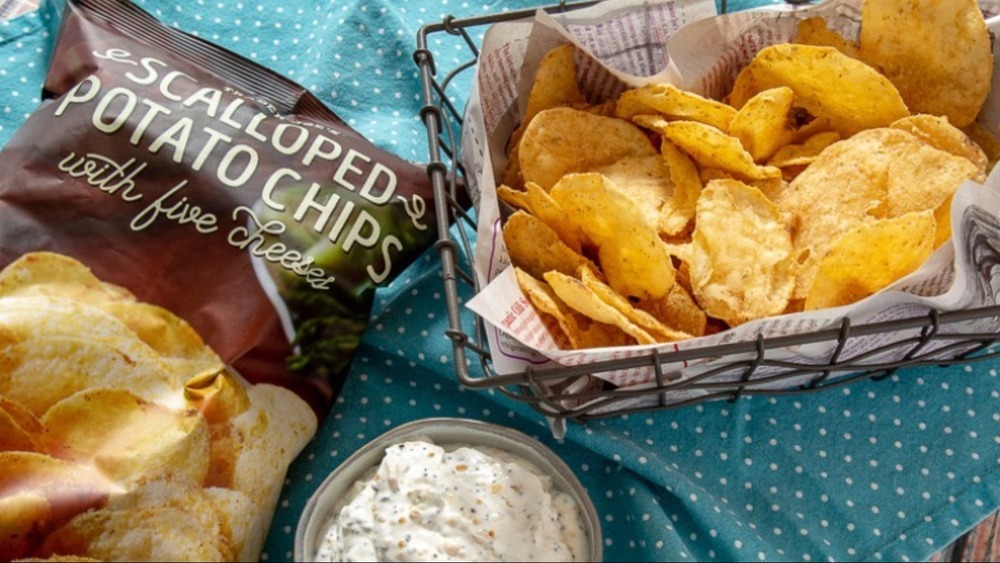 Trader Joe's
Hey there, Trader Joe's fans. We have an exciting new update for all your snacking adventures. Check out this repeat entry into our favorite cheesy, salty, crunchy category – Scalloped Potato Chips with Five Cheeses. They were spotted by a leading TJ's expert, who wrote, "THE'RE BACK SCALLOPED POTATO CHIPS with FIVE CHEESES! ... As if I needed another excuse to buy more chips! Cheese + chip = bliss! Have you enjoyed these before? Will you be adding these to your #traderjoeslist?" (via Instagram).
These crunchy snacks include a blend of Parmesan, Cheddar, Asiago, Romano, and provolone cheeses with flavors reminiscent of your favorite potato hot dish (via Trader Joe's). The chips come in a 6-ounce bag and sell for $2.49. TJ's describes the snacks as "satisfyingly salty, charmingly cheesy, and captivatingly crispy." These chips are made with potatoes (of course), cheese, more cheese, even more cheese, yeast extract, garlic powder, lactic acid, and unnamed spices. These treats definitely aren't vegan, so it's best to make a note.
Everything but the potato chip dip
Fans are thrilled to taste the scalloped potato chips again. One Instagrammer remarked, "YESSSSS IVE BEEN WAITING FOREVER" while another described the chips as drool-worthy. And while many are undoubtedly rushing down to their local TJ"s while reading this article, a few tasters describe the flavor as too salty. With that info in mind, we still feel these chips have a lot of "potato-tential" as TJ"s would say, and love their suggestion of eating with an Everything But The Bagel dip.
You'll only need 2 minutes and a sturdy bowl and spoon to make your own homemade chip dip (via Trader Joe's). This homemade version is a bit different than the pre-made Everything But The Bagel Greek Yogurt Dip (via The Kitchn) for those that keep track, although that's absolutely an option too. Make your own using sour cream and TJ's Everything But the Bagel Sesame Seasoning Blend (the shaky one). Mix it all together to taste – or according to directions – and garnish with chopped fresh chives.
It's like your favorite potato au gratin flavor minus the extended cooking time, all in a crispy crunch. For only $2.49, you've got to check it out.