Popeyes' Newest Sandwich Is Not What You'd Expect From The Chicken Chain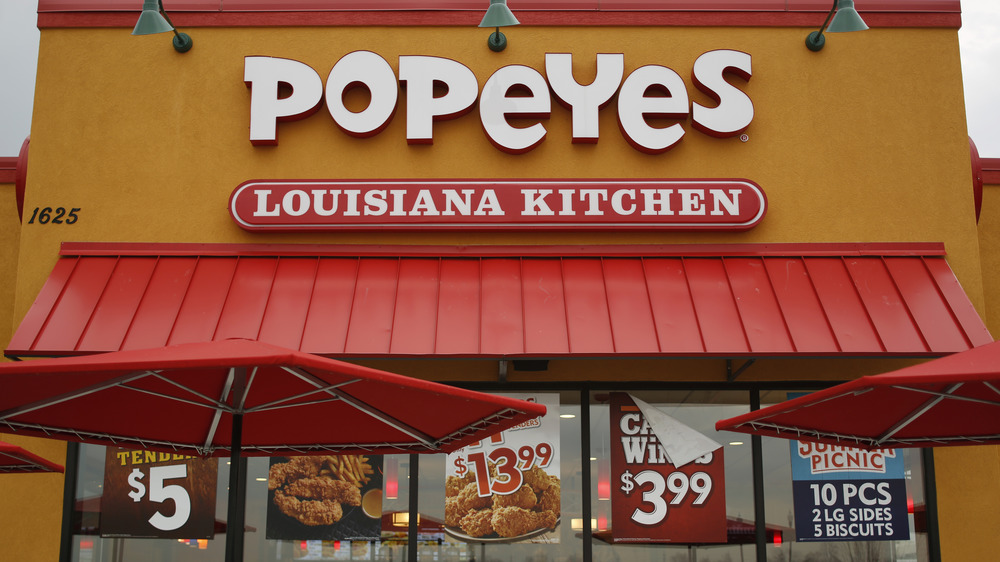 Bloomberg/Getty Images
If you love all the attention fried chicken sandwiches have received in the past few years, you really have Popeyes to thank. Tensions between Chick-Fil-A and their fast food rival created an immediate interest in both parties chicken sandwiches, giving rise to the  ongoing "chicken sandwich wars" and drawing in a huge variety of other chains who wanted in on the action.
Popeyes continues to bring us what we crave with their latest offering, veering away from their tried-and-true selection of fried chicken. In a statement sent to Mashed, Popeyes plans to release their new Cajun Flounder Sandwich beginning on February 11th for only $4.49. The new item features Pacific-caught flounder, fried and coated in the chain's signature Cajun seasoning blend, along with tartar sauce and pickles on a toasty, buttered brioche bun. If you love the idea of a new fish sandwich that can tempt your taste buds, but feel iffy when it comes to fast food seafood, the chain plans to launch a special promotion alongside the menu item that should soothe your fears.
Popeyes has a plan for skeptics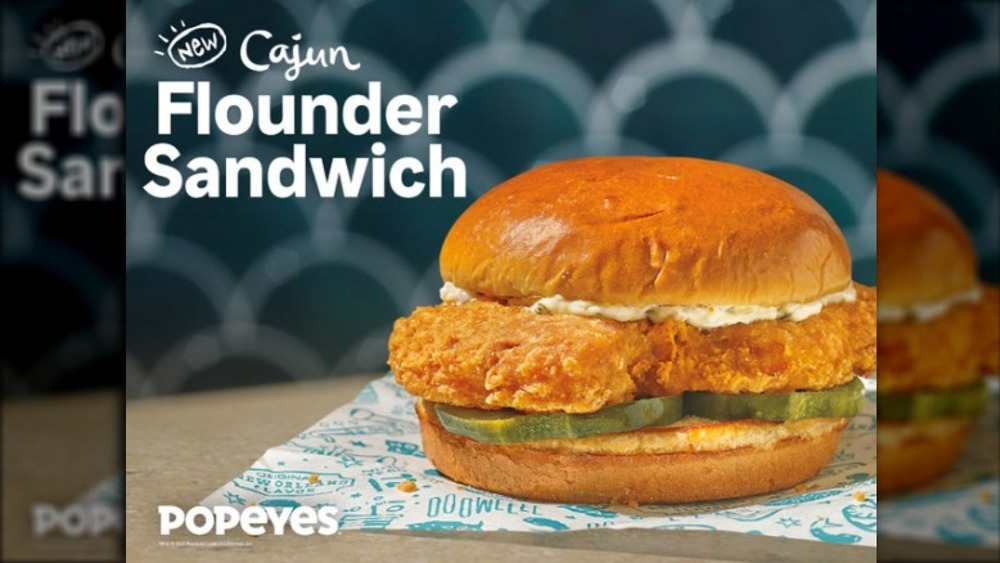 Popeyes
Many of us feel buyer's remorse once we sink our teeth into a hot, new menu item, only to feel disappointment at how underwhelming the food tastes. Popeyes wants to put your doubts to rest with a special promotion to get you to at least try the new flounder sandwich. According to the statement, anyone who comes in to buy the new menu item can add "sandwich insurance" to their order for 15 cents more through the Popeyes app. This insurance allows buyers to exchange their unfinished flounder sandwich for a signature chicken sandwich if they don't immediately love it — but don't assume this deal lasts forever. 
You can only add on the sandwich insurance on February 11th. After that, you have to take your chances on the sandwich, but with flavors this bold, any fried fish fan will surely love this hot take on flounder. When a fried fish craving strikes, make sure to hit up your local Popeyes. You don't want to miss out on the spicy flavors this sandwich packs in and you need to get it while you can!