Exciting News For Fans Of Chrissy Teigen's Banana Bread Recipe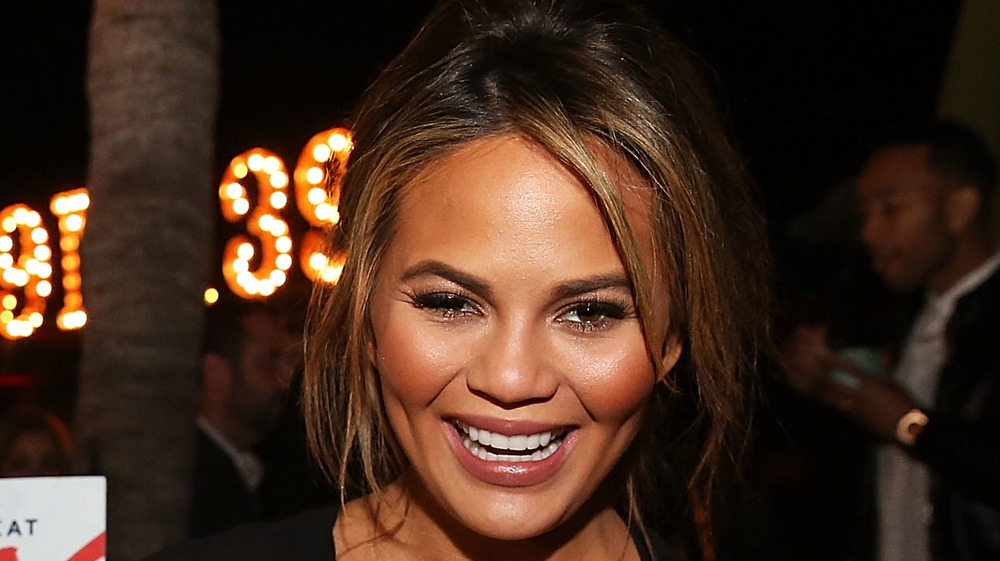 Aaron Davidson/Getty Images
In terms of easy baking projects, banana bread is as easy as it gets. You need minimal ingredients that you likely already have in your pantry, it uses up old bananas that would otherwise be thrown out, and it's as simple as mixing some stuff in a bowl and throwing it all in the oven. Most home bakers already have a banana bread recipe they love. However, Chrissy Teigen's banana bread stands apart. Teigen's banana bread recipe appears in her Cravings: Hungry for More cookbook and sets itself apart with a few extra ingredients.
For example, it contains vanilla instant pudding mix, shredded coconut, and a bar of dark chocolate. Despite requiring extra ingredients and a bundt pan, though, reviewers say that the model's banana bread recipe is a hit for those looking for something a little more decadent than your standard banana bread. One News-Press reviewer, who compared Teigen's recipe to others from famous faces and brands, noted, "I'm almost hesitant to call this banana bread. It's more like a tropical banana pound cake: ethereally light, wonderfully sweet, and packed with chewy bits of coconut and streaks of chocolate." And now, finally, you can enjoy that ethereal flavor without even turning on your oven.
Enjoy all the Chissy Teigen family favorites in a convenient, chocolate bar form
Compartés chocolate is known for its gourmet, luxurious, and altogether inventive chocolate treats. The brand's premium chocolate bars range from the expected (like the California Love pretzel dark chocolate bar, a combination we've seen thousands of times) to the very-much unexpected but still beloved (like the donuts and coffee milk chocolate bar, literally made with donuts and coffee). So, who better to take a stab at transforming some of Teigen's most popular recipes into portable, yummy chocolate bars?
The limited-time Chrissy Teigen Compartés Chocolate Bar Gift Set, includes four different bars, one of which is based on Teigen's banana bread and features that same banana bread mixed with white chocolate. The others include: a John's Cake bar featuring homemade carrot cake and cinnamon in white chocolate, a Chrissy's Creamy Coconut chocolate bar with coconut milk and popcorn in milk chocolate, and lastly, a Luna's Blueberry Pancake chocolate bar that features maple syrup and blueberries in white chocolate.
The full set costs $50, but you can buy the bars individually for $12 each. If you're interested in trying any, be sure to get them while they're available. There's no telling how long this limited series will last.