McDonald's Is Giving Away Fries Every Friday. Here's How To Get Them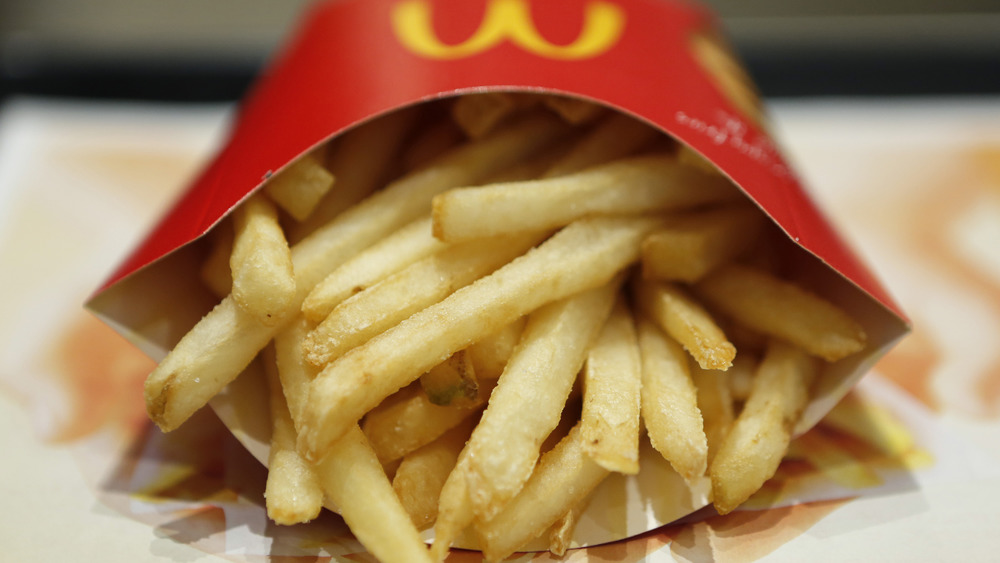 Bloomberg/Getty Images
McDonald's is calling its latest promotion Fry Day because, of course they are (via Delish). What other name choices are there? Every Friday from now through June, you can pick up one order of medium french fries for free at McDonald's.
"But wait," you say, "there must be a catch." You are correct. There are, in fact, two catches. For one, you must spend at least $1 with your order. Secondly — and here's where McDonald's is really looking out for themselves — you must place your order through the McDonald's app.
Of course, the app has significant advantages for the customer. It's convenient. You can place your order at home, without feeling the pressure from the line of cars behind you. (Won't the fries be cold then, by the time you get there? We figure McDonald's has those wrinkles ironed out.) You can set up payment in advance, and McDonald's won't take your money until you arrive to pick up your food. This way, you don't need to hand over cash or a card to someone in a drive-thru window, eliminating one risky point of human contact during the COVID-19 pandemic. App users also get special deals, sort of like digital coupons, that you won't find without the McDonald's app (via McDonald's).
McDonald's offers deals to get you to use their app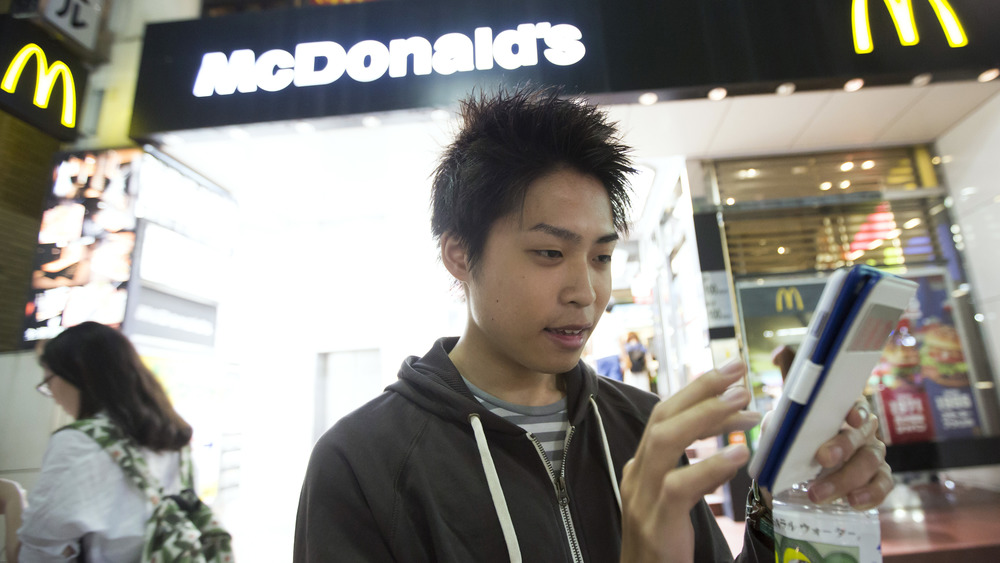 Tomohiro Ohsumi/Getty Images
McDonald's has the second most popular quick-service restaurant app in the U.S., behind only Starbucks (via QSR). McDonald's and other fast-food chains know how important it is to have a lot of people using their apps, a lot of the time. "Having a first-class mobile strategy is a necessity for [quick-serves], ... or they face being relics of the past," a market insights manager at App Annie told QSR magazine.
Apps are the latest disruptor in the fast-food business, much like drive-thrus were a couple of generations ago. They build customer loyalty without the need for an expensive national ad campaign that uses old technologies such as television and print media. How do they do this? Big data. Few people bother, but if you scroll through McDonald's privacy notice (something you must click to accept, before using the app), you'll find that McDonald's can track your favorite orders, the times of day you like to eat, and your location. They even monitor your activity on other apps, websites, and social media platforms. This enables them to create an advertising campaign just for you, without hiring a celebrity spokesperson or offering a dollar menu, which has been disappearing because McDonald's loses money on it (via Business Insider).
Go ahead, download the McDonald's app and grab those free fries every Fry Day until June 27. Just remember, big data is watching.