Trader Joe's Fans Are So Excited For The Return Of This Beer Bread Mix
When a regular enriched bread or sourdough can't cut it, we turn to beer bread for a reason. According to Gimme Some Oven, this powerhouse of a baked good only takes flour, baking powder, salt, beer and honey to make, and ends up as one of the most filling, delicious loaves of bread you can bake at home. While we can find a ton of recipes online to make this special baked good, sometimes we don't have the time in the day to churn out a loaf or two of bread. However, If you love the idea of beer bread but don't have the time or energy in the day to bake, Trader Joe's has stepped in with a solution that can make any home baker smile. 
Instagram user @traderjoeslist discovered that the brand has brought back their signature beer bread mix. They posted a picture of this find, alongside the caption, "IT'S BACK BEER BREAD MIX •$2.99• Now you can have your beer and eat it too. This new item is for the gluten lovers of the world. My sister used to make beer bread all the time and it always was VERY well received. Will you be adding this to your #traderjoeslist?"
A beer bread mix to rejoice over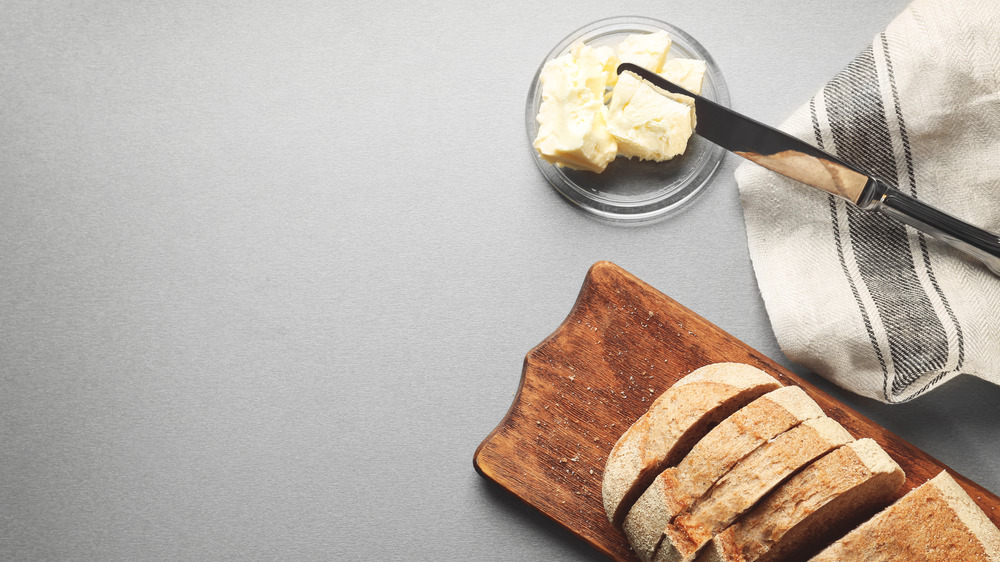 Shutterstock
The post has been met with a huge amount of positivity, raking in almost 11,000 likes and a wide variety of comments, like, "I've been waiting since last year for this to come back!! Will have to stock up!!!" and "I made this last year when they had it- soooo good," (via @traderjoeslist). The mix goes great with the rest of Trader Joe's baking mixes, and with any luck, can enter the pantheon of fan favorites like the brand's Cinnamon Sugar Muffin Mix, Blondie Bar Baking Mix, or Lemon Shortbread Bar Baking Mix (via The Kitchn).
If you always fancied yourself a baker, but just don't have the time in the day to make bread for everyone, this mix can turn your whole world around in the best ways possible. If you have ever wondered about what a beer bread tastes like, or just feel encouraged to try a new baking recipe, this mix has your name on it. Make sure to grab a box on your next Trader Joe's run — who knows how long the brand plans to keep the mix around for, and you definitely don't want to get left in the dust on this deal!