Healthier Versions Of Your Favorite Holiday Cookies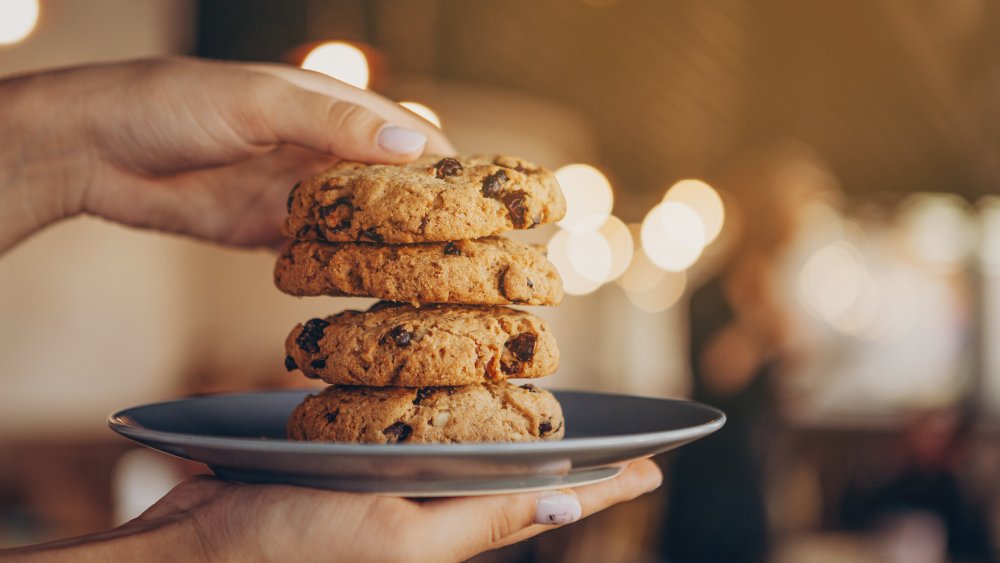 Shutterstock
A cookie, no matter how you cut it, is still a cookie. It's meant to be a bit of an indulgence. But that doesn't mean you can't find ways to optimize your nutrition while still enjoying a few decadent treats. These seven cookie recipes take something delicious... and make it even better for you. So go ahead this holiday season and have your cookie and eat it, too.
Pumpkin pie cookies with "cream cheese" frosting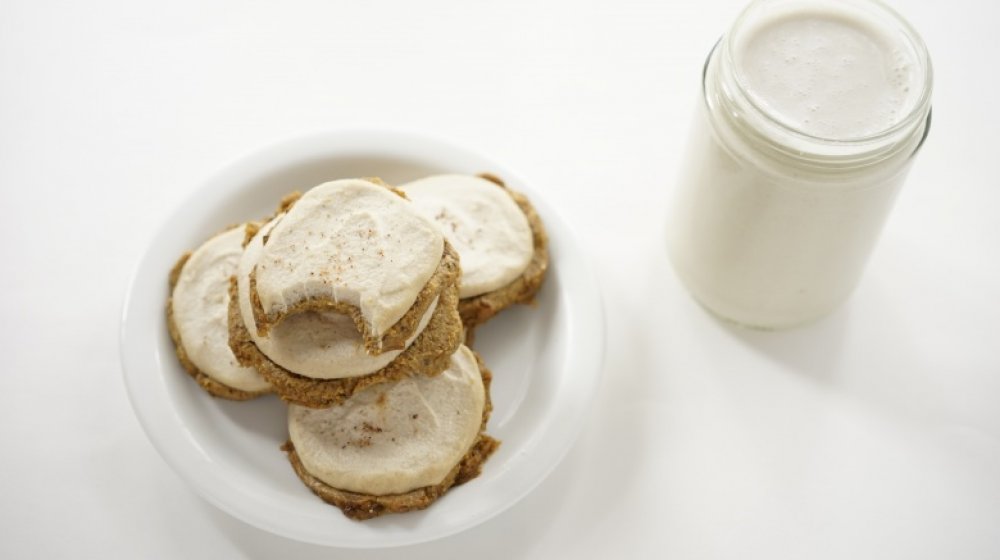 Sara Grove, Raw Food Magazine
There's nothing like a slice of pumpkin pie to put you in the holiday mood, but if the 316 calories in a slice of the real deal makes you a little queasy, you might want to try your luck with these pumpkin pie cookies, which cut the calorie count almost in half (196 calories per cookie). Sara Grove, co-founder of Raw Food Magazine, whipped them up with her business partner, and says they make the "healthy" list because, "They have no flour, sugar, or dairy, and you don't have to cook them! They even contain four grams of protein – that's pretty cool for a cookie." Just keep in mind, the recipe here only makes two cookies, so scale up the recipe if you're cooking for a crowd.
Ingredients for the cookies:
2 dates (pitted)
2 tablespoons pecans
1 tablespoon pumpkin puree
1/8 teaspoon pumpkin pie spice
1/8 teaspoon vanilla extract
1 tablespoon chia seeds (ground)
1/16 teaspoon sea salt (pinch to taste)
Ingredients for the frosting:
2 tablespoons cashews (soaked 20 minutes to a few hours)
1/16 teaspoon vanilla extract
1/16 teaspoon cinnamon
1/4 tablespoon honey
1 tablespoon almond milk (add more or less for desired thickness)
1/4 tablespoon coconut oil (melted)
1/16 teaspoon sea salt (a pinch to taste)
Directions for cookies:
Soak the dates in water for 10 minutes, then place pecans into a food processor and pulse until finely ground.
Add all ingredients (including dates) into the food processor and pulse until combined.
Make small cookie patties and place onto a tray. Freeze for 30 minutes.
Directions for frosting:
Drain and rinse soaked cashews, then place all ingredients into a food processor (including cashews) and blend until creamy.
Smooth onto tops of pumpkin pie cookies
Chocolate and avocado truffles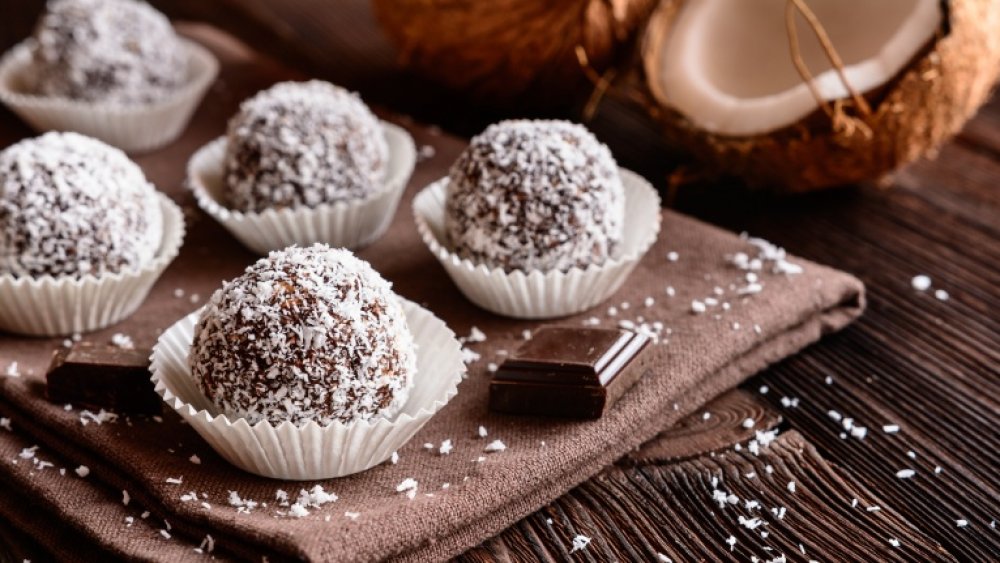 Shutterstock
Creamy, delicious truffles are a decadent dessert, but they're often loaded with sugar and saturated fat. Not so with these avocado-based truffles from Linnea Johansson, a Swedish-born celebrity chef and the author of Perfect Parties and Food for Friends. This chocolate and avocado truffle recipe appears in her book, Perfect Parties. It requires just four ingredients and takes five minutes to make. Plus, by using avocado in the recipe, each truffle is infused with added vitamins, minerals, and fiber, while saturated fat is largely replaced by heart-healthy unsaturated fat. The recipe makes six to eight truffles.
Ingredients:
1 large, ripe avocado
1/2 cup chopped dark chocolate (65-percent cacao)
1/3 teaspoon agave syrup
1/4 cup coconut flakes
Directions:
Peel the avocado and remove the pit. Place in a mixer and mix until it's a smooth, mousse-like consistency.
Melt the chopped chocolate in the microwave on medium heat and stir every 30 seconds, making sure it doesn't burn. Once melted, you should have equal parts avocado mousse and melted chocolate.
Slowly pour the melted chocolate into the avocado mousse, adding a little at a time and mixing it well.
Flavor to taste. If you like a sweeter truffle, you can add more chocolate and a few teaspoons of agave syrup.
Put the truffle batter in the fridge and let it harden for about an hour. Once hardened, roll into truffle balls.
Finish the truffles by rolling them in the coconut flakes. Truffles will keep in the fridge for two to three days
Not-so-sugary vegan sugar cookies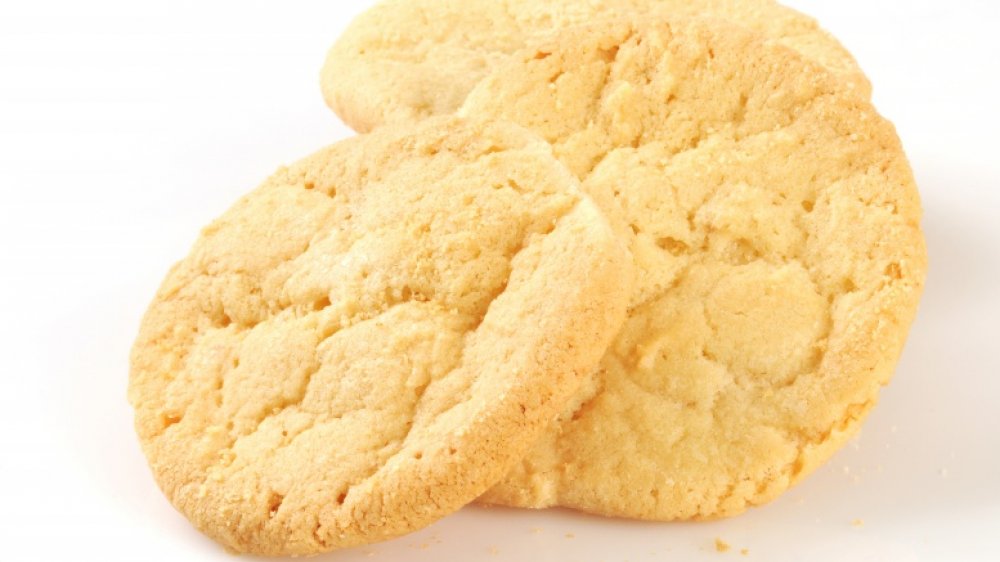 Andrea Correale, Elegant Affairs
The holidays are hardly the holidays without a plate of sugar cookies, and while these delicious vegan sugar cookies from celebrity caterer Andrea Correale of Elegant Affairs are hardly sugar-free, they are friendly to those with milk or egg allergies, and they use applesauce as a substitute for oil. So while I may not suggest you double-down and eat twice as many as you usually would, you can feel better about icing them before leaving them out for Santa.
Ingredients:
1/2 cup (1 stick) vegan butter, such as Earth Balance, softened
1/2 cup organic cane sugar and extra for sprinkling
1/4 cup brown sugar
1/4 cup unsweetened applesauce
1 teaspoon pure vanilla extract
1-3/4 cups unbleached all-purpose flour, and some on the side for rolling
1/2 tablespoon arrowroot powder
1 teaspoon baking powder
1/2 teaspoon baking soda
1/4 teaspoon salt
1 to 2 teaspoons non-dairy milk
Directions:
In a large mixing bowl, cream butter and cane sugar.
Add brown sugar, vanilla, unsweetened apple sauce, and beat for one to two minutes.
Mix flour, arrowroot powder, baking powder, baking soda, and salt. Sift dry ingredients over butter and sugar mixture.
Mix until just incorporated. Then add non-dairy milk and mix until a soft dough is formed.
Cover and freeze dough for 15 minutes.
Preheat your oven to 350 degrees Fahrenheit.
Use a small ice cream scoop to scoop chilled dough and roll into balls. Arrange cookies on a clean baking sheet, two inches apart to allow for spreading. Dip the bottom of a glass into cane sugar and use the glass to gently smash each ball down into a disc to help the cookies cook more evenly. Sprinkle the tops lightly with remaining cane sugar.
Bake on the center rack for 10 to 12 minutes or until very slightly golden brown.
Remove from the oven and let rest on the pan for a few minutes. Transfer to a cooling rack to cool completely.
Healthy(er) snickerdoodles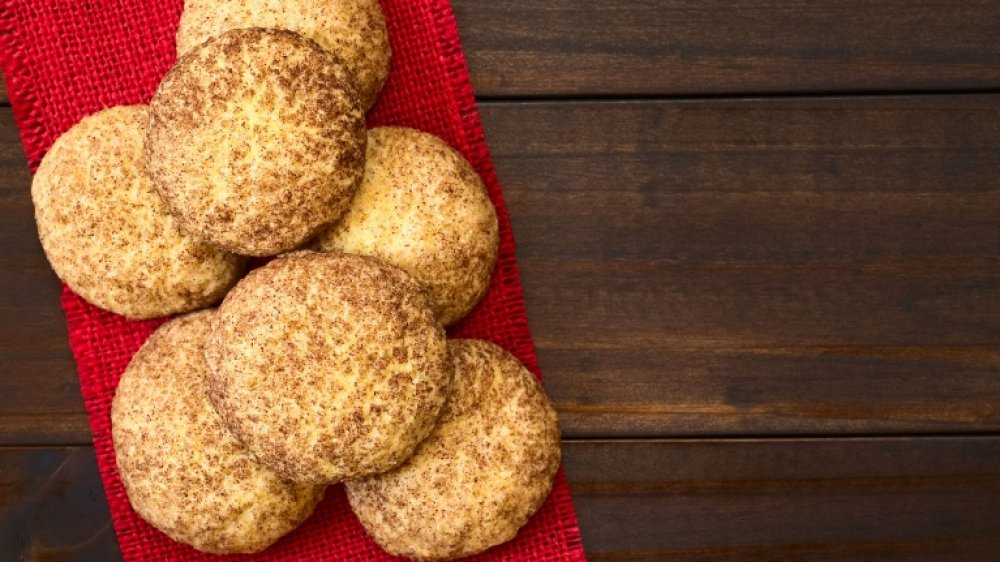 Andrea Correale, Elegant Affairs
Another "healthified" choice from Correale and Elegant Affairs, these snickerdoodles use whole wheat pastry flour in place of standard all-purpose flour, amping up the fiber content without diminishing flavor. You can almost feel good about pairing a cookie with your coffee as a way to start your morning!
Ingredients:
3/4 cup whole wheat pastry flour
1/4 teaspoon baking powder
1/4 teaspoon salt
1/4 teaspoon cream of tartar
1/4 teaspoon and 1/8 teaspoon baking soda
1/4 cup cane sugar
1/2 teaspoon pure vanilla extract
1 1/2 tablespoons milk of choice
1/4 cup butter
Extra cinnamon and sugar for rolling
Directions:
Preheat oven to 350 degrees Fahrenheit. Combine the dry ingredients and mix well. In a separate bowl, melt the butter, then stir in vanilla and milk.
Pour the dry ingredients into the wet ingredients and mix again.
Form balls with the dough. Roll each ball in a mix of two parts sugar to one part cinnamon.
Refrigerate until cold.
Cook for 10 to 11 minutes, serve when cooled.
50-calorie chocolate crinkle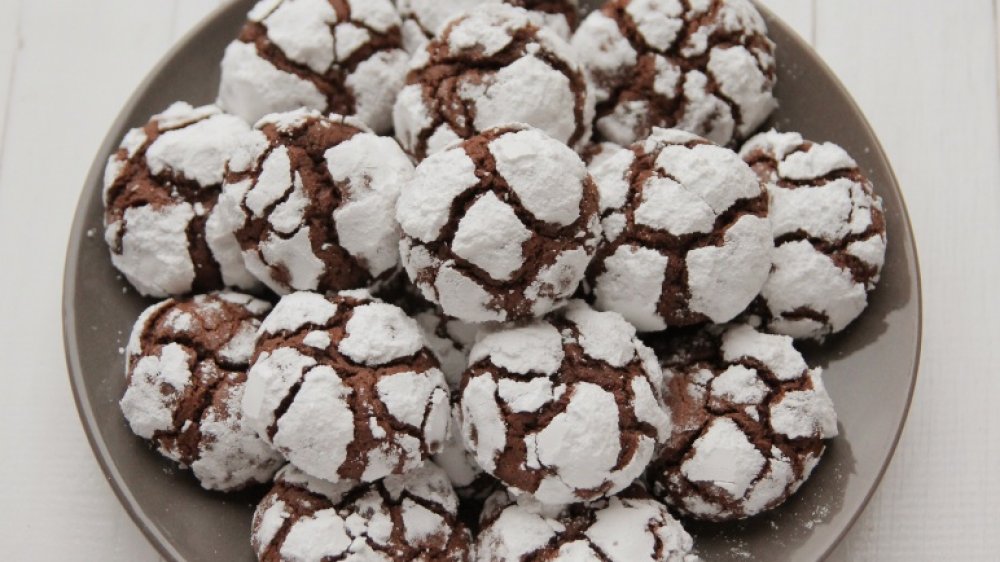 Andrea Correale, Elegant Affairs
There's something about chocolate crinkle cookies that go perfectly with holiday music and a cozy fire. The best part? Each of these chocolate crinkle cookies from Andrea Correale and Elegant Affairs only sets you back 50 calories. Grab a couple and indulge yourself.
Ingredients:
1 cup all-purpose unbleached flour
1/4 cup unsweetened cocoa powder, plus 2 tablespoons
1/4 cup cane sugar, plus 2 tablespoons
1/4 teaspoon baking soda
1/4 teaspoon salt
1/4 cup vegetable oil
3 tablespoons milk
2 tablespoons maple syrup
1 teaspoon vanilla extract
Powdered sugar
Directions:
Lightly grease two baking sheets.
In a large mixing bowl, combine the flour, cocoa powder, sugar, baking soda and salt and stir very well. In a medium mixing bowl, stir together the oil, milk, maple syrup, and vanilla.
Pour wet ingredients into dry, and stir to make a dough.
Using a small ice cream scoop, scoop dough and roll into 20 to 24 balls, then roll each ball in powdered sugar.
Place balls on the prepared baking sheets and refrigerate for one hour.
Preheat the oven to 300 degrees Fahrenheit, and bake the chilled balls for 13 minutes.
Remove from the oven and allow to cool for at least 10 minutes.
Whole wheat oatmeal cookies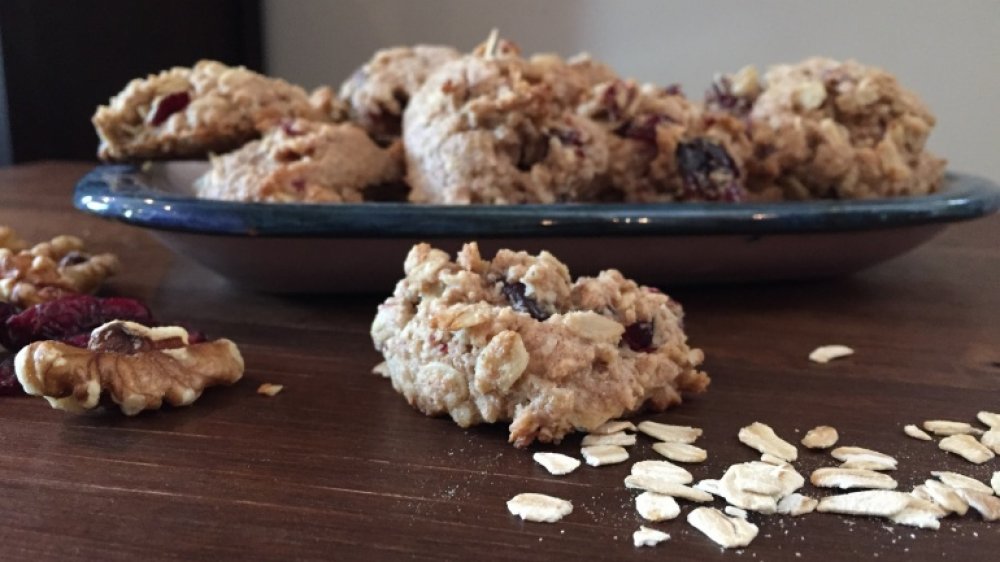 Jessica Braider, The Balanced Kitchen
When Jessica Braider, a nutritionist and healthy living blogger at The Balanced Kitchen reached out to share her recipe, she raved about the flavor and health benefits of these whole wheat oatmeal cookies, "These are made with only whole grains and the sugar has been cut in half from most cookie recipes (only a half cup in the whole batch). They also have protein and omega-3s from the walnuts." Plus, oatmeal cookies are packed with fiber given the inclusion of rolled oats and dried fruit, so there's really not much to feel guilty about!
Ingredients:
1 stick unsalted butter, chopped into smaller pieces
1/2 cup brown sugar
1 egg
1 teaspoon vanilla extract
1/2 cup walnuts
1 cup whole wheat flour
1 teaspoon salt
1 teaspoon baking powder
1 cup rolled oats
1/2 cup raisins, currants, or dried cranberries
Directions:
Preheat the oven to 375 degrees Fahrenheit and line two baking sheets with parchment paper.
In a food processor, cream the butter and sugar until smooth.
Add the egg and vanilla and mix well.
Add walnuts and mix until they are well chopped up.
Add in flour, salt, and baking powder and mix until just blended.
Add oats and dried fruit and pulse once or twice, then finish mixing in with a spoon.
Spoon out small amounts, about 1-1/2 tablespoons, onto the baking sheets.
Bake for 10 minutes, rotating the baking sheets at five minutes, if necessary.
Remove from oven and cool on cooling racks (or eat one or two warm!).
Beta glow cookies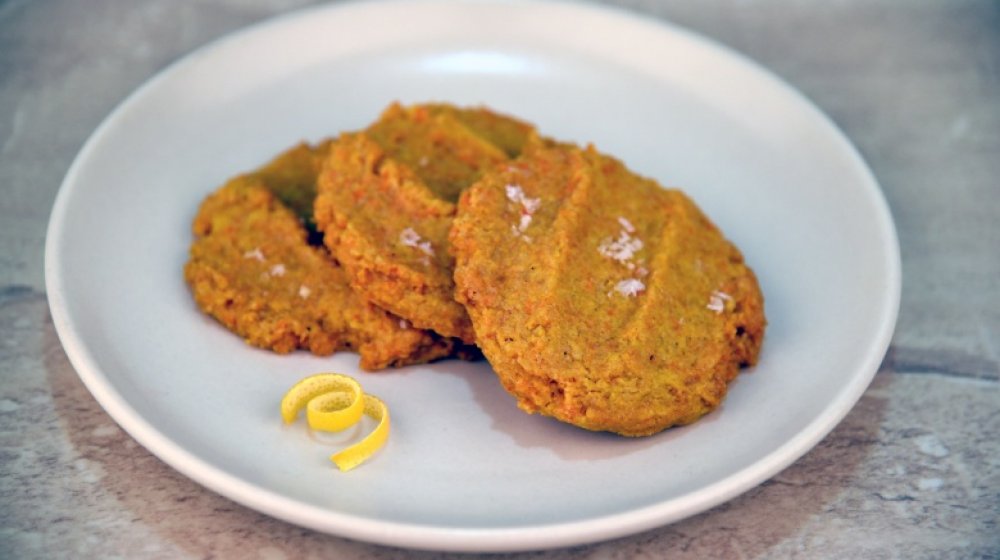 Juicero
If you've ever done any juicing, you know you inevitably end up with a lot of juice pulp that you throw in the trash because you don't know what to do with it. This is a darn shame, because that pulp is packed with nutrients and fiber. Luckily, Juicero brand's in-house chef, Eric James Horton-Brande, came up with the ultimate holiday cookie recipe featuring pressed juice pulp. You can buy the pulp from Juicero in the Beta Glow Produce Packs if you're not a big juicer, or you can use your own after whipping up a juice featuring carrots, lemons, orange, and ginger. Either way, you'll need about a cup of mostly-dried pulp for this citrus-y recipe. Horton-Brande emphasizes, "These cookies rock! The pulp replaces about a third of the flour used to make the same number of regular cookies. The coconut oil increases the carotenoid absorption from the carrots, and adds some nutritional value to this treat. Just make sure to remove any lemon and orange seeds from the juice pulp before you start baking!"
Ingredients:
1 pack Beta Glow Grind Produce Pack or 1 cup of homemade juice pulp
3/4 cup (175 grams) flour
1/2 cup (100 grams) cane sugar
1/4 cup (70 grams) brown sugar
1/2 cup (95 grams) coconut oil
1/2 teaspoon (3 grams) baking powder
1/2 teaspoon (3 grams) baking soda
1/2 teaspoon (3 grams)s salt
1/2 teaspoon (2 grams) pumpkin pie spice
Directions:
First, pick out any lemon seeds from the pulp or Beta Glow Grind and discard.
Mix together all the dry ingredients: flour, baking powder, baking soda, pumpkin pie spice, and salt.
Combine pack grind or pulp, sugars and coconut oil and blend until smooth.
Combine wet and dry ingredients together.
Preheat the oven to 375 degrees Fahrenheit.
Portion 1-ounce cookies on cookie sheet. Press the cookie dough moderately with your fingers (this gives the cookie some crispy texture on top).
Bake for 7-8 minutes. Let cookies set for a couple minutes, then transfer them to a cooling rack.