Trader Joe's Shoppers Are So Happy About These Returning Pretzel Bagels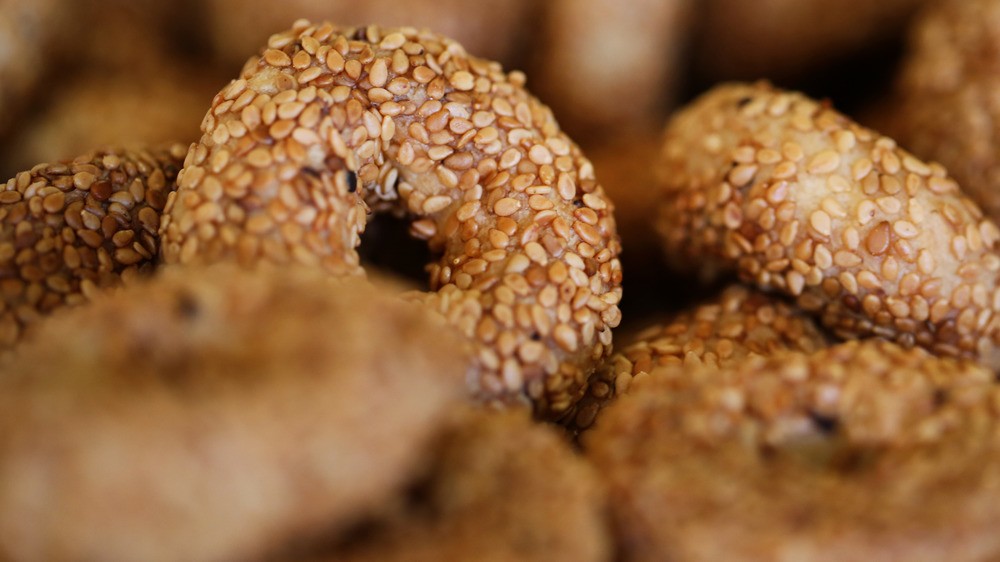 Shutterstock
It might not be in Fearless Flyer, but Trader Joe's shoppers spotted a fan favorite food back on store shelves. As seen on Instagram's @TraderJoesList, pretzel bagels have returned to store shelves. That Instagram account remarks, "All pretzel flavor minus the pretzel shape." Whether these pretzel bagels are eaten on their own, with a smear, or as a sandwich is a personal preference. Trader Joe's even recommends its recipe for Cocoa Peanut Butter Bacon Bagel (which can be found on the company's website), which is served on the pretzel bagel. According to the Instagram pictures, a package of bagels retails for $2.49, but it is best to check with a local store for pricing and availability.
As reported in Food Beast, Trader Joe's added pretzel bagels to its bakery lineup back in 2015.  Spoon University listed the Trader Joe's Soft Pretzel Sticks as one of the most popular Trader Joe's products. Food Beast suggests that the pretzel bagels were a response to the popularity of the soft pretzel sticks. It is unclear whether these bagels appear seasonally or just occasionally. Trader Joe's had a seasonal bagel flavor offering — pumpkin, as revealed by the Fearless Flyer — for the autumn. Just like many other tasty Trader Joe's food finds, it is best to grab a bag when you find it on store shelves. 
Where else can you get pretzel bagels?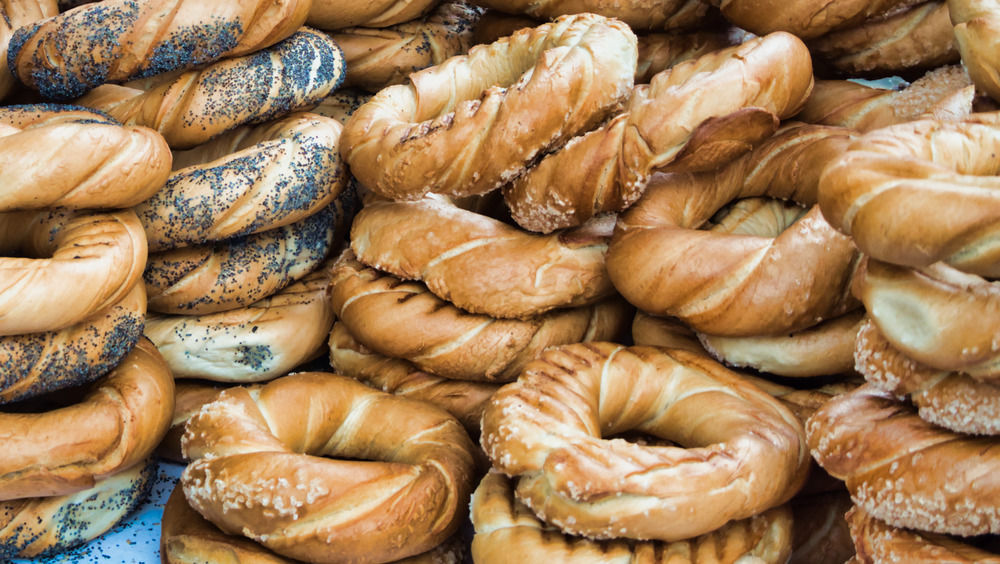 Shutterstock
Since not everyone has a Trader Joe's in their neighborhood, some people might have food envy over seeing these pretzel bagels. If you are craving that pretzel flavor in a bagel form, Einstein Bros Bagels website reveals that they, too, have a pretzel bagel on the menu. Its version has salt on top. Similar to other Einstein Bros Bagels, it can be ordered in a variety of ways. The Tim Hortons website touts its own particular version of the pretzel bagel.
While some people are buzzing about the Trader Joe's pretzel bagels, home cooks might be able to make their own version. Since some people think that making pretzels at home is easy, some of the same cooking concepts could be applied in this situation. Actually, there are few differences between a soft pretzel and a bagel — according to the LA Times, it might just be all about the shape. Next time you do not want to get all twisted with soft pretzel making, you could just turn it into a pretzel bagel.