This TikTok Hack Will Save You Money On Chick-Fil-A Sandwiches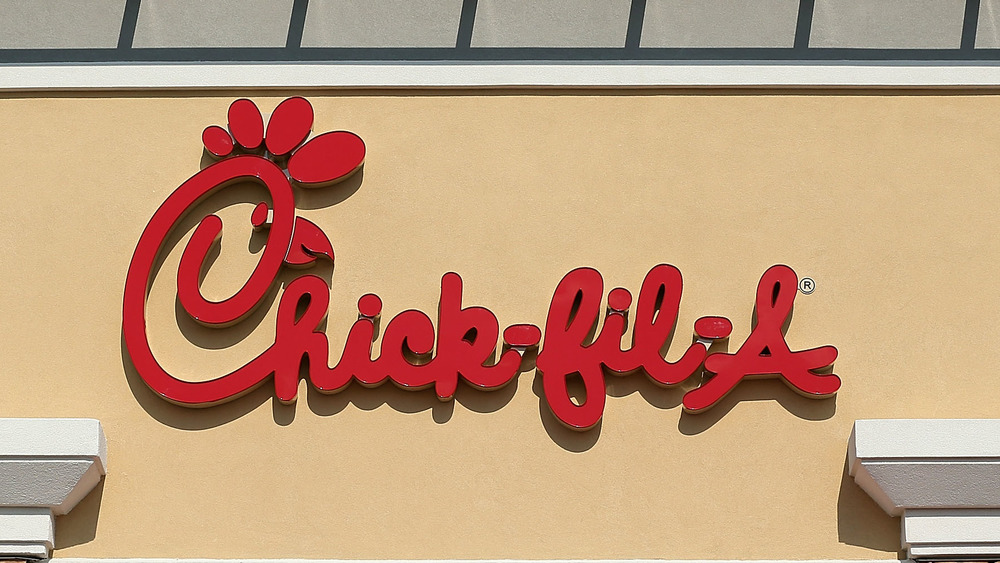 Alex Wong/Getty Images
"Chicken Sandwich Wars" is not a term one would have expected to ever hear just a couple of short years ago. That naivety has long since shedded, and ever since Popeyes fired the opening salvo with its absurdly viral chicken sandwich, the battle has indeed raged on with little sign of any chicken-themed franchise even paying a passing glance to a white flag. Well, we say "raged." In November 2020, a good 47 percent of people still considered Chick-fil-A's classic to be the best fast food chicken sandwich. 
Despite the fact that Chick-fil-A has had its scandals, there's no denying that the chain makes some very, very delicious chicken. However, if you're in the habit of consuming their fast food often, the cumulative impact of all those chicken sandwiches can leave quite a dent on your wallet. If only there was some way to make gorging on those delicious chicken sandwiches cheaper — oh, wait, there is. Let's take a moment to study the TikTok hack that will save you money on Chick-fil-A sandwiches.
Order your classic Chick-fil-A sandwich in parts for some major savings
The Chick-fil-A hack that might change the way you order your chicken sandwiches comes courtesy of TikTok user @Mar0shi, and like all good tricks, it's deceptively simple. "Order four tenders and two orders of buttered buns," they advise. "You'll save $2 and you get two sandwiches. My pleasure!" As Yahoo! Sports tells, this genius of a hack has been going viral, and the math seems to be pretty accurate, as well. 
After all, Chick-Fil-A's menu lists their classic sandwich as little more than one of their famous chicken breasts "served on a toasted, buttered bun with dill pickle chips." Since they cost $3.75 apiece, a four-piece of Chick-n-Strips is $4.19, and the buttered buns shouldn't bring too much extra cost, everything seems to check out. As such, many users are going nuts over what one commenter labeled "God tier hacking." 
That being said, some have noted that although this fine hack does save you some money, it's also missing a very critical ingredient — the pickles. Since ordering enough extra pickles for two sandwiches might bring the full cost too close to the original to warrant the effort, it all comes down to one question. How important are the pickles in your chicken sandwich? If you habitually order yours without the pickled treats, this is absolutely the hack for you. If you love pickles, but also major savings? Well, in that case, you have some soul searching to do.