These Chicken Alfredo Bags From Costco Are Turning Heads
One consequence of cooking all the delicious and decadent food that is eaten during the holidays is that there will be a sometimes insurmountable amount of leftovers. But, what does one do when you're long past eating mashed potatoes in gravy, roasted chicken, and roasted Brussel sprouts with bacon? The last thing many people want to do is spend more additional time in the kitchen cooking something that will ultimately leave them having to wash several pots, pans, and bowls (with the added bonus of figuring out how to store it among the leftovers). 
What does one do when they want to give their family an enjoyable meal that is equal parts quick to make and delightful to eat? Thankfully, many grocers like Aldi, Trader Joe's, and Costco offer plenty ready-to-make meal kits that will soothe the tummy and the soul. In particular, Giovanni Rana's organic chicken Alfredo sauce tagliatelle with fresh spinach meal kit, which is sold at Costco, has found itself with some love from social media users who love Italian food.
People love that it's easy and quick to make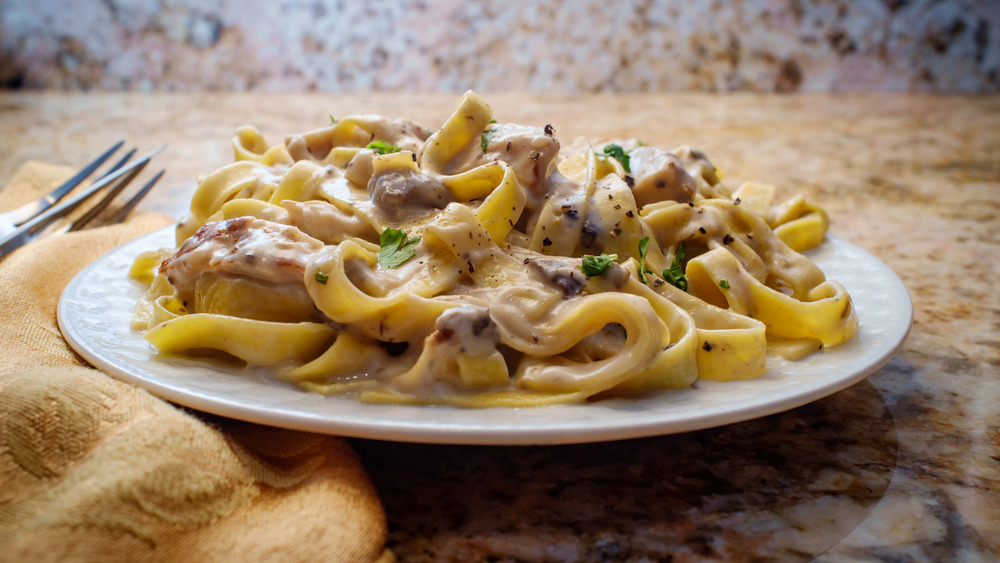 Shutterstock
Instagram reviewer @costcohotfinds says that the meal kit is the perfect alternative for "cereal nights" when at-home cooks and parents are in a pinch for a quick meal that is also a fan favorite at their home. The Instagram reviewer stated that this meal kit resembles a dish that they have made for their family before, but it carries the added bonus that it requires less effort to make (which they seem to be a fan of). Delish reports that this prepared meal is ready in under ten minutes. 
Each package weighs over two pounds (38 ounces total) and comes with Rana's signature tagliatelle pasta, a creamy and dreamy spinach Alfredo sauce, and pre-sliced delicious all-natural white chicken strips. The ingredients are preservative-free and certified organic (so you know that you'll be feeding your family the best of the best). To make the meal, all you need is to put all the ingredients in a bowl and pop it into the microwave. In just nine minutes, you and your family will have a meal fit for royalty.