35% Of People Consider This Dip Their Favorite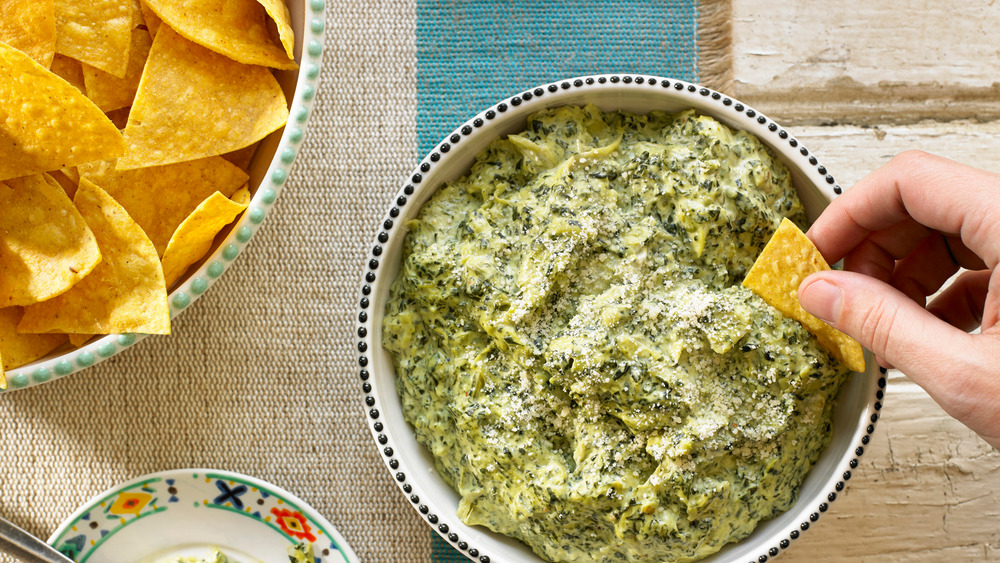 Shutterstock
At every party, there's always one food that everyone gravitates towards. And usually, that one snack is some type of chip and dip combination. Tortilla chips and salsa (or guac!), potato chips and French onion dip, pita chips and hummus — there's seemingly no end to the mouthwatering pairings. It isn't just chips that get dipped, either. Pretzels, toasted bread slices, bagel crisps, veggies, and crackers all make for suitable vehicles to get your favorite creamy concoction from the bowl to your mouth.
There's no denying that dips are a guaranteed crowd pleaser at any type of get-together, from birthday celebrations to football-watching parties. But which one takes the cake (or rather, the chip)? To find out, Mashed surveyed over 68,000 people worldwide via a YouTube poll. Between French onion, crab/seafood, 7-layer Mexican, spinach artichoke, and "other," there was one dip that over a third of respondents chose as their all-time favorite. 
It's made with instant soup mix
Of all the types of dip out there, French onion was by far the favorite, with 35 percent of people dubbing it their favorite. In its most basic form, it's made with just sour cream and a box of instant French onion soup mix and is typically eaten with plain potato chips. The dip provides just the right amount of creaminess and tanginess to offset the saltiness of the chips. You can also get fancy and make your own with dried herbs a la The Pioneer Woman or caramelized onions a la Food & Wine Magazine.
According to our poll, the second most popular dip is spinach artichoke, with 19 percent of the votes, followed by 7-layer Mexican with 18 percent. Just 14 percent of people chose crab/seafood dip and the "other" category (which included write-ins like chile con queso and buffalo chicken dip) came in last with 13 percent.