Robert Irvine Revealed What Happened After He Got COVID-19 Last Summer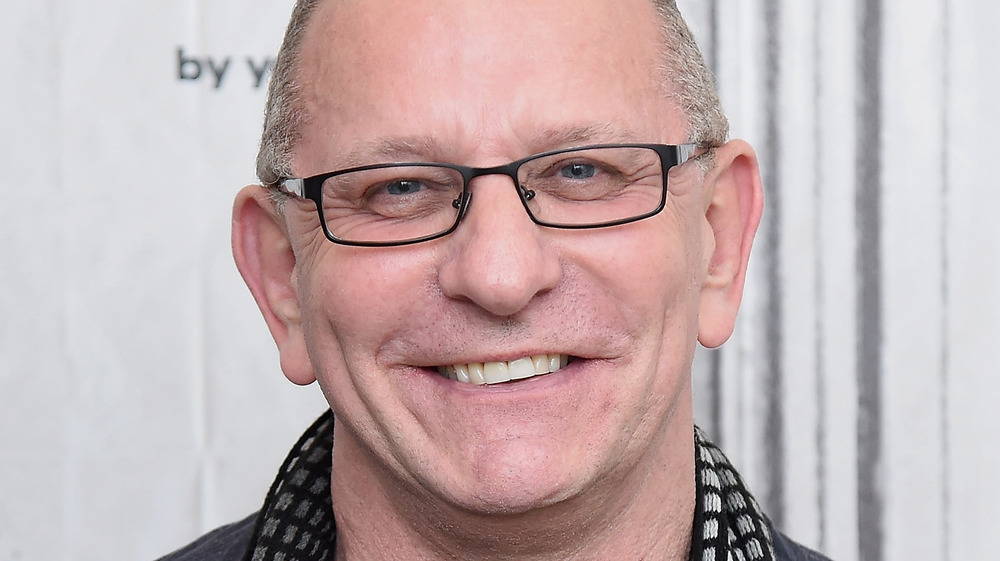 Gary Gershoff/Getty Images
In a Twitter exchange with a fan, celebrity chef and Restaurant: Impossible host Robert Irvine revealed that he fell ill with COVID-19 in July. Apparently, Irvine's case required much more than self-isolating at home. Irvine told his fan, Faye Talbott, that his case of COVID-19 led to a six-day hospital stay (via Twitter).
Irvine let the world know on February 21 via Twitter about his serious case of COVID-19 while responding to Talbott, who tweeted that she had been hospitalized since December but was regaining her strength after contracting both COVID-19 and a MRSA infection. MRSA is a dangerous type of bacteria that resists antibiotic treatment (via Johns Hopkins Medicine). "Glad you're on the mend," Irvine replied. "I also had COVID last July and spent 6 days in hospital but all great now and stronger than before lol ... stay strong ok."
July happened to be a busy month for Irvine. That's when he was touring the U.S. by bus with a television crew, filming Restaurant Impossible: Back in Business. The six-episode season, which premiered July 30 on the Food Network, shows Irvine revisiting restaurants he had rescued in recent seasons of Restaurant: Impossible in order to help them succeed under pandemic restrictions (via TODAY).
Robert Irvine possibly got COVID-19 while filming Restaurant: Impossible
Robert Irvine gave several media interviews during the first week of August to promote the special season of Restaurant: Impossible. The timeline he gave in one interview indicated that he must have fallen ill with COVID-19 while shooting the new season — although he said nothing about it at the time. "Literally in the last four or five weeks, we've done six restaurants in different states," Irvine told WGN9 in an interview that aired on August 3. That shooting schedule would have covered all of July, the same month he spent six days in a hospital. 
Irvine talked with FOX Business on August 5 (via YouTube), and while he happened to mention a two-day hospital stay back in March after coming down with food poisoning, Irvine said nothing to the FOX interviewer or anyone else at the time about a hospital stay from the previous month. Maybe Irvine didn't want to bring bad publicity to the show by reporting that he got COVID-19 while traveling to multiple states and meeting restaurant owners and staff.
Or maybe — just maybe — this was a case of Irvine playing with the timeline? The Food Network temporarily dropped Irvine in 2008 after it came to light that he had lied on his professional resume, falsely claiming that he had cooked for four U.S. presidents and helped with Prince Charles and Lady Diana's wedding cake (via The New York Times).