People Can't Stop Talking About Toll House's New Glittery Chocolate Chips
If you bake and/or you have a sweet tooth, then we'll just assume that you'll almost always have a stash of chocolate morsels at home to bake into cookies, cakes, breads, muffins, or to mix into whatever gets you through the night. But even if you have a Costco-sized bag of chocolate chips on standby, we're hooked on a feeling that you won't want to miss Toll House's latest semi-sweet offer, which pays tribute to the 1970s with a Disco-ball themed bag of morsels.
While Toll House's latest morsels are a nod to the time when bell-bottoms and maxi dresses ruled, they aren't your grandma's semi-sweet chocolate chips. These chips promise to get your sweet treats looking hot enough to take to funky town by adding a dusting of edible sparkle, so your baked goods are dressed and ready to play that funky music or shake their groove thing (via Best Products). These far-out Toll House chips are available at Walmart in 5.5 oz bags — which the big-box store's site says is good enough to make 24 Disco cookies with. 
Not the first chip change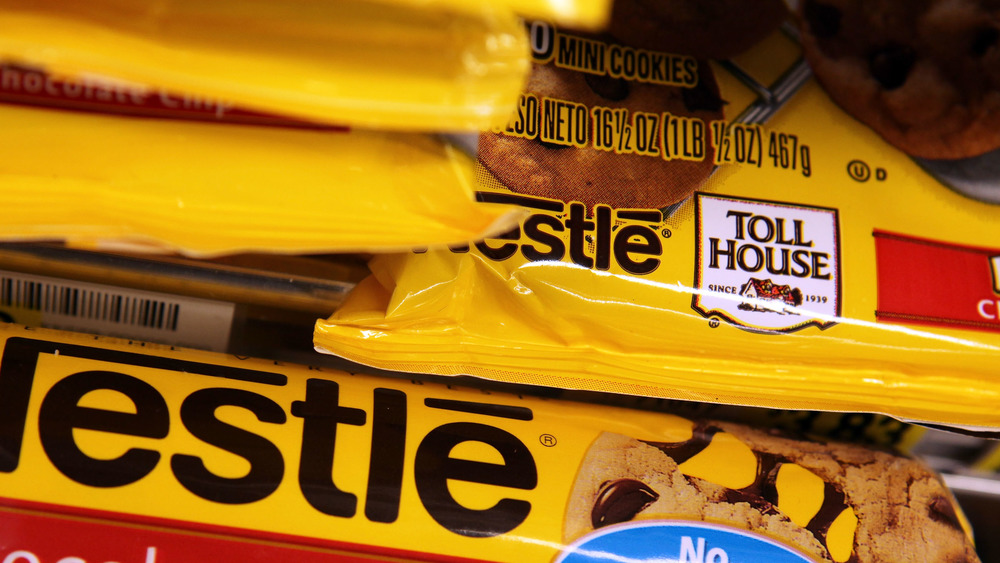 Justin Sullivan/Getty Images
We can't see these Disco morsels as being part of Ruth Wakefield's pantry when she first invented the Toll House cookie back in the 1930s. Wakefield started the trend of adding broken bits of semi-sweet chocolate into brown sugar cookie dough to make what we now know as the iconic chocolate chip cookie. She became famous for her cookie, which were first called "Toll House Crunch Cookies" (via Delish). According to The New York Times, Nestlé told Wakefield her recipe was the one that they wanted, and to sweeten the deal, they reportedly gave her a dollar and a job writing recipes. The company also supposedly offered her free chocolate whenever she needed or wanted it, for as long as she lived. 
Wakefield died in 1977 (via America Comes Alive), but she did live to see Nestlé get playful with the chocolate morsels, because the company began varying their chip offerings in 1958. Since then, Toll House morsels have come in a wide array of flavors, from the classic semi-sweet chocolate to butterscotch, dark and white chocolate (via Delish), as well as espresso and peanut butter and milk (via Taste of Home).