Manicotti Recipe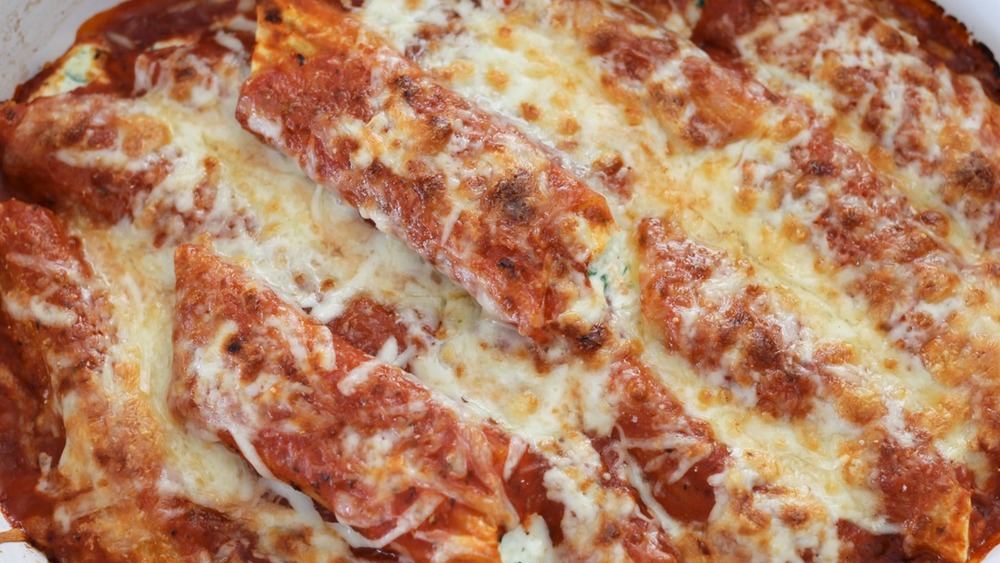 Melissa Olivieri/Mashed
If you are looking to try a new weeknight recipe you can make ahead and enjoy for days, Melissa Olivieri, who blogs at The Olive Blogger, has the perfect satisfying meal to fill that void. As she explained to Mashed, "Manicotti are large, ridged tubes." You can fill these hollow pasta tubes with cheese, herbs, and more for a classic dinner, or you can even leave them unfilled if you don't have the stuff on hand for the filling. Since there's so much you can do with this recipe, feel free to really get creative with it.
Olivieri told us she'll prepare her manicotti either during the week, or on weekends, adding about the rich and savory meal, "It is an easy-to-make, versatile dish that we love!" She also offered this pro tip: "You can even make everything ahead to the bake stage and freeze it so you can pull it out during a busy week and have a quick dinner." Sounds like a winning strategy! 
Gather your ingredients to make manicotti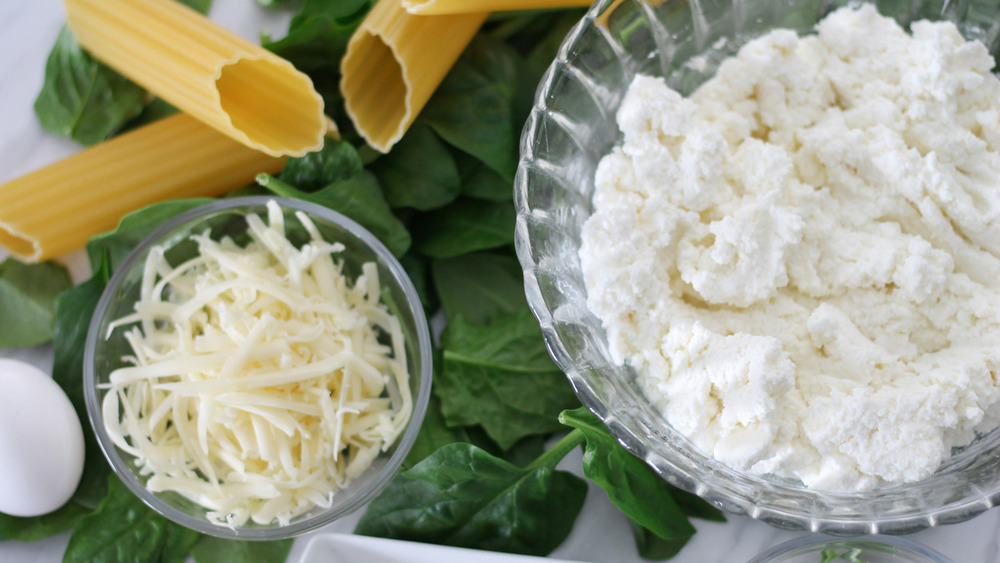 Melissa Olivieri/Mashed
The shopping list for Olivieri's manicotti is short and sweet. Simply add these ingredients to your cart: kosher salt, ground pepper, garlic powder, nutmeg, an egg, and chopped spinach (we prefer fresh), as well as Parmesan cheese, shredded mozzarella, ricotta, manicotti pasta, and a jar of pasta sauce.
We asked Olivieri if frozen spinach would work here, and she said, "Yes, definitely." But she advised, "You will need to thaw and drain it to ensure it doesn't make your filling mixture soggy." She also added, "I would suggest if you are using frozen spinach to get the one that is already chopped."
Meanwhile, about the nutmeg in the recipe, Olivieri told Mashed, "I was taught growing up that when you are making a pasta with either a white sauce or white filling to always add a dash of ground nutmeg."
Prepare your manicotti filling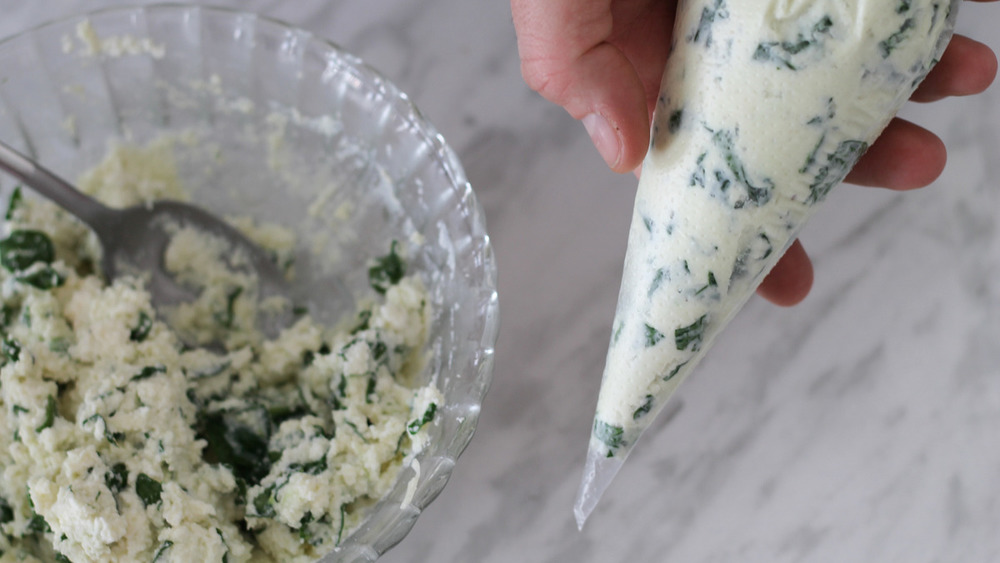 Melissa Olivieri/Mashed
The first step in pulling off pasta night in a new and fun way your family or friends will love is to prepare the filling for the manicotti. This step is actually quite simple, with Olivieri advising home cooks to mix all of the ingredients for the filling in a large bowl. So that means your salt, pepper, garlic powder, ground nutmeg, egg, chopped spinach, a 1/4 cup of the Parmesan cheese, a 1/2 cup of shredded mozzarella cheese, and ricotta gets well combined. 
Then comes a super-cool step that will make you feel like a professional chef. You will fill a piping bag with the filling. If this tool is not in your cooking arsenal, no worries. Olivieri recommends recruiting a sandwich bag to fill in. Next, cut a half inch from the bottom of the bag, creating a large opening so you can squeeze the filling out into each manicotti tube.
Prep your manicotti shells and the baking dish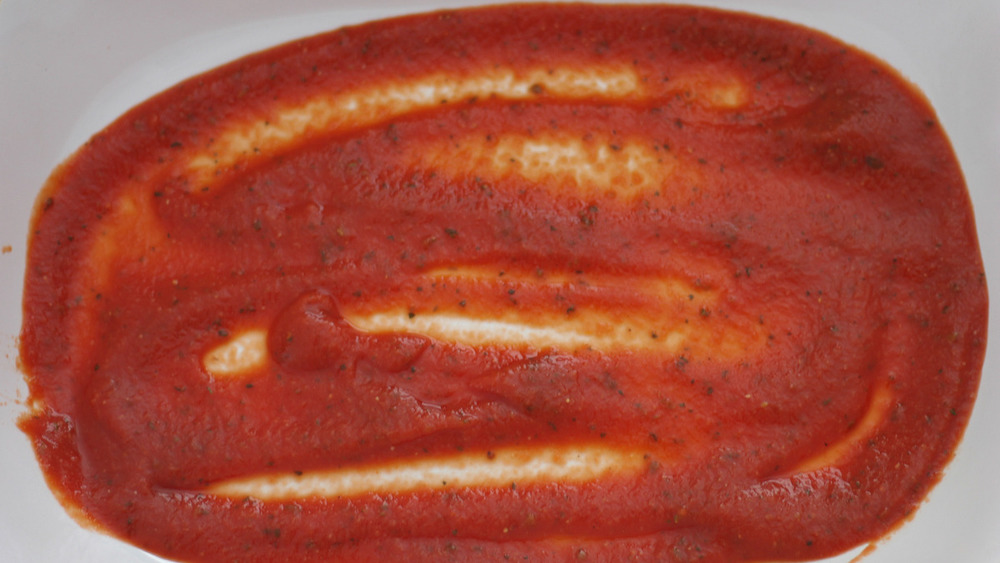 Melissa Olivieri/Mashed
At this stage, preheat the oven to 375 degrees Fahrenheit. You will bring a large pot of salted water to a rolling boil, and then add in your manicotti shells, with Olivieri cautioning home cooks to stop when the pasta is al dente — more on that in a moment. For now, drain the manicotti and set it aside to cool. Meanwhile, pour about a third of your jarred sauce into the bottom of a  9x13-inch casserole dish, covering it.
We asked Olivieri about this step, and she explained to Mashed that it's actually a clever trick. "Without the sauce on the bottom of the dish, your manicotti will stick and be impossible to get up." She further noted, "The sauce will cook with the manicotti tubes when they are in the oven, making them softer and covering the entire dish in deliciousness." Well, we'd call this genius!
Fill your manicotti shells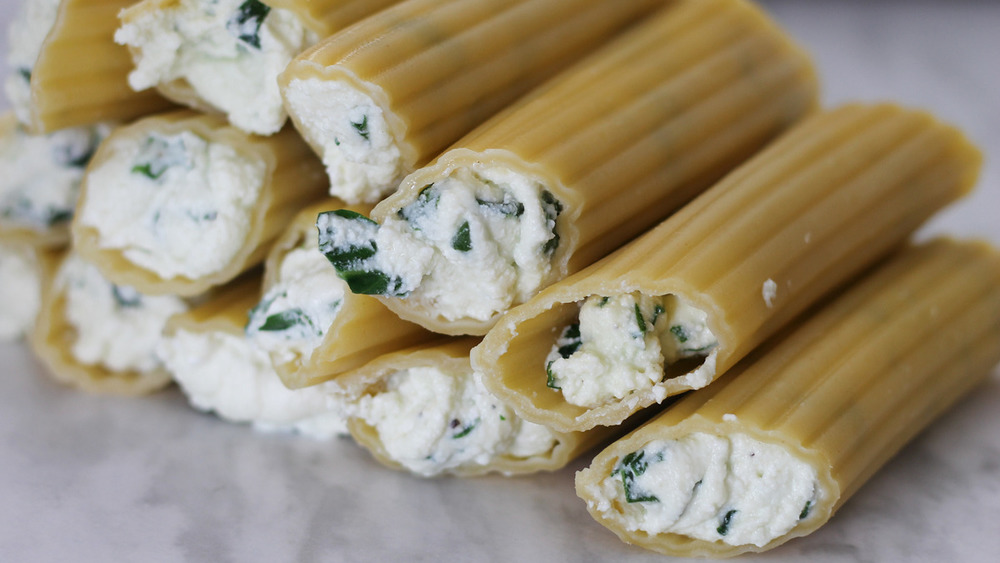 Melissa Olivieri/Mashed
Next up is taking your cooked manicotti shells, and one at a time, using your piping bag to ever-so-gently squeeze filling into each tube. Olivieri recommends that you fill each tube entirely, ensuring you get a bite of creamy goodness in each and every bite. 
Next, you will work toward assembling your dish for the oven, with the first step being to arrange a layer of filled manicotti in the prepared baking dish with the sauce on the bottom. She notes you may need to add one or two tubes on top to create a complete layer, and that will work just fine. You'll just want to make sure they are "well-sauced" in the next step so the tubes don't stick together. 
And that next step is to take your remaining sauce and spread it gently over the manicotti, getting in between the shells and those little nooks and crannies and then also fully covering the tops.
Bake your manicotti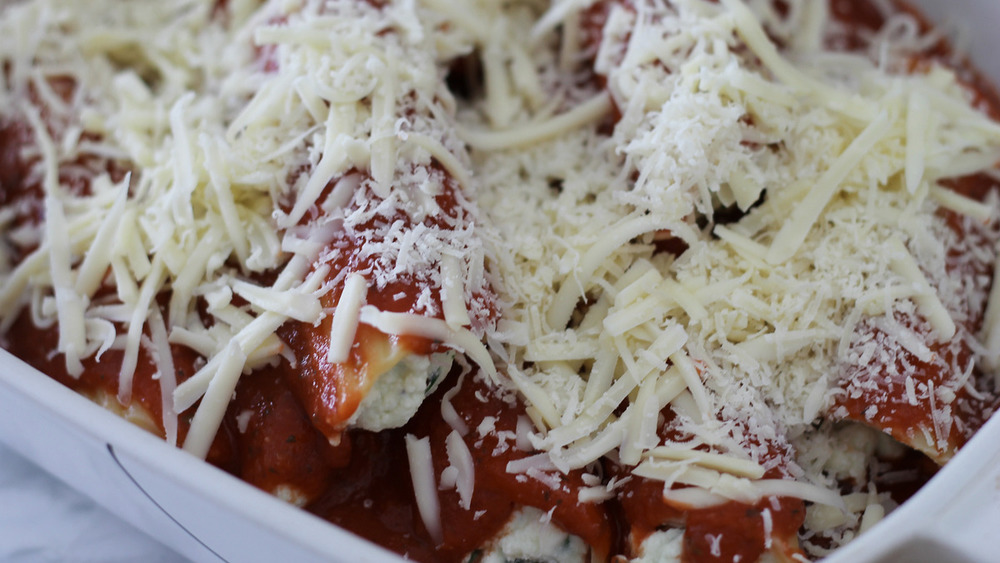 Melissa Olivieri/Mashed
You will next top your second sauce layer with mozzarella and Parmesan and cover the casserole with foil, baking your manicotti for 25 minutes. The final step is to remove the foil and bake the dish for 15 minutes longer, waiting for the cheese to get bubbly and brown. Olivieri adds, "Make sure you only cook the shells to al dente in the boiling stage." She told us, "If you overcook the pasta there, they will get softer while baking and fall apart much too easy." 
Meanwhile, to avoid overcooking your manicotti, Olivieri advises home cooks to set a timer. She also advises, "Keep an eye on the cheese to see its consistency and color — both are indicators of when this dish is done."
Now, enjoy your hot, scrumptious meal! If you happen to have leftovers, Olivieri says this is the best part of the dish: "The flavors, like many stuffed pasta dishes, are even better a day or two later. You can easily store any leftovers in a sealed container in the fridge for up to three days and reheat when you want them."
Manicotti Recipe
If you are looking to try a new weeknight recipe you can make ahead and enjoy for days, this manicotti recipe might just be perfect for you.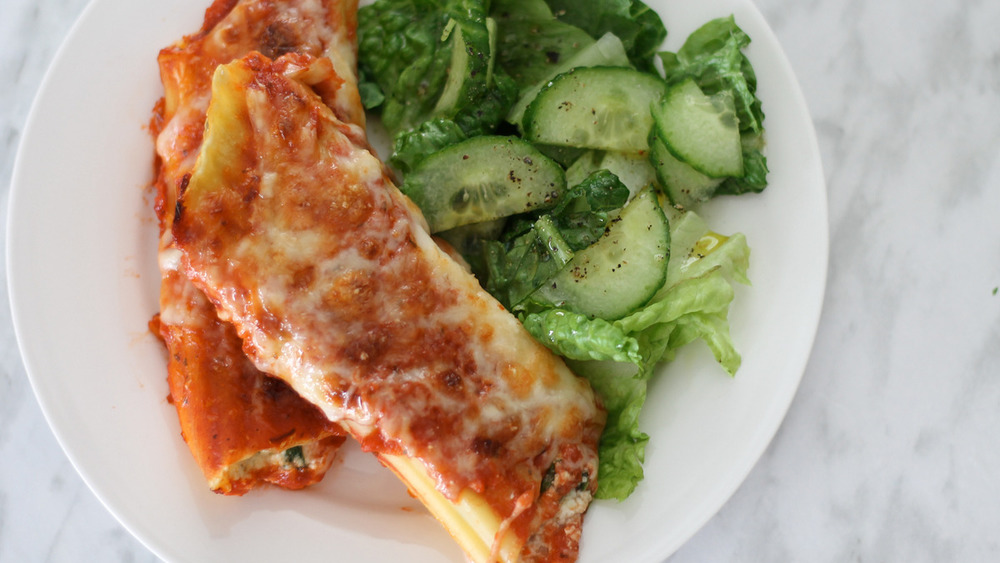 Ingredients
½ teaspoon kosher salt
½ teaspoon ground pepper
1 teaspoon garlic powder
¼ teaspoon ground nutmeg
1 large egg
2 cups chopped spinach
¾ cup Parmesan cheese
2 ½ mozzarella (½ cup shredded)
2 cups ricotta
1 package manicotti shells
1 jar pasta sauce
Directions
Prepare filling by mixing salt, pepper, garlic powder, nutmeg, egg, spinach, ¼ cup Parmesan cheese, ½ cup shredded mozzarella, and 2 cups of ricotta in a large bowl until well combined. Fill a piping bag (or sandwich bag) with the filling and cut a half-inch from the bottom to make a large opening for squeezing out the filling.
Preheat oven to 375 degrees Fahrenheit and bring a large pot of salted water to a rolling boil.
Add manicotti shells to boiling water and cook according to package instructions until al dente (about 5 minutes). Drain and set aside to cool for 5 minutes.
In a 9x13-inch casserole dish, pour about a third of the jarred sauce on the bottom and spread with a wooden spoon to cover.
Take cooked manicotti shells one at a time and use your piping bag to gently squeeze filling into the tubes. Make sure you fill them entirely so you have filling in each bite.
Assemble the filled manicotti in your prepared baking dish in a single layer. You may need to add one or two on top, which is fine — just make sure they are well-sauced in the next step to prevent sticking.
Take remaining sauce and spread over manicotti, being sure to get in between the shells and fully cover the tops.
Top with 2 cups of mozzarella and ½ cup Parmesan, and cover with foil and bake for 25 minutes.
Remove foil and put back in oven for 15 minutes until the cheese is bubbly and beginning to brown.
Serve and enjoy!
Nutrition
| | |
| --- | --- |
| Calories per Serving | 709 |
| Total Fat | 29.7 g |
| Saturated Fat | 16.7 g |
| Trans Fat | 0.0 g |
| Cholesterol | 124.9 mg |
| | |
| --- | --- |
| Total Carbohydrates | 70.0 g |
| Dietary Fiber | 4.8 g |
| Total Sugars | 9.2 g |
| Sodium | 1,117.3 mg |
| Protein | 39.2 g |